PACHYDERMODACTYLY - TWO NEW CASES
Diogo Matos

Interno do Internato Complementar de Dermatologia e Venereologia/ Resident, Dermatology and Venereology, Hospital Garcia de Orta, Almada, Portugal

Hugo Barreiros

Dermatologista/Dermatologist, Centro Dermatologia Epidermis, Instituto CUF, Porto, Portugal

Ricardo Coelho

Assistente Hospitalar de Dermatologia e Venereologia/Consultant, Dermatology and Venereology, Hospital Garcia de Orta, Almada, Portugal

Elvira Bártolo

Chefe de Serviço de Dermatologia e Venereologia; Directora do Serviço de Dermatologia e Venereologia/ Chief and Head of Dermatology and Venereology Department Hospital Garcia de Orta, Almada, Portugal
Keywords:
Fibroma, Fingers
Abstract
Pachydermodactylyis is a rare form of fibromatosis affecting the lateral aspects of the first phalanges of the hands. Although idiopathic by definition, frequently a repetitive mechanical trauma is identifiable as its cause. The authors describe two case reports of this condition.
Downloads
Download data is not yet available.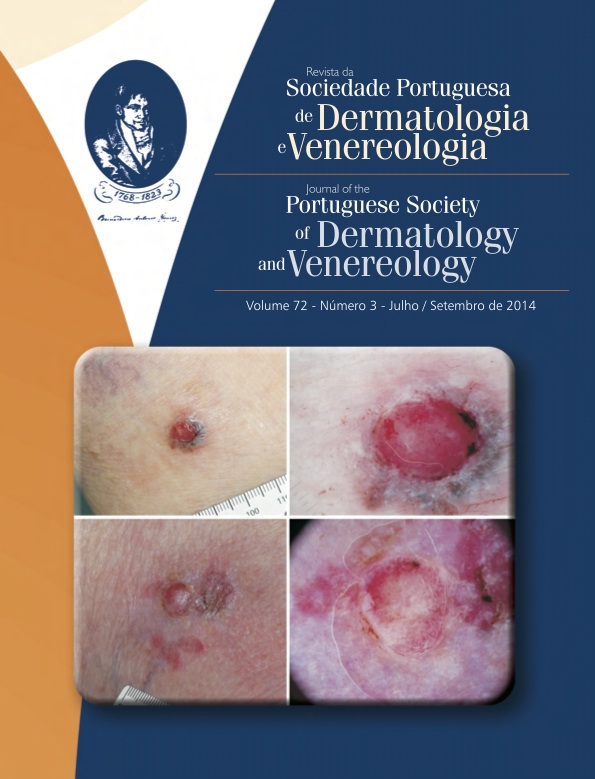 How to Cite
Matos, D., Barreiros, H., Coelho, R., & Bártolo, E. (1). PACHYDERMODACTYLY - TWO NEW CASES. Journal of the Portuguese Society of Dermatology and Venereology, 72(3), 387-390. https://doi.org/10.29021/spdv.72.3.284
All articles in this journal are Open Access under the Creative Commons Attribution-NonCommercial 4.0 International License (CC BY-NC 4.0).