Carcinoma Espinhocelular Avançado do Lábio, do Diagnóstico ao Tratamento
Abstract
O carcinoma espinhocelular cutâneo é uma neoplasia cutânea não melanocitica, potencialmente fatal, que resulta da proliferação descontrolada dos queratinócitos. Predominante na cabeça e pescoço, esta surge preferencialmente em zonas expostas ao sol. O diagnóstico tem por base a apresentação clínica da lesão, idealmente através da dermatoscopia, necessitando, porém, da avaliação histológica para a definição do mesmo.
Este trabalho reporta o caso de um homem de 71 anos referenciado por lesão do lábio inferior, hiperqueratósica e infiltrativa, sugestiva de carcinoma espinhocelular cutâneo. Confirmado a suspeita procedeu-se à excisão radical da lesão, cujo defeito resultante ocupava 70% do comprimento do lábio inferior na sua porção mediana, em espessura total, tendo-se recorrido à reconstrução com recurso aos retalhos de deslizamento e rotação descritos por Karapandzic. O resultado final caracterizou-se por cicatrizes a preencherem os sulcos fisiológicos e pela manutenção da continência oral, bem como da sensibilidade e mobilidade labiais.
Downloads
Download data is not yet available.
References
English DR, Armstrong BK, Kricker A, Winter MG, Heenan PJ, Randell PL. Demographic characteristics, pigmentary and cutaneous risk factors for squamous cell carcinoma of the skin: a case-control study. Int J Cancer. 1998;76(5):628–34.
Abreu LPS, Kruger E, Tennant M. Lip cancer in Western Australia, 1982-2006: A 25-year retrospective epidemiological study. Aust Dent J. 2009;54(2):130–5.
Alam M, Ratner D. Cutaneous squamous-cell carcinoma. N Engl J Med. 2001;344(13):975–83.
Lingen M, Pinto A, Mendes R, Franchini R, Czerninski R, Tilakaratne W, et al. Genetics/epigenetics of oral premalignancy: Current status and future research. Oral Dis. 2011;17(SUPPL. 1):7–22.
Brash DE, Rudolph J a, Simon J a, Lin A, McKenna GJ, Baden HP, et al. A role for sunlight in skin cancer: UV-induced p53 mutations in squamous cell carcinoma. Proc Natl Acad Sci U S A. 1991;88(22):10124–8.
Papadopoulos O, Konofaos P, Tsantoulas Z, Chrisostomidis C, Frangoulis M, Karakitsos P. Lip defects due to tumor excision: Apropos of 899 cases. Oral Oncol. 2007;43(2):204–12.
Galyon SW, Frodel JL. Lip and perioral defects. Otolaryngol Clin North Am. 2001;34(3):647.
Vukadinovic M, Jezdic Z, Petrovic M, Medenica LM, Lens M. Surgical Management of Squamous Cell Carcinoma of the Lip: Analysis of a 10-Year Experience in 223 Patients. J Oral Maxillofac Surg. 2007;65(4):675–9.
Moretti A, Vitullo F, Augurio A, Pacella A, Croce A. Surgical management of lip cancer. 2011;31(1):5–10.
Morton C, Birnie J, Eedy DJ. British Association of Dermatologists' guidelines for the management of squamous cell carcinoma in situ (Bowen's disease) 2014. Br J Dermatol. 2014;170(2):245–60.
Warner CL, Cockerell CJ. The new seventh edition American joint committee on cancer staging of cutaneous non-melanoma skin cancer: A critical review. American Journal of Clinical Dermatology. 2011. p. 147–54.
Brinca A, Andrade P, Vieira R, Figueiredo A. Karapandzic flap and Bernard-Burrow-Webster flap for reconstruction of the lower lip. An Bras Dermatol. 2011;86(4 Suppl 1):S156–9.
Pirgousis P, Fernandes R. Reconstruction of subtotal defects of the lower lip: A review of current techniques and a proposed modification. J Oral Maxillofac Surg. Elsevier Inc.; 2011;69(1):295–9.
Massano J, Regateiro FS, Januário G, Ferreira A. Oral squamous cell carcinoma: review of prognostic and predictive factors. Oral Surg Oral Med Oral Pathol Oral Radiol Endod. 2006;102(1):67–76.
Veness MJ, Colin O, Cakir B, Morgan G. Squamous cell carcinoma of the lip. Patterns of relapse and outcome: Reporting the Westmead Hospital experience, 1980-1997. Australas Radiol. 2001;45(2):195–9.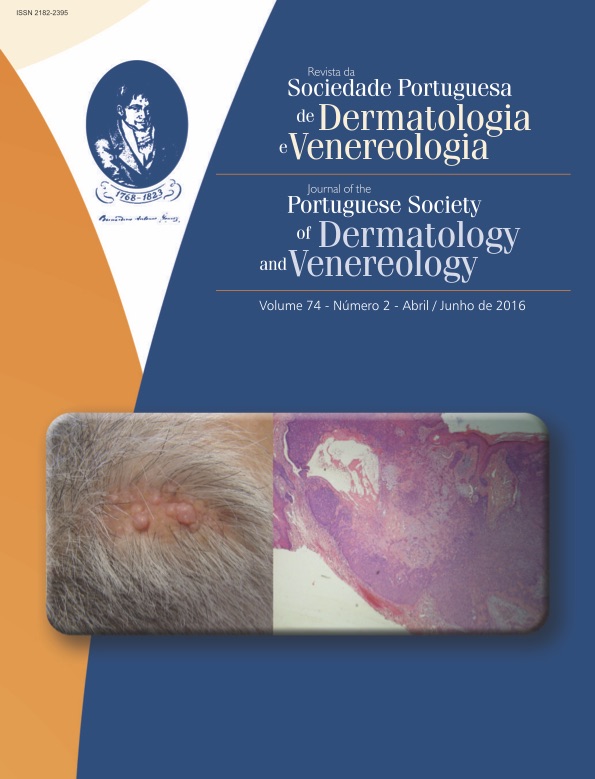 How to Cite
Mendes Abreu, J. (2017). Carcinoma Espinhocelular Avançado do Lábio, do Diagnóstico ao Tratamento. Journal of the Portuguese Society of Dermatology and Venereology, 74(2). https://doi.org/10.29021/spdv.74.2.502
Section
Original Articles
All articles in this journal are Open Access and meet the requirements of funding bodies or academic institutions. Each article published in the Journal is published under the Creative Commons Attribution-NonCommercial-NoDerivatives 4.0 International License (CC BY-NC-ND 4.0). Articles can be read, downloaded, printed, and shared.
Submission of an article for publication implies the authors' consent to publication under the applicable Creative Commons license and the terms and conditions of the Publisher's Licensing Agreement.
It is the author's responsibility to obtain permission to reproduce illustrations, tables, etc. from other publications.
Upon acceptance of an article, authors will be asked to complete a 'Journal Publishing Agreement'. An e-mail will be sent to the corresponding author confirming receipt of the manuscript together with a 'Journal Publishing Agreement' form or a link to the online version of this agreement.
Author rights: As an author you (or your employer or institution) have certain rights to reuse your work.
The Journal reserves the right to use plagiarism detection software on any submitted material.