Influência do índice de massa corporal e da dieta na fisiopatologia da Acne Vulgaris
José Pedro Oliveira Pinheiro da Silva

Aluno do 6º ano do Instituto de Ciências Biomédicas Abel Salazar, Universidade do Porto, Portugal

Glória Maria Cardoso da Cunha Velho

Assistente Graduada de Dermatologia e Venereologia do Hospital Geral de Santo António, Centro Hospitalar Universitário do Porto; Professora Auxiliar Convidada de Dermatologia da Disciplina de Clínica Médica do Mestrado Integrado em Medicina no Instituto Ciências Biomédicas Abel Salazar/ Centro Hospitalar Universitário do Porto, Universidade do Porto, Portugal
Abstract
Acne vulgaris é uma das patologias dermatológicas mais comuns na população geral, principalmente em adolescentes e jovens adultos. Esta patologia afeta os folículos pilossebáceos através de processos de hiperqueratose, hipersecreção sebácea, colonização microbiana (Propionibacterium acnes e Malassezia furfur) e mecanismos imunológicos e pode ser descrita tanto como inflamatória (pápulas, pústulas ou nódulos) ou não inflamatória (comedões abertos ou fechados). Apesar de não existir mortalidade associada, existe normalmente significativa morbilidade física e psicológica, como cicatrizes permanentes, baixa autoestima, depressão e ansiedade. A fisiopatologia desta doença é multifatorial, sendo que vários estudos provam a importância de vários fatores genéticos e não genéticos, como diversos mecanismos reguladores endócrinos e a dieta, no aparecimento da acne. Estudos associam a dieta ocidental (carbohidratos hiperglicémicos, leite e lacticínios e gorduras saturadas) e o índice de massa corporal excessivo (excesso de peso e obesidade) ao aparecimento de Acne Vulgaris, sendo que existe evidência do papel da hiperinsulinémia e da resistência à insulina nesta associação. Será assim avaliada nesta dissertação a atual literatura que aborda a fisiopatologia da Acne Vulgaris, com especial foco na relação entre os reguladores endócrinos (androgénios e insulin-like growth factor 1) e reguladores celulares (Forkhead box protein 01, kinase proteica Akt) e os diferentes alimentos da dieta, dando relevância às peculiaridades da dieta ocidental e do seu papel no aparecimento de acne nas diferentes pool´s genéticas mundiais. Será também explorada a relação entre o índice de massa corporal e o aparecimento de acne, bem como a importância das adipocinas na etiologia da acne. O objetivo deste trabalho é contribuir para o melhor conhecimento da fisiopatologia desta interessante e frequente patologia. Sendo uma área muito estudada, torna-se fulcral a existência de artigos de revisão, que compilem, sintetizem e ao mesmo tempo analisem criticamente a literatura científica existente.
Downloads
Download data is not yet available.
References
Lynn DD, Umari T, Dunnick CA, Dellavalle RP. The Epidemiology of Acne Vulgaris in Late Adolescence. Adolesc Health Med Ther. 2016;7:13-25.
Tan JK, Bhate K. A Global Perspective on the Epidemiology of Acne. Br J Dermatol. 2015;172 Suppl 1:3-12.
Mahmood SN, Bowe WP. Diet and Acne Update: Carbohydrates Emerge as the Main Culprit. J Drugs Dermatol. 2014;13:428-35.
Kucharska A, Szmurlo A, Sinska B. Significance of Diet in Treated and Untreated Acne Vulgaris. Postepy Dermatol Alergol. 2016;33:81-6.
Sawni A, Singh A. Complementary, Holistic, and Integrative Medicine: Acne. Pediatr Rev. 2013;34:91-3.
Kasper DL, Hauser SL, Jameson JL, Fauci AS, Longo DL, Loscalzo J, Harrison's Principles of Internal Medicine. In: Lawley L P, McCall C O, Lawley T J, editors. Eczema, Psoriasis, Cutaneous Infections, Acne, and Other Common Skin Disorders. McGraw-Hil, 2015. p.344-52.
Burris J, Rietkerk W, Woolf K. Acne: The Role of Medical Nutrition Therapy. J Acad Nutr Diet. 2013;113:416-30.
Melnik BC. Linking Diet to Acne Metabolomics, Inflammation, and Comedogenesis: An Update. Clin Cosmet Investig Dermatol. 2015;8:371-88.
Kumari R, Thappa DM. Role of Insulin Resistance and Diet in Acne. Indian J Dermatol Venereol Leprol. 2013;79:291-9.
Napolitano M, Megna M, Monfrecola G. Insulin Resistance and Skin Diseases. ScientificWorldJournal. 2015;2015:479354.
Bronsnick T, Murzaku EC, Rao BK. Diet in Dermatology: Part I. Atopic Dermatitis, Acne, and Nonmelanoma Skin Cancer. J Am Acad Dermatol. 2014;71:1039 e1-39 e12.
Melnik BC, Zouboulis CC. Potential Role of Foxo1 and Mtorc1 in the Pathogenesis of Western Diet-Induced Acne. Exp Dermatol. 2013;22:311-5.
Melnik BC. Is Sebocyte-Derived Leptin the Missing Link between Hyperseborrhea, Ductal Hypoxia, Inflammation and Comedogenesis in Acne Vulgaris? Exp Dermatol. 2016;25:181-2.
Saleh BO. Role of Growth Hormone and Insulin-Like Growth Factor-I in Hyperandrogenism and the Severity of Acne Vulgaris in Young Males. Saudi Med J. 2012;33:1196-200.
Tasli L, Turgut S, Kacar N, Ayada C, Coban M, Akcilar R, et al. Insulin-Like Growth Factor-I Gene Polymorphism in Acne Vulgaris. J Eur Acad Dermatol Venereol. 2013;27:254-7.
Agamia N, Abdallah D, Sorour O, Mourad B, Younan D. Skin Expression of Mammalian Target of Rapamycin and Forkhead Box Transcription Factor O1, and Serum Insulin-Like Growth Factor-1 in Patients with Acne Vulgaris and Their Relationship with Diet. Br J Dermatol. 2016;174:1299-307.
Hwang YL, Im M, Lee MH, Roh SS, Choi BW, Kim SJ, et al. Inhibitory Effect of Imperatorin on Insulin-Like Growth Factor-1-Induced Sebum Production in Human Sebocytes Cultured in Vitro. Life Sci. 2016;144:49-53.
Melnik BC. Western Diet-Induced Imbalances of Foxo1 and Mtorc1 Signalling Promote the Sebofollicular Inflammasomopathy Acne Vulgaris. Exp Dermatol. 2016;25:103-4.
Dominguez-Ugalde MG, Jurado-Santa Cruz F, Peralta-Pedrero ML, Morales-Sanchez MA. [Insulin Levels in Teenagers with Comedonal Acne]. Gac Med Mex. 2015;151:438-42.
Emiroglu N, Cengiz FP, Kemeriz F. Insulin Resistance in Severe Acne Vulgaris. Postepy Dermatol Alergol. 2015;32:281-5.
Ozuguz P, Kacar SD, Asik G, Ozuguz U, Karatas S. Evaluation of Leptin, Adiponectin, and Ghrelin Levels in Patients with Acne Vulgaris. Hum Exp Toxicol. 2016.
Wallace TM, Matthews DR. The Assessment of Insulin Resistance in Man. Diabet Med. 2002;19:527-34.
Al-Shobaili HA, Salem TA, Alzolibani AA, Robaee AA, Settin AA. Tumor Necrosis Factor-Alpha -308 G/a and Interleukin 10 -1082 a/G Gene Polymorphisms in Patients with Acne Vulgaris. J Dermatol Sci. 2012;68:52-5.
Park SY, Kwon HH, Min S, Yoon JY, Suh DH. Epidemiology and Risk Factors of Childhood Acne in Korea: A Cross-Sectional Community Based Study. Clin Exp Dermatol. 2015;40:844-50.
Ismail NH, Manaf ZA, Azizan NZ. High Glycemic Load Diet, Milk and Ice Cream Consumption Are Related to Acne Vulgaris in Malaysian Young Adults: A Case Control Study. BMC Dermatol. 2012;12:13.
Wolkenstein P, Misery L, Amici JM, Maghia R, Branchoux S, Cazeau C, et al. Smoking and Dietary Factors Associated with Moderate-to-Severe Acne in French Adolescents and Young Adults: Results of a Survey Using a Representative Sample. Dermatology. 2015;230:34-9.
Okoro EO, Ogunbiyi AO, George AO, Subulade MO. Association of Diet with Acne Vulgaris among Adolescents in Ibadan, Southwest Nigeria. Int J Dermatol. 2016;55:982-8.
Khayef G, Young J, Burns-Whitmore B, Spalding T. Effects of Fish Oil Supplementation on Inflammatory Acne. Lipids Health Dis. 2012;11:165.
Sousa MT, Vitor; Graça, Pedro, 'Nutrição No Desporto', (Direção Geral de Saúde, 2016).
Simonart T. Acne and Whey Protein Supplementation among Bodybuilders. Dermatology. 2012;225:256-8.
Grossi E, Cazzaniga S, Crotti S, Naldi L, Di Landro A, Ingordo V, et al. The Constellation of Dietary Factors in Adolescent Acne: A Semantic Connectivity Map Approach. J Eur Acad Dermatol Venereol. 2016;30:96-100.
Fouladi RF. Aqueous Extract of Dried Fruit of Berberis Vulgaris L. In Acne Vulgaris, a Clinical Trial. J Diet Suppl. 2012;9:253-61.
Mohebbipour A, Sadeghi-Bazargani H, Mansouri M. Sunflower Seed and Acne Vulgaris. Iran Red Crescent Med J. 2015;17:e16544.
Skroza N, Tolino E, Semyonov L, Proietti I, Bernardini N, Nicolucci F, et al. Mediterranean Diet and Familial Dysmetabolism as Factors Influencing the Development of Acne. Scand J Public Health. 2012;40:466-74.
Kwon HH, Yoon JY, Hong JS, Jung JY, Park MS, Suh DH. Clinical and Histological Effect of a Low Glycaemic Load Diet in Treatment of Acne Vulgaris in Korean Patients: A Randomized, Controlled Trial. Acta Derm Venereol. 2012;92:241-6.
Sérgio AC, Flora; Breda João; Medina, José, Carvalheiro, Manuela; Almeida, Maria; Dias, Teresa, 'Programa Nacional De Combate À Obesidade', (Direção Geral de Saúde, 2005).
Robeva R, Assyov Y, Tomova A, Kumanov P. Acne Vulgaris Is Associated with Intensive Pubertal Development and Altitude of Residence--a Cross-Sectional Population-Based Study on 6,200 Boys. Eur J Pediatr. 2013;172:465-71.
Kasper DL, Hauser SL, Jameson JL, Fauci AS, Longo DL, Loscalzo J, Harrison's Principles of Internal Medicine. In: Eckel R H, editors. The Metabolic Syndrome. McGraw-Hil, 2015. p.2449-53.
Nagpal M, De D, Handa S, Pal A, Sachdeva N. Insulin Resistance and Metabolic Syndrome in Young Men with Acne. JAMA Dermatol. 2016;152:399-404.
Cerman AA, Aktas E, Altunay IK, Arici JE, Tulunay A, Ozturk FY. Dietary Glycemic Factors, Insulin Resistance, and Adiponectin Levels in Acne Vulgaris. J Am Acad Dermatol. 2016;75:155-62.
Kovacs D, Lovaszi M, Poliska S, Olah A, Biro T, Veres I, et al. Sebocytes Differentially Express and Secrete Adipokines. Exp Dermatol. 2016;25:194-9.
Karadag AS, Ertugrul DT, Takci Z, Bilgili SG, Namuslu M, Ata N, et al. The Effect of Isotretinoin on Retinol-Binding Protein 4, Leptin, Adiponectin and Insulin Resistance in Acne Vulgaris Patients. Dermatology. 2015;230:70-4.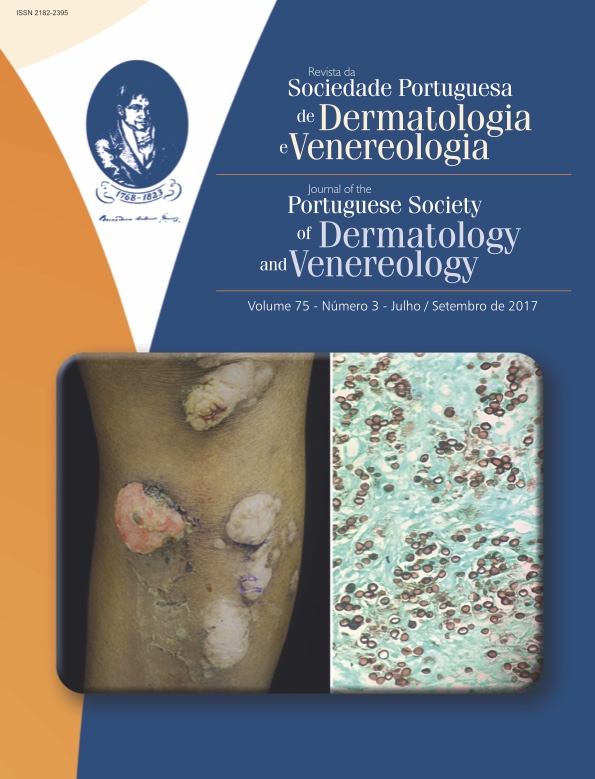 How to Cite
Silva, J. P. O. P. da, & Velho, G. M. C. da C. (2018). Influência do índice de massa corporal e da dieta na fisiopatologia da Acne Vulgaris. Journal of the Portuguese Society of Dermatology and Venereology, 75(3). https://doi.org/10.29021/spdv.75.3.746
Section
Original Articles
All articles in this journal are Open Access and meet the requirements of funding bodies or academic institutions. Each article published in the Journal is published under the Creative Commons Attribution-NonCommercial-NoDerivatives 4.0 International License (CC BY-NC-ND 4.0). Articles can be read, downloaded, printed, and shared.
Submission of an article for publication implies the authors' consent to publication under the applicable Creative Commons license and the terms and conditions of the Publisher's Licensing Agreement.
It is the author's responsibility to obtain permission to reproduce illustrations, tables, etc. from other publications.
Upon acceptance of an article, authors will be asked to complete a 'Journal Publishing Agreement'. An e-mail will be sent to the corresponding author confirming receipt of the manuscript together with a 'Journal Publishing Agreement' form or a link to the online version of this agreement.
Author rights: As an author you (or your employer or institution) have certain rights to reuse your work.
The Journal reserves the right to use plagiarism detection software on any submitted material.