A Case Report of Multibacillary Leprosy Presenting with Multiple Outbreaks of Erythema Nodosum Leprosum
R. Bouceiro-Mendes

Centro Hospitalar Universitário Lisboa Norte, Hospital de Santa Maria, Lisboa, Portugal

A. Ortins-Pina

Centro Hospitalar Universitário Lisboa Norte, Hospital de Santa Maria, Lisboa, Portugal

T. Marques

Centro Hospitalar Universitário Lisboa Norte, Hospital de Santa Maria, Lisboa, Portugal

M. Viveiros

Global Health and Tropical Medicine, GHTM, Instituto de Higiene e Medicina Tropical, IHMT, Universidade NOVA de Lisboa, Lisboa, Portugal

D. Machado

Global Health and Tropical Medicine, GHTM, Instituto de Higiene e Medicina Tropical, IHMT, Universidade NOVA de Lisboa, Lisboa, Portugal

L. Lito

Centro Hospitalar Universitário Lisboa Norte, Hospital de Santa Maria, Lisboa, Portugal

J. Ferreira

Centro Hospitalar Universitário Lisboa Norte, Hospital de Santa Maria, Lisboa, Portugal

L. Soares-de-Almeida

Centro Hospitalar Universitário Lisboa Norte, Hospital de Santa Maria, Lisboa, Portugal; Instituto de Medicina Molecular, Faculdade de Medicina de Lisboa, Universidade de Lisboa, Lisboa, Portugal

J. P. Freitas

Centro Hospitalar Universitário Lisboa Norte, Hospital de Santa Maria, Lisboa, Portugal

P. Filipe

Centro Hospitalar Universitário Lisboa Norte, Hospital de Santa Maria, Lisboa, Portugal; Instituto de Medicina Molecular, Faculdade de Medicina de Lisboa, Universidade de Lisboa, Lisboa, Portugal
Keywords:
Erythema Nodosum, Leprosy, Lepromatous, Multibacillary
Abstract
Leprosy is a chronic granulomatous disease with a long incubation period caused by Mycobacterium leprae that mainly affects the skin, mucous membranes and the peripheral nervous system. It carries the risk of per-manent sequels with a significant impact on the patient's quality of life. It has a considerable clinically diver-sity and possible atypical presentations. We present a case of a 31-year-old, skin phototype V woman with multibacillary leprosy characterized by multiple outbreaks of erythema nodosum leprosum, as an inaugural manifestation of the disease. The disease was acquired within a group of children and adolescents from an endemic region of Africa, evolved untreated for 3 years, and presented with unusual features and remarkable lymphatic involvement. We highlight the importance of building and maintaining collaboration between expert centers and institutional partnerships in order to provide the adequate diagnostic resources and appropriate care to the affected populations.
Downloads
Download data is not yet available.
References
Cruz RCdS, Bührer-Sékula S, Penna MLF, Penna GO, Talhari S. Leprosy: current situation, clinical and laboratory aspects, treatment history and perspective of the uniform multidrug therapy for all patients. Ana Bras Dermatol. 2017;92:761-73. doi: 10.1590/abd1806-4841.20176724.
Forbes BA, Hall GS, Miller MB, Novak SM, Rowlinson MC, Salfinger M, et al. Practice guidelines for clinical microbiology laboratories: mycobacteria. Clin Microbiol Rev. 2018;31:e00038-17. doi: 10.1128/
CMR.00038-17.
Sarkar R, Pradhan S. Leprosy and women. Int J Womens Dermatol. 2016;2:117-21.
Ridley D, Jopling W. Classification of leprosy according to immunity. A five-group system. Int J Lepr.
;34:255-73.
World Health Organization. WHO expert committee on leprosy. Geneva: WHO expert committee on leprosy; 1998.
World Health Organization. Guidelines for the diagnosis, treatment and prevention of leprosy. Geneva: WHO; 2018.
Kumar SA, Ranjana S, Savitri S, Sanjiv G. How accurately do clinical diagnosis correlate with biopsy findings in leprosy? J Pak Assoc Dermatol. 2017;27):23-9.
de Sousa JR, Sotto MN, Simões Quaresma JA. Leprosy as a complex infection: breakdown of the Th1 and Th2 immune paradigm in the immunopathogenesis of the disease. Front Immunol. 2017;8:1635. doi: 10.3389/fimmu.2017.01635.
Smith CS, Aerts A, Saunderson P, Kawuma J, Kita E, Virmond M. Multidrug therapy for leprosy: a
game changer on the path to elimination. Lancet Infec Dis. 2017;17:e293-7. doi: 10.1016/S1473-3099(17)30418-8.
Chaptini C, Marshman G. Leprosy: a review on elimination, reducing the disease burden, and future research. Lepr Rev. 2015;86:307-15.
Martinez AN, Talhari C, Moraes MO, Talhari S. PCR-based techniques for leprosy diagnosis: from the laboratory to the clinic. PLoS Negl Trop Dis. 2014;8:e2655. doi: 10.1371/journal.pntd.0002655.
Chaitanya V, Cuello L, Das M, Sudharsan A, Ganesan P, Kanmani K, et al. Analysis of a novel multiplex polymerase chain reaction assay as a sensitive tool for the diagnosis of indeterminate and tuberculoid forms of leprosy. Int J Mycobacteriol. 2017;6:1-8. doi: 10.4103/2212-5531.201885.
Franco-Paredes C, Marcos LA, Henao-Martínez AF, Rodríguez-Morales AJ, Villamil-Gómez WE, Gotuzzo E, et al. Cutaneous mycobacterial infections. Clin Microbiol Rev. 2019;32:e00069-18. doi: 10.1128/CMR.00069-18.
Chowdhury AR, Bandyopadhyay G, Bhattacharyya P, Chakraborty S. An unusual presentation of leprosy: Lepromatous lymphadenitis. Int J Med Public Health. 2015;5:381-3. doi: 10.1159/000462959.
Singh P, Mushtaq D, Bala J, Kapur K, Rana A. Lepropmatous lymphadenitis mimicking non hodgkins
lymphoma: A case diagnosed by fine needle aspiration cytology. J Clin Diagn Res. 2011;5:869-71. doi:
1080/10428190410001655166.
Yang SY, Leong WM, Kasunuran CM, Huang JX, Ho SJ, Aw CW, et al. Extensive Lepromatous lymphadenitis preceding lesions on the face and earlobes: an unusual presentation of leprosy in Singapore. Case Rep Dermatol. 2018;10:35-40. doi: 10.1159/000462959.
Nigam P, Kumar P, Pathak N, Mittal S. Fine needle aspiration cytology in reactional and non-reactional leprosy. Indian J Dermatol Venereol Leprol. 2007;73:247.
Rajesh NG, Siddaraju N, Muthalagan E, Jain D, Kumari R, Balasubramanian P. Report of a case emphasizing the clinical utility of fine needle aspiration cytology in the diagnosis of histoid leprosy. Cytopathology. 2015;26:132-3. doi: 10.1111/cyt.12144.
Ray R, Mondal RK, Pathak S. Benefits and limitations of fine needle aspiration cytology in the diagnosis and classification of leprosy in primary and secondary healthcare settings. Cytopathology. 2015;26:238-43. doi: 10.1111/cyt.12179.
Semwal S, Joshi D, Goel G, Asati D, Kapoor N. Clinico-histological correlation in Hansen's disease: three-year experience at a newly established tertiary care center in Central India. Indian J Dermatol. 2018;63:465-8. doi: 10.4103/ijd.IJD_525_17.
Suryawati N, Saputra H. Erythema nodosum leprosum presenting as sweet's syndrome-like reaction in a borderline lepromatous leprosy patient. Int J Mycobacteriol. 2018;7:191-4. doi: 10.4103/ijmy.ijmy_49_18.
Costa PdSS, Fraga LR, Kowalski TW, Daxbacher ELR, Schuler-Faccini L, Vianna FSL. Erythema nodosum leprosum: Update and challenges on the treatment of a neglected condition. Acta Trop. 2018;183:134-41. doi: 10.1111/ddg.13301.
Fischer M. Leprosy–an overview of clinical features, diagnosis, and treatment. J Dtsch Dermatol Ges.
;15:801-27.
Saunderson PR. Uniform multidrug therapy for leprosy – time for a rethink? Indian J Med Res. 2016;144:499-501. doi: 10.4103/0971-5916.200884.
Pocaterra L, Jain S, Reddy R, Muzaffarullah S, Torres O, Suneetha S, et al. Clinical course of erythema nodosum leprosum: an 11-year cohort study in Hyderabad, India. Am J Trop Med Hyg. 2006;74:868-79.
Balagon M, Saunderson PR, Gelber RH. Does clofazimine prevent erythema nodosum leprosum (ENL) in leprosy? A retrospective study, comparing the experience of multibacillary patients receiving either 12 or 24 months WHO-MDT. Lepr Rev. 2011;82:213-22.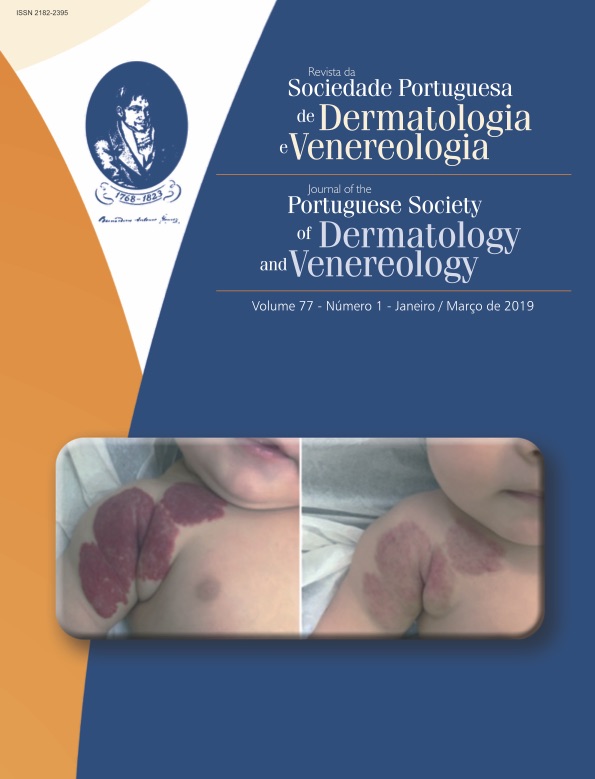 How to Cite
Bouceiro-Mendes, R., Ortins-Pina, A., Marques, T., Viveiros, M., Machado, D., Lito, L., Ferreira, J., Soares-de-Almeida, L., Freitas, J. P., & Filipe, P. (2019). A Case Report of Multibacillary Leprosy Presenting with Multiple Outbreaks of Erythema Nodosum Leprosum. Journal of the Portuguese Society of Dermatology and Venereology, 77(1), 67-72. https://doi.org/10.29021/spdv.77.1.1015
All articles in this journal are Open Access under the Creative Commons Attribution-NonCommercial 4.0 International License (CC BY-NC 4.0).