Lip Ulcerations Associated with Obsessive- Compulsive Behavior: Case Report
Letícia Logullo

Especializanda em Dermatologia do Centro Universitário Lusíada - UNILUS - Hospital Guilherme Álvaro, São Paulo, Brasil

Helio G. Rocha Neto

Mestre em Psiquiatria pela Universidade Federal do Rio de Janeiro. Professor do Centro Universitário Lusíada - UNILUS, São Paulo, Brasil

Karla Calaca Kabbach Prigenzi

Especialista em Anatomia Patológica e Citopatologia pela Sociedade Brasileira de Patologia e Citopatologia. Doutoranda em Patologia pela Universidade Federal de São Paulo- UNIFESP. Professora de Patologia do Centro Universitário Lusíada - UNILUS, São Paulo, Brasil

Sandra Lopes Mattos e Dinato

Doutora em Dermatologia pela Faculdade de Medicina da Universidade de São Paulo (FMUSP). Professora do Centro Universitário Lusíada - UNILUS, São Paulo, Brasil
Keywords:
Lip, Obsessive-Compulsive Disorder/complications, Self-Injurious Behavior, Skin Ulcer/etiology
Abstract
Self-inflicted lesions include skin alterations caused by an abnormal behavior. They demand interdisciplinary involvement of health professionals. They are most common among middle-aged women. We report the case of a 42-year-old man with a diagnosis of an ulcerated lesion on the upper and lower lips, secondary to obsessive-compulsive behavior. Histopathological findings were non-specific and the results of laboratory tests performed showed no alterations. Joint evaluation by Psychiatry and Dermatology was initiated, with follow-up sessions of psychotherapy. Patient chose to abandon treatment. The importance of recognizing psychodermatoses for the dermatologist is emphasized, aiming at the early diagnosis and therapeutics, which will allow the prevention of destructive and mutilating lesions.
Downloads
Download data is not yet available.
References
Gieler U, Consoli SG, Tomás-Aragones L, Linder DM, Jemec GB, Poot F, et al. Self- inflicted lesions in dermatology: terminology and classification- a posicion paper from the European Society for Dermatology and Psychiatry (ESDaP). Acta Derm Venereol. 2013; 93:4-12. doi: 10.2340/00015555-1506.
Roche L, Switzer V, Ramsay B. A retrospective case series of referrals to our psychodermatology clinic 2009-2016. J Eur Acad Dermatol Venereol. 2018; 32e278-9. doi: 10.1111/jdv.14816.
Kestenbaum T. Obsessive-compulsive disorder in dermatology. Semin Cutan Med Surg. 2013; 32:83–7.
Zaidens SH. Self- inflicted dermatoses and their psychodynamics. J Nerv Ment Dis. 1951; 113:395-404.
Harth W, Mayer K, Linse R. The borderline syndrome in psychosomatic dermatology. Overview and case report. J Eur Acad Dermatol Venereol 2004; 18:503–7. doi: 10.1111/j.1468-3083.2004.00965.x.
Azambuja RD. The need of dermatologists, psychiatrists and psychologists joint care in psychodermatology. An Bras Dermatol. 2017; 92:63-71. doi: 10.1590/abd1806-4841.20175493.
Aguilar-Duran S, Ahmed A, Taylor R, Bewley A. How to set up a psychodermatology clinic Clin Exp Dermatol. 2014; 39:577-82. doi: 10.1111/ced.12360.
Nico MM, Nagano CP, Fernandes JD, Lourenço SV. A destructive ulcer on the lower lip. Clin Exp Dermatol. 2010; 35:e180-1. doi: 10.1111/j.1365-2230.2009.03619.x.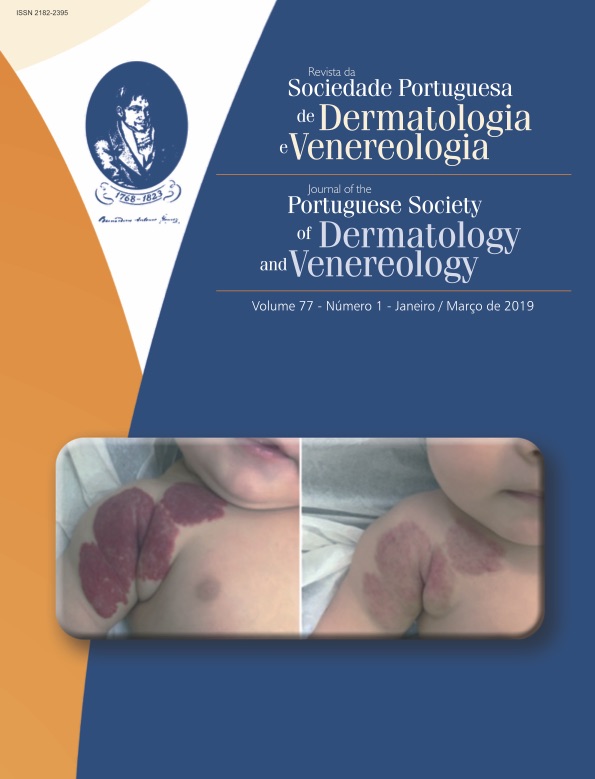 How to Cite
Logullo, L., Rocha Neto, H. G., Prigenzi, K. C. K., & Mattos e Dinato, S. L. (2019). Lip Ulcerations Associated with Obsessive- Compulsive Behavior: Case Report. Journal of the Portuguese Society of Dermatology and Venereology, 77(1), 77-80. https://doi.org/10.29021/spdv.77.1.1018
All articles in this journal are Open Access under the Creative Commons Attribution-NonCommercial 4.0 International License (CC BY-NC 4.0).