A importância dos novos autoanticorpos específicos da dermatomiosite
Joana Calvão

Interna de Dermatologia nos Hospitais da Universidade de Coimbra, Coimbra, Portugal

Alexandre Rafael Isidoro Azeiteiro

Aluno da Faculdade de Medicina da Universidade de Coimbra, Coimbra, Portugal

Margarida Gonçalo

3Assistente Hospitalar Sénior de Dermatologia nos Hospitais da Universidade de Coimbra, e Professora Auxiliar convidada de Dermatologia da Faculdade de Medicina da Universidade de Coimbra, Coimbra, Portugal
Abstract
A dermatomiosite é uma miopatia inflamatória idiopática, rara, com manifestações cutâneas e sistémicas variadas. Mais de 70% dos doentes apresentam autoanticorpos específicos da doença, que se correlacionam com manifestações clínicas distintas. Além dos anticorpos anti-sintetase, nos últimos anos foram descobertos vários anticorpos associados à dermatomiosite e que parecem ter um papel importante na orientação diagnóstica e prognóstica da doença, incluindo os autoanticorpos contra melanoma differentiation antigen 5 (MDA5), transcriptional intermediary factor 1 (TIF1), nuclear matrix protein 2 (NXP2), small ubiquitin-like modifier activating enzyme (SAE) e os anti-Mi2. O autoanticorpo anti-MDA5 está associado a dermatomiosite amiopática e doença intersticial pulmonar rapidamente progressiva e potencialmente fatal, além de caraterísticas mucocutâneas distintas, como ulceração cutânea. Há uma forte correlação entre a positividade para os autoanticorpos anti-TIF-1γ e malignidade, pelo menos na dermatomiosite do adulto. Na dermatomiosite juvenil, estes autoanticorpos têm sido associados a doença cutânea mais extensa, mas não a malignidade. A positividade para anti-NXP2 está associada a calcinose cutânea e envolvimento muscular severos. Na dermatomiosite com autoanticorpos anti-SAE há frequentemente envolvimento cutâneo e disfagia severos, mas com boa resposta à terapêutica imunossupressora e bom prognóstico. Os anticorpos anti-Mi2 associam- -se igualmente a um bom prognóstico.
Downloads
Download data is not yet available.
References
Iaccarino L, Ghirardello A, Bettio S, Zen M, Gatto M,
Punzi L, et al. The clinical features, diagnosis and classification
of dermatomyositis. J Autoimmun. 2014;48-
:122-7. doi:10.1016/j.jaut.2013.11.005.
Mainetti C, Terziroli Beretta-Piccoli B, Selmi C. Cutaneous
manifestations of dermatomyositis: a comprehensive
review. Clin Rev Allergy Immunol. 2017;53:337-56.
doi:10.1007/s12016-017-8652-1.
Palterer B, Vitiello G, Carraresi A, Giudizi MG, Cammelli
D, Parronchi P. Bench to bedside review of myositis
autoantibodies. Clin Mol Allergy. 2018;16:1-17.
doi:10.1186/s12948-018-0084-9.
Parkes JE, Rothwell S, Oldroyd A, Chinoy H, Lamb JA.
Genetic background may contribute to the latitude-dependent
prevalence of dermatomyositis and anti-TIF1-γ
autoantibodies in adult patients with myositis. Arthritis Res
Ther. 2018;20:1-5. doi:10.1186/s13075-018-1617-9.
Troyanov Y, Targoff IN, Payette MP, Raynauld JP, Chartier
S, Goulet JR, et al. Redefining dermatomyositis: A
description of new diagnostic criteria that differentiate
pure dermatomyositis from overlap myositis with dermatomyositis
features. Medicine. 2014;93:318-32.
doi:10.1097/MD.0000000000000222.
Findlay AR, Goyal NA, Mozaffar T. An overview of
polymyositis and dermatomyositis. Muscle Nerve.
;51:638-56. doi:10.1002/mus.24566.
Muro Y, Sugiura K, Akiyama M. Cutaneous manifestations
in dermatomyositis: key clinical and serological
features - a comprehensive review. Clin Rev Allergy Immunol.
; 51:293-302. doi:10.1007/s12016-015-
-5.
Cavazzana I, Fredi M, Selmi C, Tincani A, Franceschini
F. The clinical and histological spectrum of idiopathic
inflammatory myopathies. Clin Rev Allergy Immunol.
; 52:88-98. doi: 10.1007/s12016-015-8517-4.
Cox JT, Gullotti DM, Mecoli CA, Lahouti AH, Albayda
J, Paik J, et al. "Hiker's feet": a novel cutaneous finding
in the inflammatory myopathies. Clin Rheumatol.
;36:1683-6. doi: 10.1007/s10067-017-3598-5.
Strowd LC, Jorizzo JL. Review of dermatomyositis:
establishing the diagnosis and treatment algorithm.
J Dermatol Treat. 2013;24:418-21. doi:
3109/09546634.2012.697540.
Bohan A, Peter JB. Polymyositis and dermatomyositis
(first of two parts). N Engl J Med. 1975;292:344-7.
doi:10.1056/NEJM197502132920706.
Bohan A, Peter JB. Polymyositis and dermatomyositis
(second of two parts). N Engl J Med. 1975;292:403-7.
doi:10.1056/NEJM197502202920807.
Sato S, Hirakata M, Kuwana M, Suwa A, Inada S, Mimori
T, et al. Autoantibodies to a 140-kd polypeptide, CADM-
, in Japanese patients with clinically amyopathic
dermatomyositis. Arthritis Rheum. 2005;52:1571-6.
doi:10.1002/art.21023.
Sato S, Hoshino K, Satoh T, Fujita T, Kawakami Y, Fujita
T, et al. RNA helicase encoded by melanoma differentiation-
associated gene 5 is a major autoantigen in patients
with clinically amyopathic dermatomyositis: Association
with rapidly progressive interstitial lung disease. Arthritis
Rheum. 2009;60:2193-200. doi:10.1002/art.24621.
Nakashima R, Imura Y, Kobayashi S, Yukawa N, Yoshifuji
H, Nojima T, et al. The RIG-I-like receptor IFIH1/
MDA5 is a dermatomyositis-specific autoantigen identified
by the anti-CADM-140 antibody. Rheumatology.
;49:433-40. doi:10.1093/rheumatology/kep375.
Kurtzman DJB, Vleugels RA. Anti-melanoma differentiation–
associated gene 5 (MDA5) dermatomyositis:
A concise review with an emphasis on distinctive clinical
features. J Am Acad Dermatol. 2018;78):776-85.
doi:10.1016/j.jaad.2017.12.010.
González-Moreno J, Raya-Cruz M, Losada-Lopez I, Cacheda
AP, Oliver C, Colom B. Rapidly progressive interstitial
lung disease due to anti-MDA5 antibodies without
skin involvement: a case report and literature review.
Rheumatol Int. 2018;38:1293-6. doi:10.1007/s00296-
-3991-7.
Alqatari S, Riddell P, Harney S, Henry M, Murphy G.
MDA-5 associated rapidly progressive interstitial lung
disease with recurrent pneumothoraces: A case report.
BMC Pulm Med. 2018;18:1-5. doi:10.1186/s12890-
-0622-8.
Narang NS, Casciola-Rosen L, Li S, Chung L, Fiorentino
DF. Cutaneous ulceration in dermatomyositis: association
with anti–melanoma differentiation–associated
gene 5 antibodies and interstitial lung disease. Arthritis
Care Res . 2015;67:667–72. doi: 10.1002/acr.22498.
Fujimoto M, Watanabe R, Ishitsuka Y, Okiyama N. Recent
advances in dermatomyositis-specific autoantibodies.
Curr Opin Rheumatol. 2016;28:636-44. doi:10.1097/
BOR.0000000000000329.
Hattori Y, Matsuyama K, Takahashi T, Shu E, Kanoh
H, Seishima M. Anti-MDA5 antibody-positive dermatomyositis
presenting with cellulitis-like erythema on the
mandible as an initial symptom. Case Rep Dermatol.
;10:110-4. doi:10.1159/000488077.
Chen Z, Cao M, Plana MN, Liang J, Cai H, Kuwana M, et
al. Utility of anti-MDA5 antibody measurement in identifying
patients with dermatomyositis and a high risk for
developing rapidly progressive interstitial lung disease:
a review of the literature and a meta-analysis. Arthritis
Care Res. 2013;65:1316-24. doi: 10.1002/acr.21985.
Gono T, Sato S, Kawaguchi Y, Kuwana M, Hanaoka M,
Katsumata Y, et al. Anti-MDA5 antibody, ferritin and IL-18
are useful for the evaluation of response to treatment in
interstitial lung disease with anti-MDA5 antibody-positive
dermatomyositis. Rheumatology. 2012;51:1563-70.
doi:10.1093/rheumatology/kes102.
Jordan M, Ghoreschi K. Anti-melanoma differentiation-
-associated protein 5 autoantibodies as a marker for
dermatomyositis-associated interstitial lung disease. Br
J Dermatol. 2017;176:294-5. doi:10.1111/bjd.15257.
Abe Y, Matsushita M, Tada K, Yamaji K, Takasaki Y, Tamura
N. Clinical characteristics and change in the antibody
titres of patients with anti-MDA5 antibody-positive
inflammatory myositis. Rheumatology. 2017;56:1492-
doi:10.1093/rheumatology/kex188.
Chen YJ, Wu CY, Shen JL. Predicting factors of malignancy
in dermatomyositis and polymyositis: a case-control
study. Br J Dermatol. 2001; 144:825-31.
Pelle MT, Callen JP, Bigby M. Adverse cutaneous reactions
to hydroxychloroquine are more common in patients
with dermatomyositis than in patients with cutaneous
lupus erythematosus. Arch Dermatol. 2002;138:1231-
doi:10.1001/archderm.138.9.1231.
Wolstencroft PW, Casciola-Rosen L, Fiorentino DF. Association
between autoantibody phenotype and cutaneous
adverse reactions to hydroxychloroquine in
dermatomyositis. JAMA Dermatol. 2018;154:1199-
doi:10.1001/jamadermatol.2018.2549.
Schiffmann ML, Warneke VS, Ehrchen J. Amyopathic
dermatomyositis with anti-TIF1 gamma antibodies. J Ger
Soc Dermatol. 2018;16:76-8. doi:10.1111/ddg.13394.
Fiorentino DF, Chung LS, Christopher-Stine L, Zaba L,
Li S, Mammen AL, et al. Most patients with cancer-associated
dermatomyositis have antibodies to nuclear
matrix protein NXP-2 or transcription intermediary factor
γ. Arthritis Rheum. 2013;65:2954-62. doi:10.1002/
art.38093.
Merlo G, Clapasson A, Cozzani E, Sanna L, Pesce
G, Bagnasco M, et al. Specific autoantibodies in dermatomyositis:
a helpful tool to classify different clinical
subsets. Arch Dermatol Res. 2017;309:87-95.
doi:10.1007/s00403-016-1704-1
Satoh M, Tanaka S, Ceribelli A, Calise SJ, Chan EKL. A
comprehensive overview on myositis-specific antibodies:
new and old biomarkers in idiopathic inflammatory
myopathy. Clin Rev Allergy Immunol. 2017; 52:1-19.
doi: 10.1007/s12016-015-8510-y.
Wolstencroft PW, Fiorentino DF. Dermatomyositis clinical
and pathological phenotypes associated with
myositis-specific autoantibodies. Curr Rheumatol Rep.
;20:28. doi:10.1007/s11926-018-0733-5.
Fiorentino DF, Kuo K, Chung L, Zaba L, Li S, Casciola-
-Rosen L. Distinctive cutaneous and systemic features
associated with antitranscriptional intermediary factor-
γ antibodies in adults with dermatomyositis. J Am
Acad Dermatol. 2015; 72:449-55. doi: 10.1016/j.
jaad.2014.12.009.
Didier K, Bolko L, Giusti D, Toquet S, Robbins A,
Antonicelli F, et al. Autoantibodies associated with
connective tissue diseases: What meaning for clinicians?
Front Immunol. 2018;9:541. doi:10.3389/
fimmu.2018.00541.
Albayda J, Pinal-Fernandez I, Huang W, Parks C, Paik
J, Casciola-Rosen L, et al. Antinuclear matrix protein 2
autoantibodies and edema, muscle disease, and malignancy
risk in dermatomyositis patients. Arthritis Care
Res. 2017;69:1771-6. doi: 10.1002/acr.23188.
Ghirardello A, Borella E, Beggio M, Franceschini F,
Fredi M, Doria A. Myositis autoantibodies and clinical
phenotypes. Auto Immun Highlights. 2014;5:69-75.
doi:10.1007/s13317-014-0060-4.
Ge Y, Lu X, Shu X, Peng Q, Wang G. Clinical characteristics
of anti-SAE antibodies in Chinese patients with
dermatomyositis in comparison with different patient cohorts.
Sci Rep. 2017;7:1-8. doi:10.1038/s41598-017-
-6.
Cruellas M, Viana V, Levy-Neto M, Souza F, Shinjo S.
Myositis-specific and myositis-associated autoantibody
profiles and their clinical associations in a large series of
patients with polymyositis and dermatomyositis. Clinics.
;68:909-14. doi:10.6061/clinics/2013(07)04.
Ghirardello A, Zampieri S, Iaccarino L, Tarricone E, Bendo
R, Gambari PF, et al. Anti-Mi-2 antibodies. Autoimmunity.
;38:79-83. doi:10.1080/08916930400022681.
Petri MH, Satoh M, Martin-Marquez BT, Vargas-Ramírez
R, Jara LJ, Saavedra MA, et al. Implications in the difference
of anti-Mi-2 and -p155/140 autoantibody prevalence
in two dermatomyositis cohorts from Mexico
City and Guadalajara. Arthritis Res Ther. 2013;15:R48.
doi:10.1186/ar4207.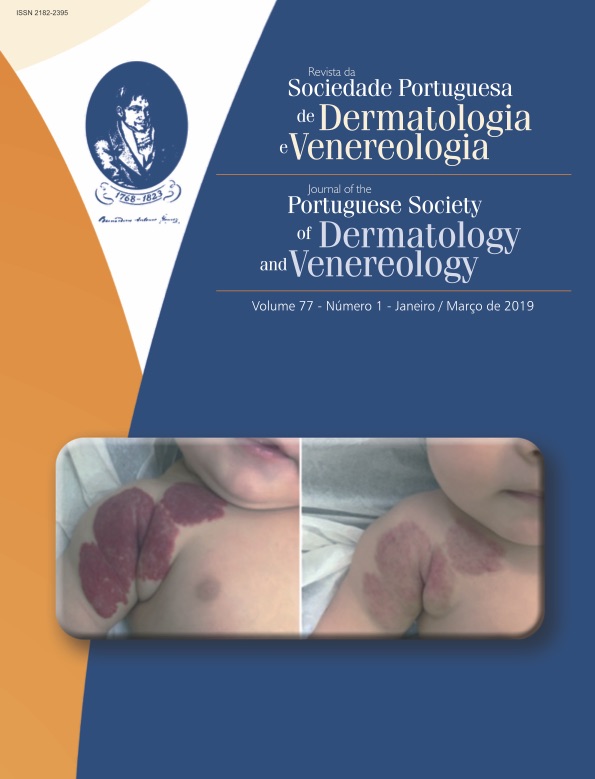 How to Cite
Calvão, J., Azeiteiro, A. R. I., & Gonçalo, M. (2019). A importância dos novos autoanticorpos específicos da dermatomiosite. Journal of the Portuguese Society of Dermatology and Venereology, 77(1), 15-24. https://doi.org/10.29021/spdv.77.1.1021
Section
Continuous Medical Education
All articles in this journal are Open Access under the Creative Commons Attribution-NonCommercial 4.0 International License (CC BY-NC 4.0).