How to Perform Videos in Dermatologic Surgery? A Simple and Inexpensive Recording Technique
Bruno Duarte

Dermatology Department, Hospital de Santo António dos Capuchos, Centro Hospitalar Universitário Lisboa Central, Lisboa, Portugal

João Goulão

Dermatology Department, Hospital Garcia de Orta, Almada, Portugal
Keywords:
Dermatologic Surgical Procedures, Dermatology, Video Recording
Abstract
Video recording surgical procedures is one of the most valuable tools for teaching and self-assessment in Dermatologic Surgery. A number of recording systems have been described in the literature. Nevertheless, they're usually expensive (~500€) and time-consuming to prepare, the latter being a major disadvantage for a busy surgical speciality such as Dermatology. The authors describe a simple and inexpensive technique for surgical video capture in Dermatologic Surgery. For this setup, the surgeon needs only a smartphone with a camera (which is nowadays ubiquitous), a bike phone holder (10€ to 30€), an adjustable intravenous pole and, optionally, a powerbank. With the patient in position for the surgical intervention (seated or lying on his back on the surgical table, depending on the procedure), the bike phone holder should be attached to the vertically adjustable intravenous pole. The smartphone must be then set on the bike phone holder, with its "recording mode" already started. Optionally, a powerbank can also be attached to the intravenous pole to provide extra charge for longer procedures. The height of the intravenous pole, as well as its position and distance to the surgical table, should be adjusted accordingly before the intervention, in order to provide the best recording definition. The authors describe a simple, easy to setup, inexpensive system to record videos in Dermatologic Surgery.
Downloads
Download data is not yet available.
References
Mb SAR, Chung KC. Educational Video Recording and Editing for the Hand Surgeon. J Hand Surg Am [Internet]. 2015;40(5):1048–54. Available from: http://dx.doi.org/10.1016/j.jhsa.2014.08.021
Graves SN, Shenaq DS, Langerman AJ. Video Capture of Plastic Surgery Procedures Using the GoPro HERO 3+. Plast Reconstr Surg Glob open. 2015;3(2):1–4.
Rj S, Anat C, Accessory LS, Otol L, Variations EH, Anat SR, et al. Novel Camera Mounting Technique for Dermatologic Surgeries. Dermatol Surg. 2017;43(9):1195–7.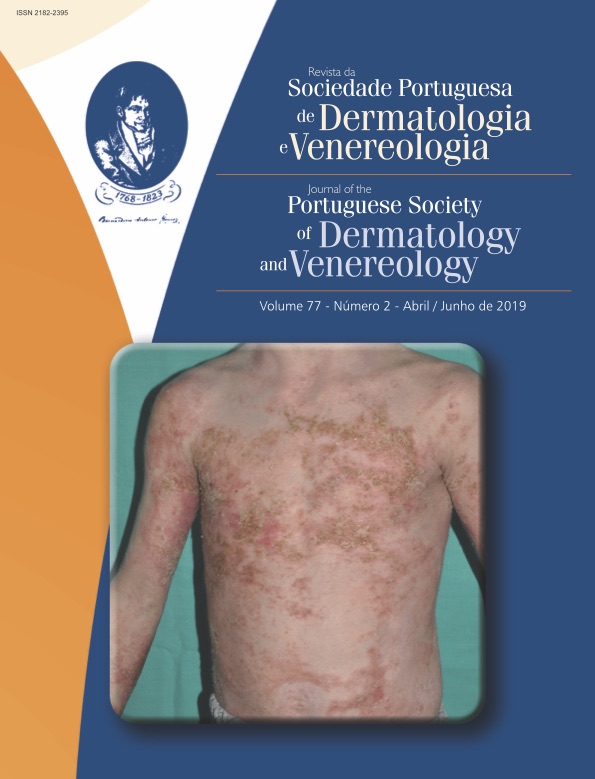 How to Cite
Duarte, B., & Goulão, J. (2019). How to Perform Videos in Dermatologic Surgery? A Simple and Inexpensive Recording Technique. Journal of the Portuguese Society of Dermatology and Venereology, 77(2), 143-144. https://doi.org/10.29021/spdv.77.2.1044
Section
Original Articles
Copyright (c) 2019 Journal of the Portuguese Society of Dermatology and Venereology
This work is licensed under a Creative Commons Attribution 4.0 International License.
All articles in this journal are Open Access and meet the requirements of funding bodies or academic institutions. Each article published in the Journal is published under the Creative Commons Attribution-NonCommercial-NoDerivatives 4.0 International License (CC BY-NC-ND 4.0). Articles can be read, downloaded, printed, and shared.
Submission of an article for publication implies the authors' consent to publication under the applicable Creative Commons license and the terms and conditions of the Publisher's Licensing Agreement.
It is the author's responsibility to obtain permission to reproduce illustrations, tables, etc. from other publications.
Upon acceptance of an article, authors will be asked to complete a 'Journal Publishing Agreement'. An e-mail will be sent to the corresponding author confirming receipt of the manuscript together with a 'Journal Publishing Agreement' form or a link to the online version of this agreement.
Author rights: As an author you (or your employer or institution) have certain rights to reuse your work.
The Journal reserves the right to use plagiarism detection software on any submitted material.