Hand Bullous Lesions in the Elderly
Luis Santiago

Departmento de Dermatovenereologia, Centro Hospitalar e Universitário de Coimbra, Coimbra, Portugal

J. C. Cardoso

Departmento de Dermatovenereologia, Centro Hospitalar e Universitário de Coimbra, Coimbra, Portugal

O. Tellechea

Departmento de Dermatovenereologia, Centro Hospitalar e Universitário de Coimbra, Coimbra, Portugal
Keywords:
Aged, Hand Dermatoses/diagnosis, Pemphigoid, Bullous/diagnosis, Skin Diseases, Vesiculobullous
Abstract
Relatamos o caso de um homem de 79 anos com história de lesões vesiculosas e bolhosas pruriginosas localizadas a nível palmar bilateral. Referia aparecimento há cerca de 2 anos, com resposta parcial a dermocorticóides de baixa-média potência e carácter recidivante. Ao exame objetivo apresentava múltiplas lesões vesiculobolhosas tensas com base eritematosa, a maioria em fase erosiva (Fig. 1). A nível plantar referia lesões no passado, que não apresentava no momento da consulta. Não apresentava outras alterações cutâneas ou mucosas. Foi enviada amostra para cultura de fungos que foi negativa. O estudo histopatológico de biópsia cutânea mostrou descolamento bolhoso subepidérmico com extensa reepitilização subjacente associado a infiltrado linfomononucleado perivascular rico em eosinófilos (Fig. 2). A imunofluorescência direta (IFD) de área perilesional mostrou depósitos lineares de C3 e IgG ao nível da junção dermo- epidérmica. Foram detectados anticorpos circulantes para BP180 (122 U/mL, normal >20 U/mL) por ELISA. Foi iniciado tratamento com prednisolona 30 mg/dia em desmame durante 2 semanas associado a dermocorticóide de alta potência com resolução das lesões e sem formação de novas bolhas em dois anos de follow-up.
Downloads
Download data is not yet available.
References
Chimanovitch I, Hamm H, Georgi M, Kroiss M, Stolz W, Apitz C, et al. Bullous pemphigoid of childhood: autoantibodies target the same epitopes within the NC16A domain of BP180 as autoantibodies in bullous pemphigoid of adulthood. Arch Dermatol. 2000; 136:527-32.
Rongioletti F, Parodi A, Rebora A. Dyshidrosiform pemphigoid: report of an additional case. Dermatologica.
; 17:84-5.
Bernard P, Borradori L. Pemphigoid group. In: Bolognia JL, Schaffer JV, Cerroni L. Dermatology. London: Mosby
Elsevier; 2018.
Levine N, Freilich A, Barland P. Localized pemphigoid simulating dyshidrosiform dermatitis. Arch Dermatol.
;115:320-1.
Caldarola G, Fania L, Cozzani E, Feliciani C, De Simone C. Dyshidrosiform pemphigoid: a well-defined clinical
entity? Eur J Dermatol. 2011;21:112-3. doi: 10.1684/ejd.2010.1172.
Barth JH, Venning VA, Wojnarowska F. Palmo-plantar involvement in auto-immune blistering disorders - pemphigoid, linear IgA disease and herpes gestationis. Clin Exp Dermatol. 1988; 13:85-6.
Ferreira BR, Vaz AS, Ramos L, Reis JP, Gonçalo M. Bullous pemphigoid of infancy - report and review of infantile
and pediatric bullous pemphigoid. Dermatol Online J. 2017;16;23
Ramos L, Tellechea O, Moreno A, Martins L, Neves N, Januário G, et al. Childhood bullous pemphigoid: Report
of 2 cases. J Eur Acad Dermatol Venereol. 2016; 30:330-2. doi: 10.1111/jdv.12724.
Soh H, Hosokawa H, Miyauchi H, Izumi H, Asada Y. Localized pemphigoid shares the same target antigen as
bullous pemphigoid. Br J Dermatol. 1991; 125:73-5.
Knees-Matzen S, Proksch E, Meigel WN. Dyshidrosiform bullous pemphigoid: Trigger factors. J Eur Acad Dermatol Venereol. 1996;7:257-62.
Hamm G, Wozniak KD. Bullous pemphigoid antigen concentration in normal human skin in relation to body
area and age. Arch Dermatol Res. 1988;280:416-9.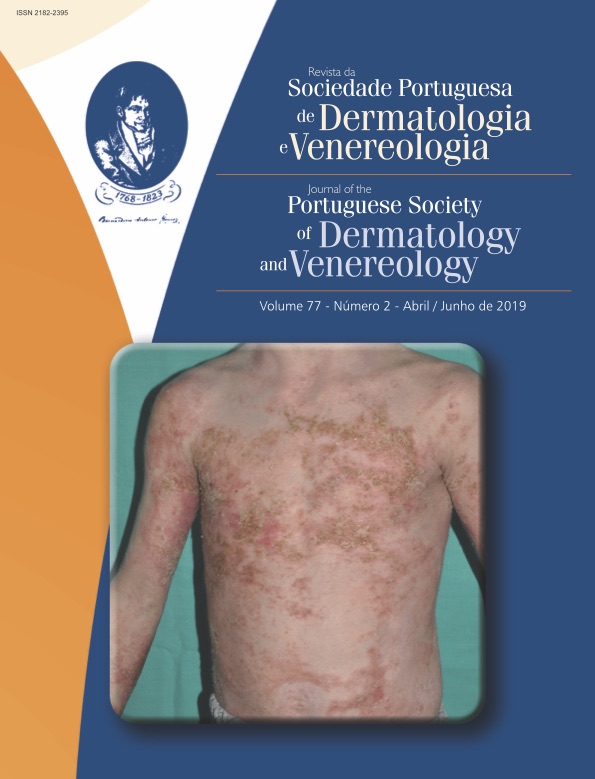 How to Cite
Santiago, L., Cardoso, J. C., & Tellechea, O. (2019). Hand Bullous Lesions in the Elderly. Journal of the Portuguese Society of Dermatology and Venereology, 77(2), 175-177. https://doi.org/10.29021/spdv.77.2.1061
Copyright (c) 2019 Journal of the Portuguese Society of Dermatology and Venereology
This work is licensed under a Creative Commons Attribution 4.0 International License.
All articles in this journal are Open Access and meet the requirements of funding bodies or academic institutions. Each article published in the Journal is published under the Creative Commons Attribution-NonCommercial-NoDerivatives 4.0 International License (CC BY-NC-ND 4.0). Articles can be read, downloaded, printed, and shared.
Submission of an article for publication implies the authors' consent to publication under the applicable Creative Commons license and the terms and conditions of the Publisher's Licensing Agreement.
It is the author's responsibility to obtain permission to reproduce illustrations, tables, etc. from other publications.
Upon acceptance of an article, authors will be asked to complete a 'Journal Publishing Agreement'. An e-mail will be sent to the corresponding author confirming receipt of the manuscript together with a 'Journal Publishing Agreement' form or a link to the online version of this agreement.
Author rights: As an author you (or your employer or institution) have certain rights to reuse your work.
The Journal reserves the right to use plagiarism detection software on any submitted material.