Gonorrhea: Antimicrobial Resistance and New Drugs
Catarina Soares Queirós

Serviço de Dermatovenereologia do Hospital de Santa Maria, Centro Hospitalar e Universitário de Lisboa Norte, Lisboa, Portugal

João Borges da Costa

Serviço de Dermatovenereologia do Hospital de Santa Maria, Centro Hospitalar e Universitário de Lisboa Norte, Lisboa, Portugal; Clínica Universitária de Dermatologia, Faculdade de Medicina de Lisboa, Lisboa, Portugal; Instituto de Higiene e Medicina Tropical, Lisboa, Portugal
Keywords:
Bacterial Agents, Drug Resistance, Bacterial, Gonorrhea/drug therapy, Neisseria gonorrhoeae/drug effects, Sexually Transmitted Diseases, Bacterial/drug therapy
Abstract
The global burden of sexually transmitted infections remains high, with significant associated morbidity and mortality. Gonorrhea is the second most notified sexually transmitted infection in Europe, and its incidence has been increasing in the last years. Although traditionally considered a treatable infection, antimicrobial resistance of Neisseria gonorrhoeaeincludes at present also macrolides, tetracyclines, sulfonamides and trimethoprim combinations, quinolones, and even cephalosporins. These high levels of gonococcal resistance to antimicrobials resulting in untreatable infections in the future may become one of the greatest challenges to the prevention and control of sexually transmitted infections, which may be a significant major public health issue. Therefore, the development of novel antimicrobials and/or new dual antimicrobial therapy regimens is urgently needed. In this paper, evolution of antimicrobial resistance of Neisseria gonorrhoeae is reviewed, along with new drugs currently under development for the treatment of this infection.
Downloads
Download data is not yet available.
References
World Health Organization. Report on global sexually transmitted infection surveillance 2018. Geneva; 2018.
World Health Organization. Global Health Sector Strategy on Sexually Transmitted Infections 2016-2021. Geneva; 2016.
European Centre for Disease Prevention and Control. Gonorrhoea. In: ECDC. Annual Epidemiological Report for 2017. Stockholm; 2019.
Gafos M, Horne R, Nutland W, Bell G, Rae C, Wayal S, et al. The Context of Sexual Risk Behaviour Among Men Who Have Sex with Men Seeking PrEP, and the Impact of PrEP on Sexual Behaviour. AIDS and Behavior. 2018;(0123456789).
European Centre for Disease Prevention and Control. Gonococcal antimicrobial susceptibility surveillance in Europe – Results summary 2017. Stockholm: ECDC; 2019.
Suay-garc B. Future Prospects for Neisseria gonorrhoeae Treatment. 2018;
IUSTI. STI Treatment Pocket European Guidelines. Barcelona; 2018.
Unemo M, Golparian D, Shafer WM, Affairs V. Challenges with gonorrhea in the era of multi-drug and extensively drug resistance – are we on the right track? 2015;12(6):653–6.
Goire N, Lahra MM, Chen M, Donovan B, Fairley CK, Guy R, et al. Molecular approaches to enhance surveillance of gonococcal antimicrobial resistance. Nature Publishing Group. 2014;12(3):223–9.
Golparian D, Fernandes P, Ohnishi M, Jensen JS, Unemo M. In Vitro Activity of the New Fluoroketolide Solithromycin ( CEM-101 ) against a Large Collection of Clinical Neisseria gonorrhoeae Isolates and International Reference Strains , Including Those with High-Level Antimicrobial Resistance : Potential Treatment Option for Gonorrhea ? 2012;2739–42.
Unemo M, Ringlander J, Wiggins C, Fredlund H, Jacobsson S, Cole M. High In Vitro Susceptibility to the Novel Spiropyrimidinetrione gonorrhoeae Isolates from 21 European Countries from 2012 to 2014. 2015;59(9):5220–5.
Batteiger BE, Hook EW, Seña AC, Long J, Wierzbicki MR, Ph D, et al. Single-Dose Zoliflodacin (ETX0914) for Treatment of Urogenital Gonorrhea. The New England Journal of Medicine. 2018;379:1835–45.
Taylor SN, Morris DH, Avery AK, Workowski KA, Batteiger BE, Tiffany CA, et al. Gepotidacin for the Treatment of Uncomplicated Urogenital Gonorrhea : A Phase 2 , Randomized , Dose- Ranging , Single-Oral Dose Evaluation. 2018;67.
Paukner S, Gruss A, Jensen J. In Vitro Activity of Lefamulin against Sexually Transmitted Bacterial Pathogens. 2018;1–5.
Butler M, Waidyarachchi S, Connolly K, Jerse A, Chai W, Lee R, et al. Aminomethyl Spectinomycins as Therapeutics for Drug-Resistant Gonorrhea and Chlamydia Coinfections. 2018;62(5):1–10.
Cole MJ, Spiteri G, Town ÞK, Unemo M, Hoffmann S, Chisholm SA, et al. Risk Factors for Antimicrobial-Resistant Neisseria gonorrhoeae in Europe. 2014;41(12):723–9.
European Centre for Disease Prevention and Control. Response plan to control and manage the threat of multidrugresistant gonorrhoea in Europe. Stockholm: ECDC; 2012.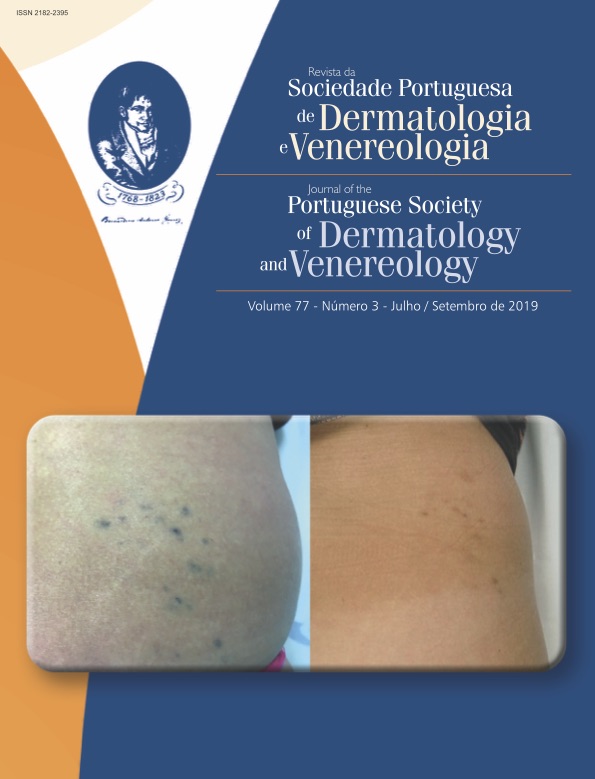 How to Cite
Queirós, C. S., & Borges da Costa, J. (2019). Gonorrhea: Antimicrobial Resistance and New Drugs. Journal of the Portuguese Society of Dermatology and Venereology, 77(3), 233-238. https://doi.org/10.29021/spdv.77.3.1089
All articles in this journal are Open Access under the Creative Commons Attribution-NonCommercial 4.0 International License (CC BY-NC 4.0).