Confluent and Reticulated Papillomatosis: Significant and Sustained Improvement with Oral Minocycline
Nicolle Casas Blanco

Faculdade de Medicina – Universidade do Sul de Santa Catarina – UNISUL, Santa Catarina, Brasil

Sabrina Coelho Poses

Faculdade de Medicina – Universidade do Sul de Santa Catarina – UNISUL, Santa Catarina, Brasil

Annelise Lídice Francisquini Fernandes Marra

Faculdade de Medicina – Universidade do Sul de Santa Catarina – UNISUL, Santa Catarina, Brasil

Jose Caldeira Bastos

Laboratório de Patologia Privado, Santa Catarina, Brasil

Roberto Moreira Amorim-Filho

Médico Dermatologista. Hospital Santa Tereza de Dermatologia Sanitária – Secretaria Estadual de Saúde. Clínica privada, Santa Catarina, Brasil

Gustavo Moreira Amorim

Universidade Federal do Rio de Janeiro. Professor de Dermatologia da Faculdade de Medicina – Universidade do Sul de Santa Catarina – UNISUL. Mestre em Anatomia Patológica pela Faculdade de Medicina da Universidade Federal do Rio de Janeiro. Hospital Santa Tereza de Dermatologia Sanitária – Secretaria Estadual de Saúde. Clínica privada, Rio de Janeiro, Brasil

http://orcid.org/0000-0001-6067-9463
Keywords:
Minocycline/therapeutic use, Papilloma/diagnosis, Papilloma/drug therapy, Skin Neoplasms
Abstract
We present an extensive and severe case of confluent and reticulated papillomatosis of Gougerot & Carteaud in a previously healthy adolescent male treated with oral Minocycline, 100 mg per day, for 30 days, with complete remission of the lesions and a sustained response after a 6-month follow-up. Recent literature on the subject is revised.
Downloads
Download data is not yet available.
References
Ferreira ML, Diniz ML, Ferreira MJ. Papilomatose confluente e reticulada de Gougerot e Carteaud: relato de três casos. An Bras Dermatol. 2009; 84:78-81.
Scheinfeld N. Confluent and reticulated papillomatosis. Am J Clin Dermatol. 2006; 7:305-13.
Lim JH, Tey HL, Chong WS. Confluent and reticulated papillomatosis. diagnostic and treatment challenges. Clin Cosmet Investig Dermatol. 2016; 25: 217-23. doi: 10.2147/CCID.S92051
Basu P, Cohen PR. Confluent and reticulated papillomatosis associated with polycystic ovarian syndrome. Cureus. 2019; 11: e3956. doi: 10.7759/cureus.3956.
Usta JA, Ghosn S, Wehbe MH. Confluent and reticulated papillomatosis subsiding spontaneously after delivery. Report of one case. Rev Med Chil. 2016; 144:1494-6.
Montemarano AD, Henge M, Sau P, Welch M. Confluent and reticulated papillomatosis: response to minocycline. J Am Acad Dermatol. 1996; 34: 253-6.
Davis MD, Weenig RH, Camilleri MJ. Confluent and reticulate papillomatosis (Gougerot-Carteaud syndrome): a minocycline-responsive dermatosis without evidence for yeast in pathogenesis. A study of 39 patients and a proposal of diagnostic criteria. Br J Dermatol. 2006;154:287-93.
Rao TN, Guruprassad P, Sowjanya ChL, Nagasridevi I. Confluent and reticulated papillomatosis: successful treatment with minocycline. Indian J Dermatol Venereol Leprol. 2010; 76: 725. doi. 10.4103/0378-6323.72480.
Fukumoto T, Kozaru T Sakaguchi M, Oka M. Concomitant confluent and reticulated papillomatosis and acanthosis nigricans in an obese girl with insulin resistance successfully treated with oral minocycline: Case report and published work review. J Dermatol. 2017; 44: 954-8. doi: 10.1111/1346-8138.13819.
Lee SW, Loo CH, Tan WC. Confluent and reticulated papillomatosis: Case séries of 3 patients from Kedah, Malaysia and literature review. Med J Malaysia. 2018; 73: 338-9.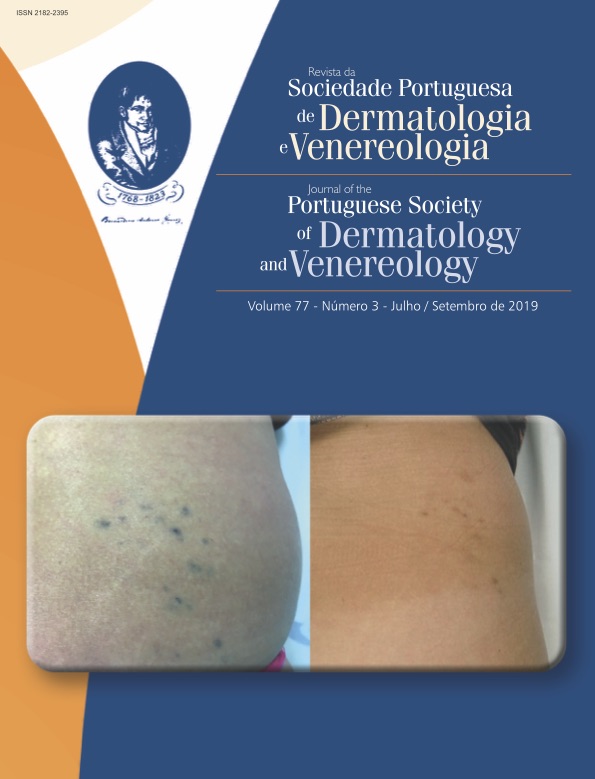 How to Cite
Blanco, N. C., Poses, S. C., Marra, A. L. F. F., Bastos, J. C., Amorim-Filho, R. M., & Amorim, G. M. (2019). Confluent and Reticulated Papillomatosis: Significant and Sustained Improvement with Oral Minocycline. Journal of the Portuguese Society of Dermatology and Venereology, 77(3), 253-256. https://doi.org/10.29021/spdv.77.3.1092
All articles in this journal are Open Access under the Creative Commons Attribution-NonCommercial 4.0 International License (CC BY-NC 4.0).