A Case of Acquired Mucosal and Cutaneous Pigmentation
Alexandre Miroux-Catarino

Médico Interno de Dermatovenereologia/Resident of Dermatology and Venereology, Serviço de Dermatologia, Centro Hospitalar de Lisboa Ocidental, Lisboa, Portugal

http://orcid.org/0000-0001-8243-8724

Leandro Silva

Médico Interno de Dermatovenereologia/Resident of Dermatology and Venereology, Serviço de Dermatologia, Centro Hospitalar de Lisboa Ocidental, Lisboa, Portugal

Maria Goreti Catorze

Assistente Hospitalar Graduada de Dermatovenereologia, Serviço de Dermatologia, Centro Hospitalar de Lisboa Ocidental, Lisboa, Portugal / Consultant of Dermatology and Venereology, Dermatology Department, Centro Hospitalar de Lisboa Ocidental, Lisbon

Isabel Viana

Chefe de Serviço de Dermatovenereologia, Serviço de Dermatologia, Centro Hospitalar de Lisboa Ocidental, Lisboa, Portugal / Department Director of Dermatology and Venereology, Dermatology Department, Centro Hospitalar de Lisboa Ocidental, Lisbon
Keywords:
Hyperpigmentation/chemically induced, Minocycline/adverse effects, Pigmentation Disorders/chemically induced
Downloads
Download data is not yet available.
References
Eisen D, Hakim MD. Minocycline-induced pigmentation. Incidence, prevention and management. Drug Saf. 1998;18:431-40.
Fiscus V, Hankinson A, Alweis R. J Community Hosp Intern Med Perspect. 2014;4. doi: 10.3402/jchimp.v4.24063.
Abdelghany M, Kivitz AJ. Minocycline-induced hyperpigmentation. Cleve Clin J Med. 2016;83:876-7. doi: 10.3949/ccjm.83a.16058.
Holm AN, Nelson WK. Images in clinical medicine. Minocycline-induced hyperpigmentation. N Engl J Med. 2006;355:e23. doi: 10.1056/NEJMicm053666.
Tavares J, Leung WW. Discoloration of nail beds and skin from minocycline. CMAJ. 2011;183:224. doi: 10.1503/cmaj.091498.
Ozog DM, Gogstetter DS, Scott G, Gaspari AA. Minocycline-induced hyperpigmentation in patients with pemphigus and pemphigoid. Arch Dermatol. 2000;136:1133-8. doi: 10.1001/archderm.136.9.1133.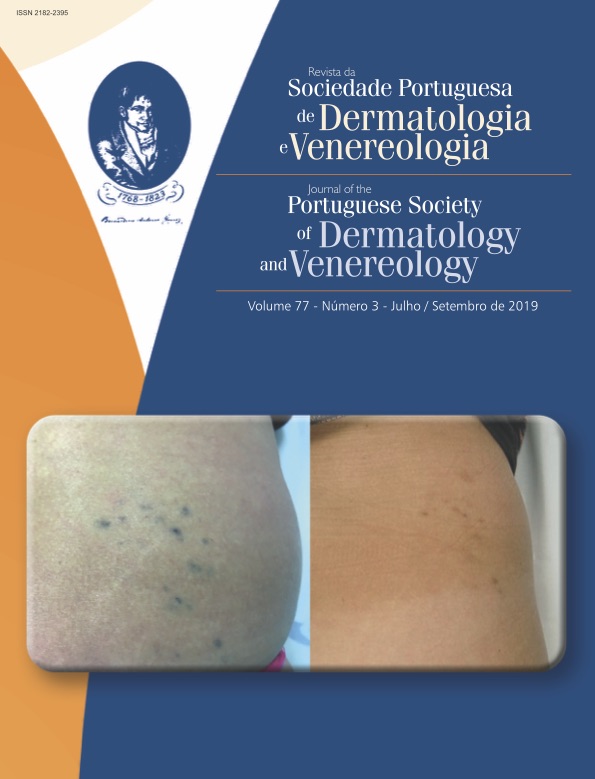 How to Cite
Miroux-Catarino, A., Silva, L., Catorze, M. G., & Viana, I. (2019). A Case of Acquired Mucosal and Cutaneous Pigmentation. Journal of the Portuguese Society of Dermatology and Venereology, 77(3), 267-269. https://doi.org/10.29021/spdv.77.3.1095
Copyright (c) 2019 Journal of the Portuguese Society of Dermatology and Venereology
This work is licensed under a Creative Commons Attribution 4.0 International License.
All articles in this journal are Open Access and meet the requirements of funding bodies or academic institutions. Each article published in the Journal is published under the Creative Commons Attribution-NonCommercial-NoDerivatives 4.0 International License (CC BY-NC-ND 4.0). Articles can be read, downloaded, printed, and shared.
Submission of an article for publication implies the authors' consent to publication under the applicable Creative Commons license and the terms and conditions of the Publisher's Licensing Agreement.
It is the author's responsibility to obtain permission to reproduce illustrations, tables, etc. from other publications.
Upon acceptance of an article, authors will be asked to complete a 'Journal Publishing Agreement'. An e-mail will be sent to the corresponding author confirming receipt of the manuscript together with a 'Journal Publishing Agreement' form or a link to the online version of this agreement.
Author rights: As an author you (or your employer or institution) have certain rights to reuse your work.
The Journal reserves the right to use plagiarism detection software on any submitted material.