A Dermatologia na Enfermaria de Medicina Interna: Análise Retrospectiva de um Centro Terciário
Tomás Pessoa e Costa

Serviço de Dermatologia do Hospital Santo António dos Capuchos, Centro Hospitalar Lisboa Central, Lisboa, Portugal

Ana Luísa João

Serviço de Dermatologia do Hospital Santo António dos Capuchos, Centro Hospitalar Lisboa Central, Lisboa, Portugal

Márcia Pereira

Serviço de Medicina Interna 2.3 do Hospital Santo António dos Capuchos, Centro Hospitalar Lisboa Central, Lisboa, Portugal

Ana Rita Estriga

Serviço de Medicina Interna 2.3 do Hospital Santo António dos Capuchos, Centro Hospitalar Lisboa Central, Lisboa, Portugal

Filipa Rocha Páris

Serviço de Dermatologia do Hospital Santo António dos Capuchos, Centro Hospitalar Lisboa Central, Lisboa, Portugal

Eduardo Gomes da Silva

Serviço de Medicina Interna 2.3 do Hospital Santo António dos Capuchos, Centro Hospitalar Lisboa Central, Lisboa, Portugal
Keywords:
Dermatology, Hospitalization, Internal Medicine
Abstract
Background: Skin diseases are common in Internal Medicine wards and often require observation by a dermatologist. This study intends to characterize the pattern of skin pathology in these patients and to evaluate the impact of dermatologists in their approach.
Methods: A retrospective study was conducted. Dermatology observations over 46 months in Internal Medicine wards of Hospital Santo António dos Capuchos were analyzed. Patients' conditions were classified according to the 10th revision of the International Statistical Classification of Diseases and Related Health Problems.
Results: 231 men and 217 women were observed, with an average age of 72.6 years. Stasis dermatitis and venous leg ulcers were the most common diagnosis.
Discussion and Conclusion: The Dermatology team significantly reduced the number of undiagnosed patients. Our study reinforces the importance of dermatologists in the evaluation of inpatients with skin diseases.
Downloads
Download data is not yet available.
References
Lynch PJ. The Future of Medical Dermatology. Arch Dermatol. 1998;134:358.
Mancusi S, Festa Neto C. Inpatient dermatological consultations in a university hospital. Clinics. 2010;65:851-5.
Alani A, Sadlier M, Uddin A, Hackett C, Ramsay B, Ahmad K. An analysis of inpatient dermatologic consultations at University Hospital Limerick: inadequate infrastructure leads to acute skin failure. Ir J Med Sci. 2017;186:305-7. doi: 10.1007/s11845-016-1424-8.
Peñate Y, Guillermo N, Melwani P, Martel R, Borrego L. Dermatologists in hospital wards: an 8-year study of dermatology consultations. Dermatology. 2009;219:225-31.
Tay LK, Lee HY, Thirumoorthy T, Pang SM. Dermatology referrals in an East Asian tertiary hospital: a need for inpatient medical dermatology. Clin Exp Dermatol. 2010;36:129-34.
Koh H. A retrospective analysis of dermatological problems in a hematology ward. Clin Cosmet Investig Dermatol. 2013;6:145-9. doi: 10.2147/CCID.44853.
Kirsner RS, Yang DG, Kerdel FA. Inpatient dermatology. The difficulties, the reality, and the future. Dermatol Clin. 2000;18:383-90, vii.
Falanga V, Schachner LA, Rae V, Ceballos PI, Gonzalez A, Liang G, et al. Dermatologic consultations in the hospital setting. Arch Dermatol. 1994;130:1022-5.
Nahass GT. Inpatient dermatology consultation. Dermatol Clin. 2000;18:533-542, x.
Raikar DR, Manthale NS, Raikar SR. Inpatient dermatological referrals in a tertiary care hospital. Int J Res Dermatol. 2017;3:251.
Feldman SR, Fleischer AB Jr, McConnell RC. Most common dermatologic problems identified by internists 1990-1994. Arch Intern Med. 1998;158:726-30.
Fernandes IC, Velho G, Selores M. Dermatology inpatient consultation in a Portuguese university hospital. Dermatol Online J. 2012;18:16.
Galimberti F, Guren L, Fernandez AP, Sood A. Dermatology consultations significantly contribute quality to care of hospitalized patients: a prospective study of dermatology inpatient consults at a tertiary care center. Int J Dermatol. 2016;55:e547-51. doi: 10.1111/ijd.13327.
Hu L, Haynes H, Ferrazza D, Kupper T, Qureshi A. Impact of specialist consultations on inpatient admissions for dermatology-specific and related DRGs. J Gen Intern Med. 2013;28:1477-82. doi: 10.1007/s11606-013-2440-2.
Kroshinsky D, Cotliar J, Hughey LC, Shinkai K, Fox LP. Association of dermatology consultation with accuracy of cutaneous disorder diagnoses in hospitalized patients: a multicenter analysis. JAMA Dermatol. 2016;152:477-80. doi: 10.1001/jamadermatol.2015.5098.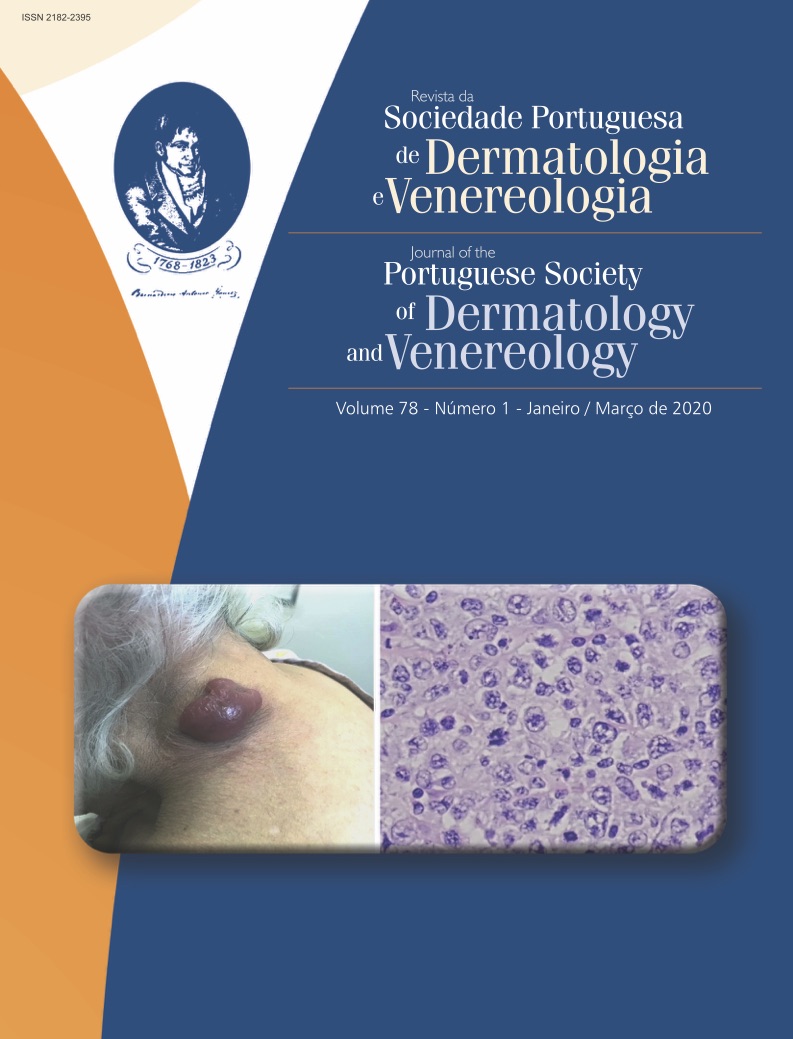 How to Cite
Pessoa e Costa, T., João, A. L., Pereira, M., Estriga, A. R., Rocha Páris, F., & Gomes da Silva, E. (2020). A Dermatologia na Enfermaria de Medicina Interna: Análise Retrospectiva de um Centro Terciário. Journal of the Portuguese Society of Dermatology and Venereology, 78(1), 37-40. https://doi.org/10.29021/spdv.78.1.1099
Section
Original Articles
All articles in this journal are Open Access under the Creative Commons Attribution-NonCommercial 4.0 International License (CC BY-NC 4.0).