A Single Cutaneous Ulcer in a Healthy Adolescent
Alexandra Azevedo

Department of Dermatology, Centro Hospitalar Universitário do Porto

Susana Machado

Department of Dermatology, Centro Hospitalar Universitário do Porto, Porto, Portugal.; Instituto de Ciências Biomédicas Abel Salazar, University of Porto, Porto, Portugal

Pedro Andrade

Department of Dermatology, Pedro Hispano Hospital - ULS Matosinhos, Porto, Portugal

Manuela Selores

Department of Dermatology, Centro Hospitalar Universitário do Porto, Porto, Portugal.; Instituto de Ciências Biomédicas Abel Salazar, University of Porto, Porto, Portugal
Keywords:
Adolescent, Pyoderma Gangrenosum, Leg Ulcer, Skin Ulcer
Downloads
Download data is not yet available.
References
Schoch JJ, Tolkachjov SN, Cappel JA, Gibson LE, Davis DMR. Pediatric Pyoderma Gangrenosum: A Retrospective Review of Clinical Features, Etiologic Associations, and Treatment. Pediatr Dermatol. 2017 Jan;34(1):39–45. doi: 10.1111/pde.12990
Powell FC, Hackett BC, Wallach D. Pyoderma gangrenosum. In: Fitzpatrick's Dermatology in General Medicine, 8th ed, Goldsmith LA, Katz SI, Gilchrest BA, et al (Eds), McGraw-Hill Companies, Inc., New York 2012. Vol 1, p.371.
Kechichian E, Haber R, Mourad N, El Khoury R, Jabbour S, Tomb R. Pediatric pyoderma gangrenosum: a systematic review and update. Int J Dermatol. 2017 May;56(5):486–95. doi: 10.1111/ijd.13584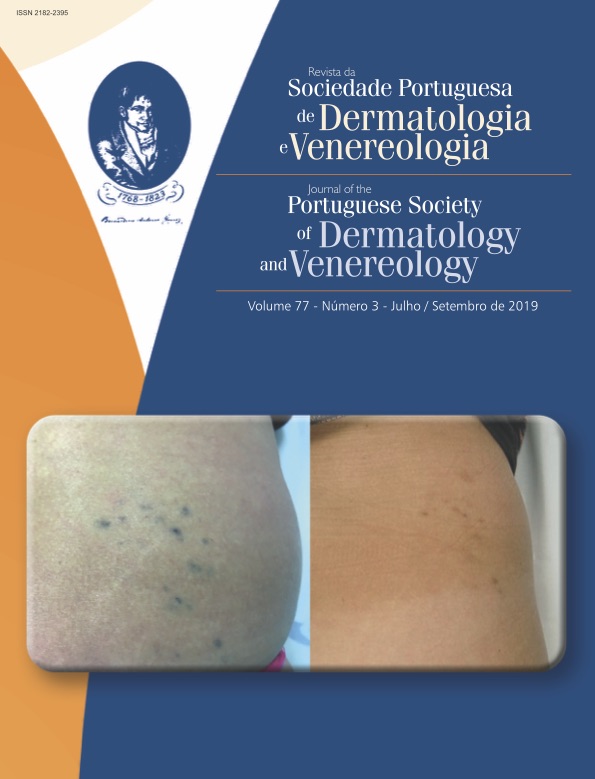 How to Cite
Azevedo, A., Machado, S., Andrade, P., & Selores, M. (2019). A Single Cutaneous Ulcer in a Healthy Adolescent. Journal of the Portuguese Society of Dermatology and Venereology, 77(3), 265-266. https://doi.org/10.29021/spdv.77.3.1100
Section
Dermatoloty Images
Copyright (c) 2019 Journal of the Portuguese Society of Dermatology and Venereology
This work is licensed under a Creative Commons Attribution 4.0 International License.
All articles in this journal are Open Access and meet the requirements of funding bodies or academic institutions. Each article published in the Journal is published under the Creative Commons Attribution-NonCommercial-NoDerivatives 4.0 International License (CC BY-NC-ND 4.0). Articles can be read, downloaded, printed, and shared.
Submission of an article for publication implies the authors' consent to publication under the applicable Creative Commons license and the terms and conditions of the Publisher's Licensing Agreement.
It is the author's responsibility to obtain permission to reproduce illustrations, tables, etc. from other publications.
Upon acceptance of an article, authors will be asked to complete a 'Journal Publishing Agreement'. An e-mail will be sent to the corresponding author confirming receipt of the manuscript together with a 'Journal Publishing Agreement' form or a link to the online version of this agreement.
Author rights: As an author you (or your employer or institution) have certain rights to reuse your work.
The Journal reserves the right to use plagiarism detection software on any submitted material.