A Single Cutaneous Ulcer in a Healthy Adolescent
Alexandra Azevedo

Department of Dermatology, Centro Hospitalar Universitário do Porto

Susana Machado

Department of Dermatology, Centro Hospitalar Universitário do Porto, Porto, Portugal.; Instituto de Ciências Biomédicas Abel Salazar, University of Porto, Porto, Portugal

Pedro Andrade

Department of Dermatology, Pedro Hispano Hospital - ULS Matosinhos, Porto, Portugal

Manuela Selores

Department of Dermatology, Centro Hospitalar Universitário do Porto, Porto, Portugal.; Instituto de Ciências Biomédicas Abel Salazar, University of Porto, Porto, Portugal
Keywords:
Adolescent, Pyoderma Gangrenosum, Leg Ulcer, Skin Ulcer
Downloads
Download data is not yet available.
References
Schoch JJ, Tolkachjov SN, Cappel JA, Gibson LE, Davis DMR. Pediatric Pyoderma Gangrenosum: A Retrospective Review of Clinical Features, Etiologic Associations, and Treatment. Pediatr Dermatol. 2017 Jan;34(1):39–45. doi: 10.1111/pde.12990
Powell FC, Hackett BC, Wallach D. Pyoderma gangrenosum. In: Fitzpatrick's Dermatology in General Medicine, 8th ed, Goldsmith LA, Katz SI, Gilchrest BA, et al (Eds), McGraw-Hill Companies, Inc., New York 2012. Vol 1, p.371.
Kechichian E, Haber R, Mourad N, El Khoury R, Jabbour S, Tomb R. Pediatric pyoderma gangrenosum: a systematic review and update. Int J Dermatol. 2017 May;56(5):486–95. doi: 10.1111/ijd.13584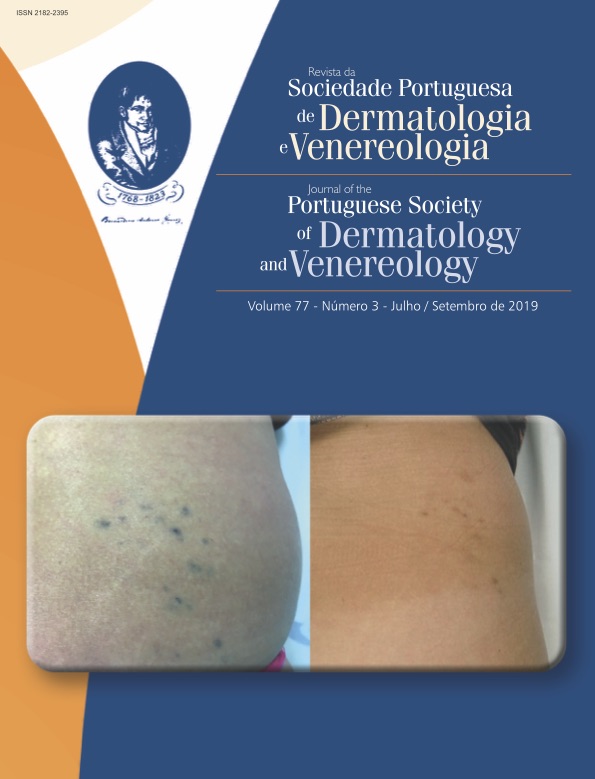 How to Cite
Azevedo, A., Machado, S., Andrade, P., & Selores, M. (2019). A Single Cutaneous Ulcer in a Healthy Adolescent. Journal of the Portuguese Society of Dermatology and Venereology, 77(3), 265-266. https://doi.org/10.29021/spdv.77.3.1100
Section
Dermatoloty Images
All articles in this journal are Open Access under the Creative Commons Attribution-NonCommercial 4.0 International License (CC BY-NC 4.0).