New Advances in the Treatment of Onychomycosis
C. Galhardas Perusinha

Escola de Ciências e Tecnologias da Saúde, Universidade Lusófona de Humanidades e Tecnologias, Lisboa, Portugal

C. Rosado

CBIOS, Universidade Lusófona de Humanidades e Tecnologias, Lisboa, Portugal

A. Lencastre

Serviço de Dermatologia, Centro Hospitalar Universitário de Lisboa Central, Lisboa, Portugal
Keywords:
Antifungal Agents/therapeutic use, Onychomycosis/drug therapy
Abstract
At present, treating mycosis of the nail apparatus still remains a challenge. The infectious focus is entrapped on a specific anatomic structure where permanent resolution is sometimes unattainable, which means that onychomycosis often becomes a chronic condition that persists in an active state in the range of several years. The priority in recent developments of onychomycosis' pharmacotherapy lies on topical monotherapies for use in patients who cannot take oral medication or prefer a topical drug and, as an additional advantage, to combine them with oral drugs and/or medical devices to expand the current treatment possibilities. This review encompasses therapeutic options for onychomycosis in the status quo. Two novel topical drugs, efinaconazole and tavaborole, received approval from the competent regulatory agency, the Food and Drug Administration (FDA), in 2014.
Downloads
Download data is not yet available.
References
Ameen M, Lear JT, Madan V, Mohd Mustapa MF, Richardson M. British association of dermatologists' guidelines for the management of onychomycosis 2014. Br J Dermatol. 2014;171:937-58. doi: 10.1111/bjd.13358.
Kaur R, Kashyap B, Bhalla P. Onychomycosis - epidemiology, diagnosis and management. Indian J Med Microbiol. 2008; 26: 108–16.
Gupta AK, Paquet M, Simpson FC. Therapies for the treatment of onychomycosis. Clin. Dermatol. 2013; 31:544–54.
Rosen T, Friedlander SF, Kircik L, Zirwas MJ, Stein Gold L, Bhatia N, et al. Onychomycosis: epidemiology, diagnosis, and treatment in a changing landscape. J Drugs Dermatol. 2015;14:223-33.
Akhtar N, Sharma H, Pathak K. Onychomycosis: potential of nail lacquers in transungual delivery of antifungals. Scientifica. 2016: 1–12.
Jinna S, Finch J. Spotlight on tavaborole for the treatment of onychomycosis. Drug Des Devel Ther. 2015;9:6185-90. doi: 10.2147/DDDT.S81944.
Lipner SR, Scher RK. Efinaconazole in the treatment of onychomycosis. Infect Drug Resist. 2015;8:163-72. doi: 10.2147/IDR.S69596.
Gupta AK, Versteeg SG, Shear NH. Onychomycosis in the 21st century: an update on diagnosis, epidemiology, and treatment. J Cutan Med Surg. 2017;21:525-39. doi: 10.1177/1203475417716362.
Gupta AK, Simpson FC. Routes of drug delivery into the nail apparatus: Implications for the efficacy of topical nail solutions in onychomycosis. J Dermatolog Treat. 2016;27:2-4. doi:
3109/09546634.2015.1034081.
Baran R, Dawber R. Diseases of the Nails and Their Management. 4th ed. Oxford: Wiley-Blackwell; 2012.
Richert B, Baran R. L´ONGLE: de la clinique au traitement. 2ème ed. Paris: MED´COM; 2009.
Tabara K, Szewczyk AE, Bienias W, Wojciechowska A, Pastuszka M, Oszukowska M, et al. Amorolfine vs. ciclopirox - Lacquers for the treatment of onychomycosis. Postepy Dermatol Alergol. 2015; 32: 40–5. doi: 10.5114/pdia.2014.40968.
Zalacain A, Merlos A, Planell E, Cantadori EG, Vinuesa T, Viñas M. Clinical laser treatment of toenail onychomycoses. Lasers Med Sci. 2018;33:927-933. doi: 10.1007/s10103-017-2198-6.
Gupta AK, Simpson FC. New pharmacotherapy for the treatment of onychomycosis: an update. Expert Opin Pharmacother. 2015;16:227-36. doi: 10.1517/14656566.2015.993380.
Lipner SR, Scher RK. Onychomycosis: Treatment and prevention of recurrence. J Am Acad Dermatol. 2019;80:853-67. doi: 10.1016/j.jaad.2018.05.1260.
Rigopoulos D, Elewski B, Richert B. Onychomycosis: diagnosis and effective management. Oxford: Wiley-Blackwell; 2018.
Bonhert K, Dorizas A, Sadick NS. Efficacy of combination therapy with efinaconazole 10% solution and 1064 nm Nd:YAG laser for treatment of toenail onychomycosis. J Cosmet Laser Ther. 2019;21:179-83. doi: 10.1080/14764172.2018.1502451.
Sugiura K, Sugimoto N, Hosaka S, Katafuchi-Nagashima M, Arakawa Y, Tatsumi Y, et al. The low keratin affinity of efinaconazole contributes to its nail penetration and fungicidal activity in topical onychomycosis treatment. Antimicrob Agents Chemother. 2014;58:3837-42. doi: 10.1128/AAC.00111-14.
Elewski BE, Tosti A. Tavaborle for the treatment of onychomycosis. Expert Opin Phamacother. 2014;15:1439-48. doi: 10.1517/14656566.2014.921158.
Gupta AK, Daigle D. Potential role of tavaborole for the treatment of onychomycosis. Future Microbiol. 2014;9:1243-50. doi: 10.2217/fmb.14.76.
Gupta AK, Cernea M, Foley KA. Improving cure rates in onychomycosis. J Cutan Med Surg. 2016; 20:517-31.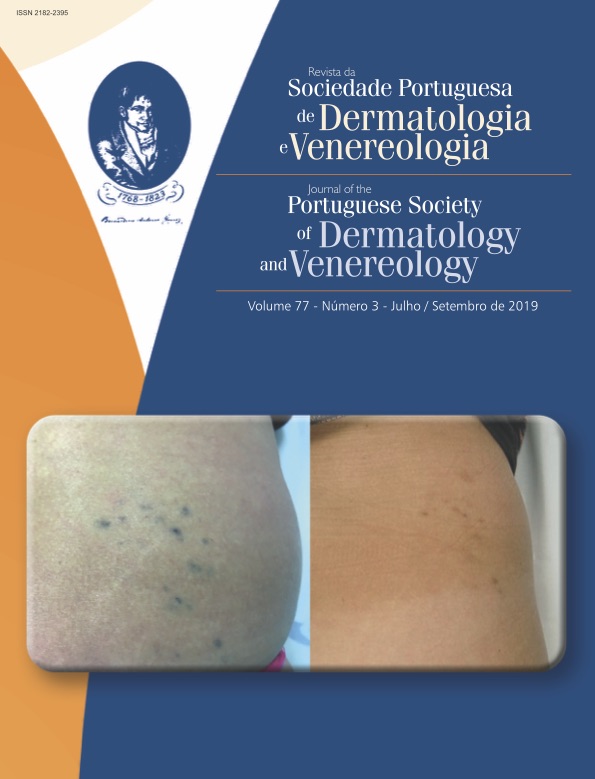 How to Cite
Galhardas Perusinha, C., Rosado, C., & Lencastre, A. (2019). New Advances in the Treatment of Onychomycosis. Journal of the Portuguese Society of Dermatology and Venereology, 77(3), 239-243. https://doi.org/10.29021/spdv.77.3.1104
All articles in this journal are Open Access under the Creative Commons Attribution-NonCommercial 4.0 International License (CC BY-NC 4.0).