Multiple Papules on the Face
Keywords:
Facial Neoplasms/diagnosis, Skin Neoplasms/diagnosis
Downloads
Download data is not yet available.
References
Pinho AC, Gouveia MJ, Gameiro AR, Cardoso JC, Gonçalo MM. Brooke-Spiegler Syndrome – an underrecognized cause of multiple familial scalp tumors: report of a new germline mutation. J Dermatol Case Rep. 2015;9: 67-70. doi: 10.3315/jdcr.2015.1208.
Manchanda K, Bansal M, Bhayana AA, Pandey S. Brooke-Spiegler syndrome: a rare entity. Int J Trichology 2012; 4: 29–31. doi: 10.4103/0974-7753.96084.
Kazakov DV. Brooke-Spiegler Syndrome and phenotypic variants: an update. Head Neck Pathol. 2016; 10:125-30. doi: 10.1007/s12105-016-0705-x.
Mohiuddin W, Laun J, Cruse W. Brooke-Spiegler Syndrome. Eplasty. 2018; 18:ic14.
Scott AR, Faquin WC, Deschler DG. Parotid mass in a woman with multiple cutaneous cylindromas. Head Neck. 2010;32:684-7. doi: 10.1002/hed.21133.
Lavorato FG, Miller MD, Obadia DL, Nery NS, Silva RS. Syndrome in question. Brooke-Spiegler syndrome. An Bras Dermatol. 2014; 89:175-6. doi: 10.1590/abd1806-4841.20142194.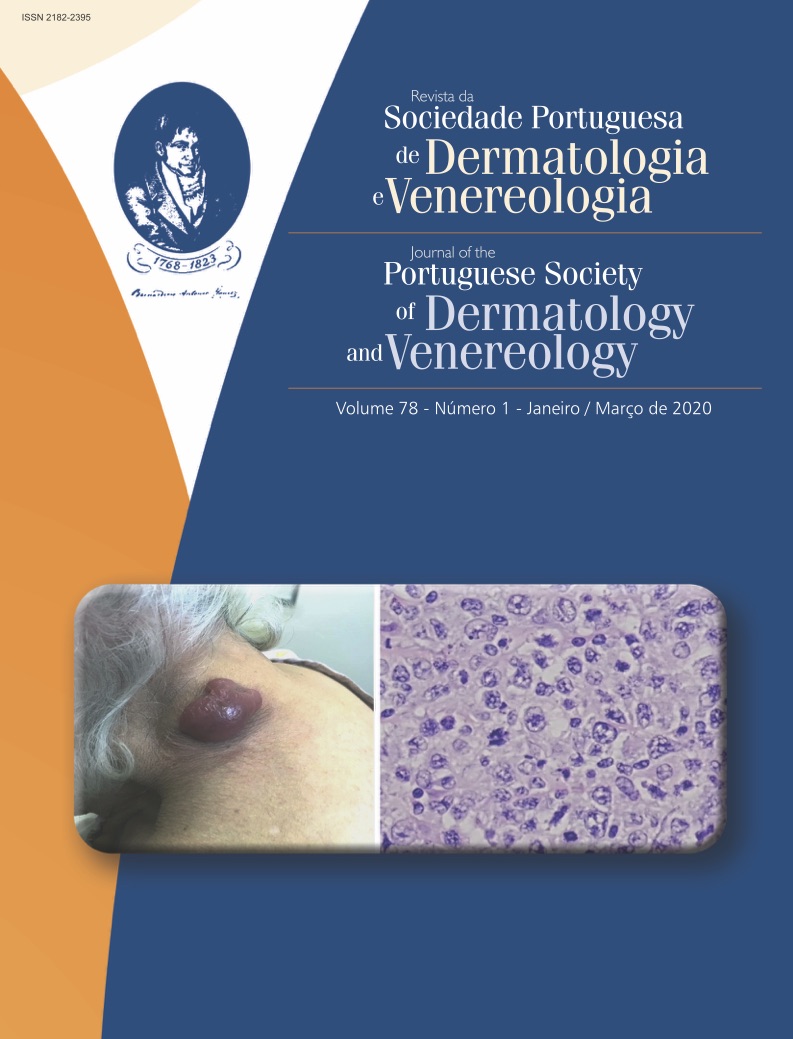 How to Cite
Almeida, F. T., Caldas, R., Rodrigues, A. P., & Ferreira, O. (2020). Multiple Papules on the Face. Journal of the Portuguese Society of Dermatology and Venereology, 78(1), 83-84. https://doi.org/10.29021/spdv.77.4.1127
All articles in this journal are Open Access under the Creative Commons Attribution-NonCommercial 4.0 International License (CC BY-NC 4.0).