Reconstruction of a Major Facial Defect with Multiple Z-Plasty Dermatologic Surgery Article
Mariana Batista

Interno de Dermatovenereologia, Serviço de Dermatologia, Centro Hospitalar Universitário de Coimbra. Portugal

https://orcid.org/0000-0003-3442-615X

Luís Santiago

Interno de Dermatovenereologia, Serviço de Dermatologia, Centro Hospitalar Universitário de Coimbra. Portugal

André Pinho

Assistente Hospitalar de Dermatologia, Unidade de Cirurgia Dermatológica, Serviço de Dermatologia, Centro Hospitalar Universitário de Coimbra. Portugal

https://orcid.org/0000-0001-6433-311X

Ana Brinca

Assistente Hospitalar de Dermatologia, Unidade de Cirurgia Dermatológica, Serviço de Dermatologia, Centro Hospitalar Universitário de Coimbra; Assistente Convidada da Faculdade de Medicina da Universidade de Coimbra. Portugal

https://orcid.org/0000-0002-7539-9912

Ricardo Vieira

Assistente Graduado de Dermatovenereologia, Unidade de Cirurgia Dermatológica, Serviço de Dermatologia, Centro Hospitalar Universitário de Coimbra; Professor Associado da Faculdade de Medicina da Universidade de Coimbra. Portugal
Keywords:
Cicatrix/surgery, Dermatologic Surgical Procedures, Face/surgery, Reconstructive Surgical Procedures, Surgical Flaps
Abstract
Z-plasty is a surgical technique classically used to correct scars. It consists of a double transposition of two or more adjacent triangular-shaped flaps resulting in a Z-shaped scar. This procedure is especially advantageous when the surgical incision is not parallel to the skin tension lines as it allows repositioning of the tension vectors, tending to a more favorable cosmetic result and preventing scar retractions. We present the case of a young woman with a left supraciliary basal cell carcinoma whose excision resulted in an extensive surgical defect which was reconstructed using a multiple Z-patch. The authors describe the surgical technique as well as its main advantages and applicability.
Downloads
Download data is not yet available.
References
Barreiros H, Goulão J. Z-Plasty: useful uses in dermatologic surgery. An Bras Dermatol. 89:187-8. doi:10.1590/abd1806-4841.20142298.
Hundeshagen G, Zapata-Sirvent R, Goverman J, Branski LK. Tissue rearrangements: the power of the Z-plasty. Clin Plast Surg. 2017;44:805-12.
doi:10.1016/j.cps.2017.05.011.
Salam GA, Amin JP. The basic Z-plasty. Am Fam Physician. 2003;67:2329-32.
Zito PM, Mazzoni T. Z Plasty. Treasure Island: StatPearls Publishing; 2019.
Shockley WW. Scar revision techniques: z-plasty, w-plasty, and geometric broken line closure. Facial Plast Surg Clin North Am. 2011;19:455-63. doi:10.1016/j.fsc.2011.06.002.
Lima FC, Lessio BP, Lima GA, Amaral TP, Abramo AC. Zetaplastia: estudo comparativo entre o alongamento teórico versus prático. Rev Bras Cir. Plást. 2016; 31:540-4.
Pomaranski MR, Krull EA, Balle MR. Use of the Z-plasty technique for forehead defects. Dermatol Surg. 2005; 31:1720-3.doi: 10.2310/6350.2005.31319.
Almeida ACM, Alves JC, Pereira NA, Jamil LC, Portugal EH, Fonseca RP, et al. McGregor flap: an alternative for lower eyelid and periorbital region reconstruction. Rev Bras Cir Plást. 2018;33:229-35.
Tamir G, Van der Meulen JC, Robinpour M, Hauben DJ. Double-opposed Z plasty for upper eyelid entropion correction. Ann Plast Surg. 1993;31:271-274. doi:10.1097/00000637-199309000-00013
Sundine MJ. Unilateral cleft lip repair. Z-plasty. Clin Plast Surg. 1993;20:647-57.
Sokol JA, Schwarcz RM. A better way to repair torn earlobes using a modified z-plasty. Dermatol Surg. 2011;37:1506-8. doi:10.1111/j.1524-
2011.02078.x.
Giraldo F, González C, de Haro F. Central wedge nymphectomy with a 90-degree Z-plasty for aesthetic reduction of the labia minora. Plast Reconstr Surg. 2004;113:1820-5; discussion 1826-7. doi:10.1097/01.prs.0000117304.81182.96.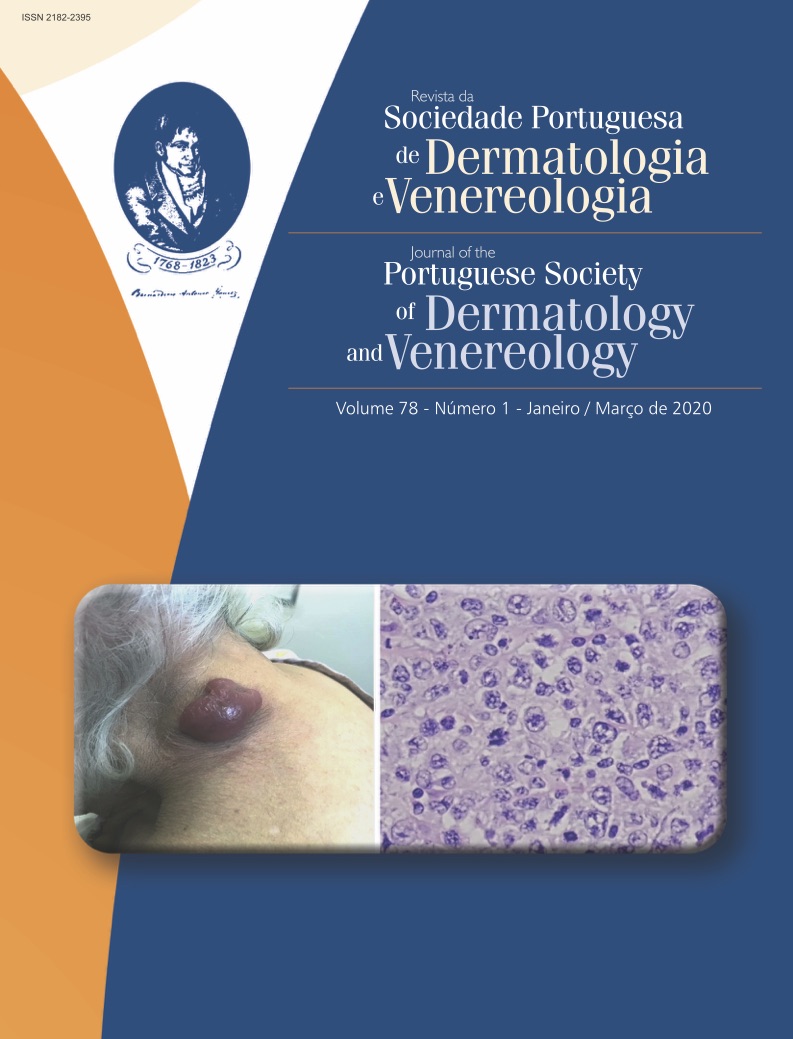 How to Cite
Batista, M., Santiago, L., Pinho, A., Brinca, A., & Vieira, R. (2020). Reconstruction of a Major Facial Defect with Multiple Z-Plasty Dermatologic Surgery Article. Journal of the Portuguese Society of Dermatology and Venereology, 78(1), 79-82. https://doi.org/10.29021/spdv.78.1.1147
All articles in this journal are Open Access under the Creative Commons Attribution-NonCommercial 4.0 International License (CC BY-NC 4.0).