Mechanic's Hands and Drug Eruption to Hydroxychloroquine: Precious Diagnostic Tools
Maria Mendonça Sanches

Dermatology Department, Hospital de Santa Maria, Centro Hospitalar Universitário de Lisboa Norte, Centro Académico de Medicina de Lisboa, Lisboa, Portugal

https://orcid.org/0000-0001-6940-0123

Rita Pimenta

Dermatology Department, Hospital de Santa Maria, Centro Hospitalar Universitário de Lisboa Norte, Centro Académico de Medicina de Lisboa, Lisboa, Portugal

Inês Cordeiro

Rheumatology Department, Hospital de Santa Maria, Centro Hospitalar Universitário de Lisboa Norte, Centro Académico de Medicina de Lisboa, Portugal; Unidade de Investigação de Reumatologia, Instituto de Medicina Molecular, Faculdade de Medicina, Universidade de Lisboa, Centro Académico de Medicina de Lisboa, Portugal

Bernardo Baptista

Internal Medicine Department, Hospital da Luz, Lisboa, Portugal
Keywords:
Autoantibodies, Dermatomyositis, Drug Eruptions, Hand Dermatoses, Hydroxychloroquine/adverse effects, Ubiquitin- Activating Enzymes
Abstract
The clinical diagnosis of dermatomyositis can be difficult and challenging. In the right clinical setting and with the use of the recently described myositis specific antibodies, an earlier diagnosis can be made and therapeutic approaches promptly started, minimizing the risk of disease progression. We herein present a case of a patient with mechanic's hands and a previously documented drug eruption to hydroxychloroquine. Although these clinical findings are not pathognomonic of dermatomyositis, in the right clinical scenario, they are precious diagnostic tools.
Downloads
Download data is not yet available.
References
Iaccarino L, Ghirardello A, Bettio S, Zen M, Gatto M, Punzi L, et al. The clinical features, diagnosis and classification of dermatomyositis. J Autoimmun. 2014; 48-49:122-7. doi:10.1016/j.jaut.2013.11.005.
Mainetti C, Terziroli Beretta-Piccoli B, Selmi C. Cutaneous manifestations of dermatomyositis: a comprehensive review. Clin Rev Allergy Immunol. 2017; 53:337-56. doi:10.1007/s12016-017-8652-1.
Calvão J, Isidoro-Azeiteiro AR, Gonçalo M. A Importância dos Novos Autoanticorpos Específicos da Dermatomiosite. Rev Soc Port Dermatol Venereol. 2019;77:15-24.
Concha JSS, Merola JF, Fiorentino D, Werth VP. Re-examining mechanic's hands as a characteristic skin finding in dermatomyositis. J Am Acad Dermatol. 2018; 78:769-75.e2. doi:10.1016/j.jaad.2017.10.034.
Gono T, Kuwana M. Current understanding and recent advances in myositis-specific and -associated autoantibodies detected in patients with dermatomyositis. Expert Rev Clin Immunol. 2020; 16:79-89. doi:10.1080/1744666X.2019.1699059.
Ang CC, Anyanwu CO, Robinson E, Okawa J, Feng R, Fujimoto M, et al. Clinical signs associated with an increased risk of interstitial lung disease: a retrospective study of 101 patients with dermatomyositis. Br J Dermatol. 2017; 176:231-3. doi:10.1111/bjd.14801.
Wolstencroft PW, Casciola-Rosen L, Fiorentino DF. Association between autoantibody phenotype and cutaneous adverse reactions to hydroxychloroquine in dermatomyositis. JAMA Dermatol. 2018; 154:1199-203. doi:10.1001/jamadermatol.2018.2549.
Anyanwu CO, Fiorentino DF, Chung L, Dzuong C, Wang Y, Okawa J, et al. Validation of the Cutaneous Dermatomyositis Disease Area and Severity Index: characterizing disease severity and assessing responsiveness to clinical change. Br J Dermatol. 2015; 173:969-74. doi:10.1111/
bjd.13915.
Cobos GA, Femia A, Vleugels RA. Dermatomyositis: An Update on Diagnosis and Treatment. Am J Clin Dermatol. 2020 (in press). doi:10.1007/s40257-020-00502-6.
Gonzalez CD, Hansen C, Clarke JT. Adverse cutaneous drug reactions with antimalarials in cutaneous lupus and dermatomyositis: A retrospective cohort study. J Am Acad Dermatol.2019; 81:859-60. doi:10.1016/j.jaad.2019.04.068.
Schmidt J1. Current Classification and Management of Inflammatory Myopathies. J Neuromuscul Dis. 2018; 5:109-29. doi:10.3233/JND-180308.
Oddis CV, Reed AM, Aggarwal, Rider LG, Ascherman DP, Levesque MC, et al. Rituximab in the treatment of refractory adult and juvenile dermatomyositis and adult polymyositis: a randomized, placebo-phase trial. Arthritis Rheum. 2013; 65:314-24. doi:10.1002/art.37754.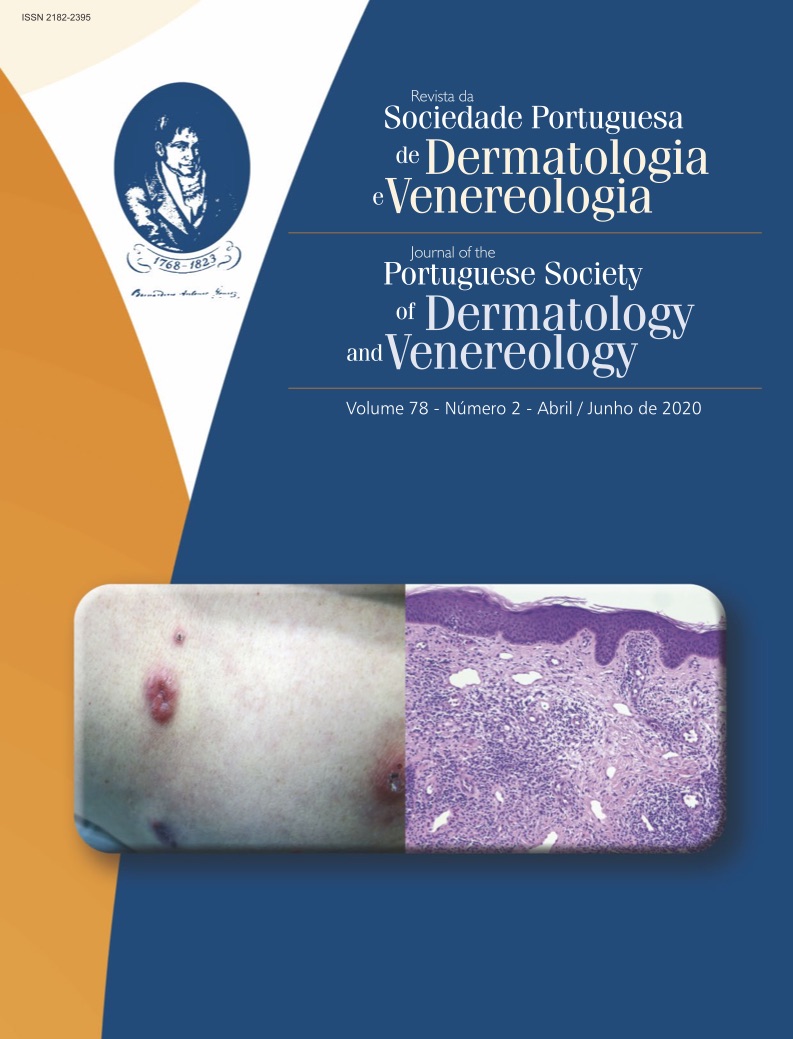 How to Cite
Sanches, M. M., Pimenta, R., Cordeiro, I., & Baptista, B. (2020). Mechanic's Hands and Drug Eruption to Hydroxychloroquine: Precious Diagnostic Tools. Journal of the Portuguese Society of Dermatology and Venereology, 78(2), 163-166. https://doi.org/10.29021/spdv.78.2.1187
Copyright (c) 2020 Journal of the Portuguese Society of Dermatology and Venereology
This work is licensed under a Creative Commons Attribution-NonCommercial 4.0 International License.
All articles in this journal are Open Access under the Creative Commons Attribution-NonCommercial 4.0 International License (CC BY-NC 4.0).