Syphilitic Balanitis of Follmann: Laboratory Pitfalls
Filipa Tavares Almeida

Department of Dermatology and Venereology, Hospital de Braga, Braga, Portugal

https://orcid.org/0000-0001-6561-5338

Filomena Azevedo

Department of Dermatology and Venereology, Centro Hospitalar Universitário São João, Porto, Portugal

https://orcid.org/0000-0003-0402-6382

Carmen Lisboa

Department of Dermatology and Venereology, Centro Hospitalar Universitário São João, Porto, Portugal; Division of Microbiology, Department of Pathology, Faculty of Medicine, University of Porto, Portugal; CINTESIS - Center for Health Technology and Services Research, Faculty of Medicine of the University of Porto, Portugal

https://orcid.org/0000-0001-8247-8902
Keywords:
alanitis/diagnosis, Syphilis/diagnosis
Abstract
We report a case of early syphilis, presenting as balanitis and papular syphilides in an HIV-infected patient, with a previous history of syphilis infection, which demonstrated a false negative VDRL testing due to a prozone phenomenon. This false negative response results from overwhelming antibody titers, which interfere with the proper formation of the antigen-antibody lattice network, necessary to visualize a positive flocculation test.
Downloads
Download data is not yet available.
References
Vasconcelos P, Fraga A, Costa JB, Filipe P, Almeida LS, Marques MS. Fenómeno Prozona em Sífilis secundária. A importância da comunicação entre o clínico e o laboratório. Rev Soc Port Dermatol Venereol. 2012;70:113-6.
Battistella M, Le Cleach L, Lacert A, Perrin P. Extensive nodular secondary syphilis with prozone phenomenon. Arch Dermatol. 2008;144:1078-9. doi: 10.1001/archderm. 144.8.1078.
Sidana R, Mangala HC, Murugesh SB, Ravindra K. Prozone phenomenon in secondary syphilis. Indian J Sex Transm Dis AIDS. 2011; 32: 47-49. doi: 10.4103/0253-7184.81256.
Bitencourt PT, Mariano PC, Castro CG, Paolini KS, Meotti CD, Franco LM. Fenómeno Prozona em paciente HIV negativo. Rev Soc Port Dermatol Venereol. 2014;72:259-62.
Liu LL, Lin LR, Tong ML, Zhang HL, Huang SJ, Chen YY,et al. Incidence and risk factors for the prozone phenomenon in serologic testing for syphilis in a large cohort. Clin Infect Dis. 2014;59:384-9. doi: 10.1093/cid/ciu325.
Smith G, Holman RP. The prozone phenomenon with syphilis and HIV-1 co-infection. South Med J. 2004;97:379-82. doi: 10.1097/01.SMJ.0000121204.58881.60.
Oanta A, Irimie M. Syphilitic balanitis of Follmann. Int J Dermatol. 2014;53:830-1. doi: 10.1111/ijd.12068.
Mainetti C, Scolari F, Lautenschlager S. The clinical spectrum of syphilitic balanitis of Follmann: report of five cases and a review of the literature. J Eur Acad Dermatol Venereol. 2016;30:1810-3. doi: 10.1111/jdv.13802.
Gayet-Ageron A, Lautenschlager S, Ninet B, Perneger TV, Combescure C. Sensitivity, specificity and likelihood ratios of PCR in the diagnosis of syphilis: a systematic review and meta-analysis. Sex Transm Infect. 2013; 89:251-6. doi: 10.1136/sextrans-2012-050622.
Post JJ, Khor C, Furner V, Smith DE, Whybin LR, Robertson PW. Case report and evaluation of the frequency of the prozone phenomenon in syphilis serology - an infrequent but important laboratory phenomenon. Sex Health. 2012;9:488-90. doi: 10.1071/SH11156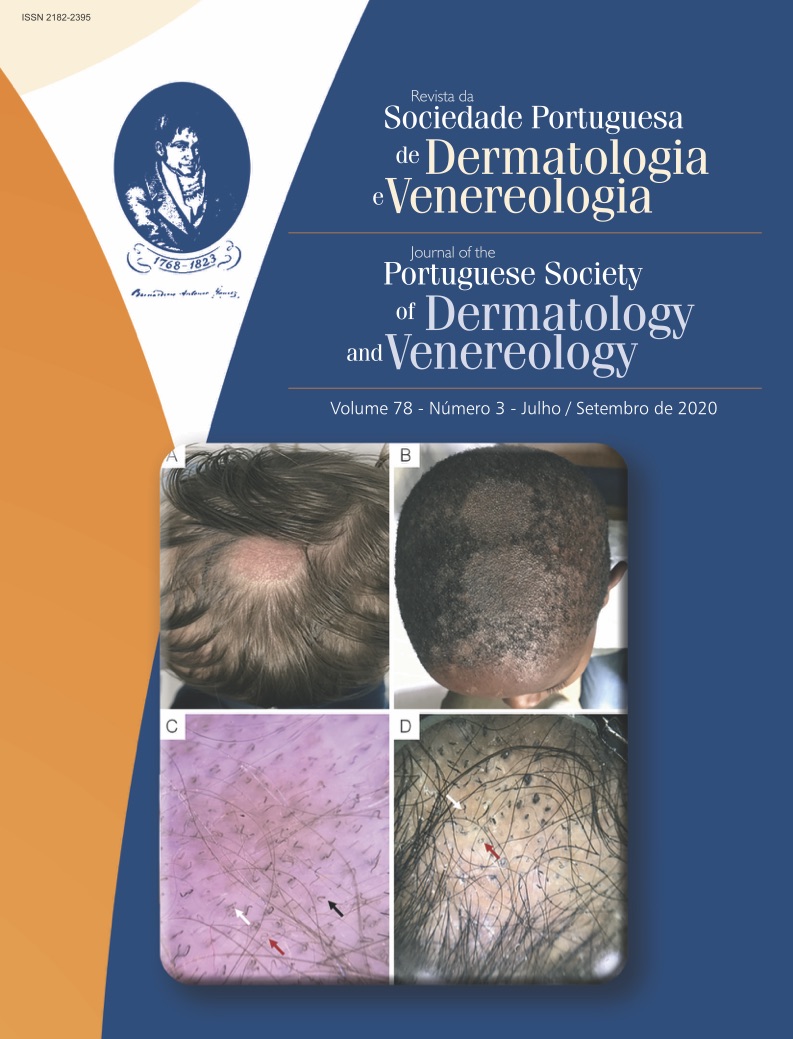 How to Cite
Almeida, F. T., Azevedo, F., & Lisboa, C. (2020). Syphilitic Balanitis of Follmann: Laboratory Pitfalls. Journal of the Portuguese Society of Dermatology and Venereology, 78(3), 265-268. https://doi.org/10.29021/spdv.78.3.1199
Copyright (c) 2020 Journal of the Portuguese Society of Dermatology and Venereology
This work is licensed under a Creative Commons Attribution-NonCommercial 4.0 International License.
All articles in this journal are Open Access under the Creative Commons Attribution-NonCommercial 4.0 International License (CC BY-NC 4.0).