MERKEL CELL CARCINOMA – CLINICAL PRACTICE GUIDELINES
Vera Teixeira

Interna do Internato Complementar de Dermatologia e Venereologia / Resident, Dermatology and Venereology

Ricardo Vieira

Assistente Hospitalar de Dermatologia e Venereologia / Consultant, Dermatology and Venereology

Maria José Julião

Assistente Hospitalar de Anatomia Patológica / Consultant, Pathology

Américo Figueiredo

Professor Doutor e Director do Serviço de Dermatologia e Venereologia do Centro Hospitalar Universitário de Coimbra / Professor of Dermatology and Venereology and Head of the Dermatology Department Hospitais da Universidade de Coimbra (Centro Hospitalar e Universitário de Coimbra, EPE), Faculdade de Medicina da Universidade de Coimbra, Portugal
Abstract
Introduction: Merkel cell carcinoma (MCC) is a rare cutaneous malignancy which incidence has tripled in the last 20 years, because of new pathologic techniques. Its mortality rates exceed those of melanoma, with signi- ficant associated morbidity and loco-regional metastasis.
Material and methods: The authors reviewed the literature in order to provide clinical practice guidelines for the diagnosis and treatment of MCC.
Results: Recently the American Joint Committee on Cancer has developed a staging system (TNM), which divides the MCC into 4 stages, depending on the degree of aggressiveness of the tumor. Surgery is the treatment of choice in the MCC approach, with surgical margins ranging between 1-2cm depending on the characteristics of the primary tumor. Currently consensus is the benefit of sentinel node biopsy, and the status of the sentinel node the most important prognostic factor. Adjuvant radiotherapy to the tumor bed and lymph node basis is of particular importance when associated with radical lympha- denectomy. Despite being sensitive to chemotherapy, stage IV MCC has a poor prognosis, with questionable benefit of chemotherapy.
Conclusions: It is important to keep a low threshold of suspicion for the CCM, in order to optimize the treatment of this aggressive tumor. 
KEYWORDS – Carcinoma, Merkel cell; Sentinel lymph node biopsy; Neoplasm staging; Practice guidelines.

Downloads
Download data is not yet available.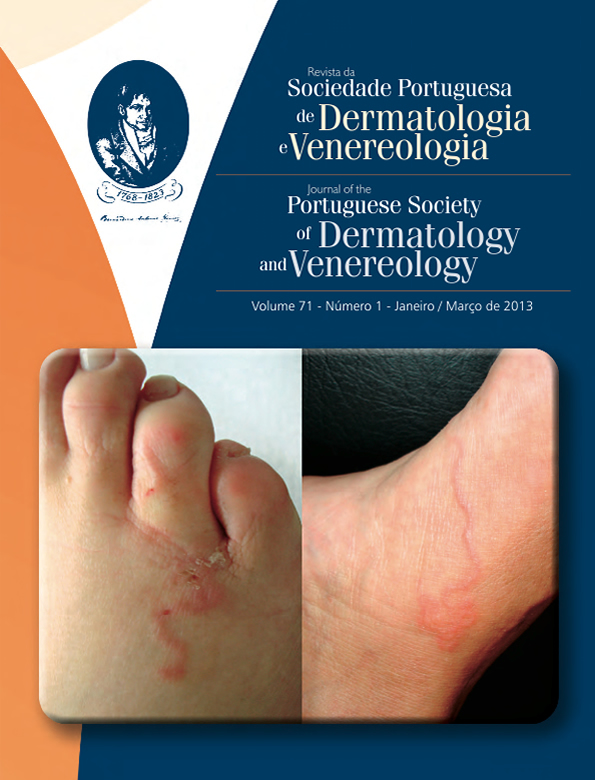 How to Cite
Teixeira, V., Vieira, R., Julião, M. J., & Figueiredo, A. (1). MERKEL CELL CARCINOMA – CLINICAL PRACTICE GUIDELINES. Journal of the Portuguese Society of Dermatology and Venereology, 71(1), 23-32. https://doi.org/10.29021/spdv.71.1.120
Section
Continuous Medica Education
All articles in this journal are Open Access and meet the requirements of funding bodies or academic institutions. Each article published in the Journal is published under the Creative Commons Attribution-NonCommercial-NoDerivatives 4.0 International License (CC BY-NC-ND 4.0). Articles can be read, downloaded, printed, and shared.
Submission of an article for publication implies the authors' consent to publication under the applicable Creative Commons license and the terms and conditions of the Publisher's Licensing Agreement.
It is the author's responsibility to obtain permission to reproduce illustrations, tables, etc. from other publications.
Upon acceptance of an article, authors will be asked to complete a 'Journal Publishing Agreement'. An e-mail will be sent to the corresponding author confirming receipt of the manuscript together with a 'Journal Publishing Agreement' form or a link to the online version of this agreement.
Author rights: As an author you (or your employer or institution) have certain rights to reuse your work.
The Journal reserves the right to use plagiarism detection software on any submitted material.