Dupilumab Treatment in Atopic Dermatitis: Real-World Evidence from a Portuguese Tertiary Center
Tomás Pessoa e Costa

Dermatology Department - Centro Hospitalar Universitário Lisboa Central, Lisbon, Portugal

https://orcid.org/0000-0001-7942-2107

B. Duarte

Dermatology Department - Centro Hospitalar Universitário Lisboa Central, Lisbon, Portugal

M. Caldeira

Dermatology Department - Centro Hospitalar Universitário Lisboa Central, Lisbon, Portugal

M. Rocha Páris

Dermatology Department - Centro Hospitalar Universitário Lisboa Central, Lisbon, Portugal

M. J. Paiva-Lopes

Dermatology Department - Centro Hospitalar Universitário Lisboa Central, Lisbon, Portugal

https://orcid.org/0000-0001-9189-2734
Keywords:
Antibodies, Monoclonal, Humanized/therapeutic use, Dermatitis, Atopic/drug therapy, Dupilumab
Abstract
Introduction: Dupilumab is a fully human monoclonal antibody that blocks interleukin-4 and interleukin-13, key drivers of type 2 helper T-cell (Th2)-mediated inflammatory response. It was the first biologic treatment approved for adult patients with inadequately-controlled moderate-to-severe atopic dermatitis (AD). Continuous collection of daily data practice is important in order to evaluate the real effectiveness and safety of dupilumab treatment.
Methods: In this observational cohort study, we prospectively included all adult patients with moderate to severe AD treated with dupilumab in our portuguese dermatology center from July 2019 to April 2020. Baseline clinical data was initially collected and treatment effectiveness and safety were assessed after 16 weeks.
Results: Twenty-five patients were included. All patients had been previously treated with systemic immunosuppressants. The estimated mean Eczema Area and Severity Index Score (EASI) decreased from 27.8 at baseline to 8.8 at week 16 (+/- 4 weeks). A ΔEASI 75 response was achieved by 58.3% of patients (ΔEASI 90 - 29.1%). Conjunctivitis was the main reported side-effect, affecting 20.8% of patients.
Discussion: Our study showed a significant EASI reduction during the first 16-weeks of dupilumab treatment in adult patients with AD. Despite its overall safety, daily-practice data tend to report a higher risk of conjunctivitis than previously expected and we hence recommend that patients should be specifically informed about this possible side-effect.
Downloads
Download data is not yet available.
References
Torres T, Ferreira EO, Gonçalo M, Mendes-Bastos P, Selores M, Filipe P. Update on Atopic Dermatitis. Acta Med Port. 2019;32:606-13
Bylund S, von Kobyletzki LB, Svalstedt M, Svensson Å. Prevalence and incidence of atopic dermatitis: a systematic review. Acta Derm Venereol. 2020;100:adv00160. doi: 10.2340/00015555-3510.
Oliveira C, Torres T. More than skin deep: the systemic nature of atopic dermatitis. Eur J Dermatol. 2019;29:250-8. doi: 10.1684/ejd.2019.3557.
Brandt EB, Sivaprasad U. Th2 cytokines and atopic dermatitis. J Clin Cell Immunol. 2011;2:110. doi: 10.4172/2155-9899.1000110.
Simpson EL, Bieber T, Guttman-Yassky E, Beck LA, Blauvelt A, Cork MJ, et al. Two Phase 3 Trials of Dupilumab versus Placebo in Atopic Dermatitis. N Engl J Med. 2016;375:2335-48. doi: 10.1056/NEJMoa1610020.
Blauvelt A, de Bruin-Weller M, Gooderham M, Cather JC, Weisman J, Pariser D, et al. Long-term management of moderate-to-severe atopic dermatitis with dupilumab and concomitant topical corticosteroids (LIBERTY AD CHRONOS): a 1-year, randomised, double-blinded, placebo-controlled, phase 3 trial. Lancet. 2017;389:2287-303. doi: 10.1016/S0140-6736(17)31191-1.
Deleuran M, Thaçi D, Beck LA, de Bruin-Weller M, Blauvelt A, Forman S, et al. Dupilumab shows long-term safety and efficacy in patients with moderate to severe atopic dermatitis enrolled in a phase 3 open-label extension study. J Am Acad Dermatol. 2020;82:377-88. doi: 10.1016/j.jaad.2019.07.074.
Rodrigues MA, Nogueira M, Torres T. Dupilumab for atopic dermatitis: evidence to date. G Ital Dermatol Venereol. 2019;154:696-713.
Honda T, Kabashima K. Reconciling innate and acquired immunity in atopic dermatitis. J Allergy Clin Immunol. 2020;145:1136-7.
Furue M, Ulzii D, Vu YH, Tsuji G, Kido-Nakahara M, Nakahara T. Pathogenesis of Atopic Dermatitis: Current Paradigm. Iran J Immunol. 2019;16:97-107.
Munera-Campos M, Carrascosa JM. Innovation in Atopic Dermatitis: From Pathogenesis to Treatment. Actas Dermosifiliogr. 2020;111:205-21.
Ferrucci S, Casazza G, Angileri L, Tavecchio S, Germiniasi F, Berti E, et al. Clinical response and quality of life in patients with severe atopic dermatitis treated with dupilumab: a single- -center real-life experience. J Clin Med Res. 2020;9: 791. doi: 10.3390/jcm9030791.
Olesen CM, Holm JG, Nørreslet LB, Serup JV, Thomsen SF, Agner T. Treatment of atopic dermatitis with dupilumab: experience from a tertiary referral centre. J Eur Acad Dermatol Venereol. 2019;33:1562-8.
Bakker DS, Ariens LF, Giovannone B, Hijnen D, Delemarre EM, Knol E, et al. EASI p-EASI: Predicting disease severity in atopic dermatitis patients treated with dupilumab using a combination of serum biomarkers. Allergy. 2020;75:3287-9. doi: 10.1111/all.14492.
Kato A, Kamata M, Ito M, Uchida H, Nagata M, Fukaya S, et al. Higher baseline serum lactate dehydrogenase level is associated with poor effectiveness of dupilumab in the long term in patients with atopic dermatitis. J Dermatol. 2020;47:1013-9. doi: 10.1111/1346-8138.15464.
Ou Z, Chen C, Chen A, Yang Y, Zhou W. Adverse events of Dupilumab in adults with moderate-to-severe atopic dermatitis: A meta-analysis. Int Immunopharmacol. 2018;54:303-10.
Treister AD, Kraff-Cooper C, Lio PA. Risk factors for dupilumab-associated conjunctivitis in patients with atopic dermatitis. JAMA Dermatol. 2018;154:1208-11. doi: 10.1001/jamadermatol.2018.2690.
Ferreira S, Torres T. Conjunctivitis in patients with atopic dermatitis treated with dupilumab. Drugs Context. 2020;9:2020-2-3.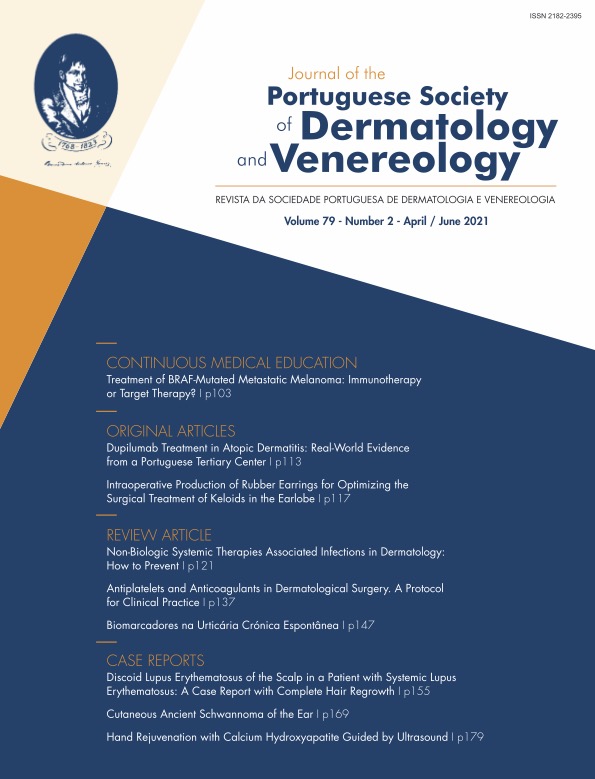 How to Cite
Pessoa e Costa, T., Duarte, B., Caldeira, M., Rocha Páris, M., & Paiva-Lopes, M. J. (2021). Dupilumab Treatment in Atopic Dermatitis: Real-World Evidence from a Portuguese Tertiary Center. Journal of the Portuguese Society of Dermatology and Venereology, 79(2), 113-116. https://doi.org/10.29021/spdv.79.2.1318
Section
Original Articles
Copyright (c) 2021 Journal of the Portuguese Society of Dermatology and Venereology
This work is licensed under a Creative Commons Attribution-NonCommercial 4.0 International License.
All articles in this journal are Open Access under the Creative Commons Attribution-NonCommercial 4.0 International License (CC BY-NC 4.0).