PIGMENTED VULVAR BASAL CELL CARCINOMA – RELEVANCE OF THE DIFFERENTIAL DIAGNOSIS IN OTHER PIGMENTED VULVAR LESIONS
David Pacheco

Serviço de Dermatologia / Dermatology Department, Hospital de Santa Maria – Centro Hospitalar Lisboa Norte, Portugal

Ana Rita Travassos

Serviço de Dermatologia / Dermatology Department, Hospital de Santa Maria – Centro Hospitalar Lisboa Norte, Portugal

Luís Soares-Almeida

Serviço de Dermatologia / Dermatology Department, Hospital de Santa Maria – Centro Hospitalar Lisboa Norte, Portugal

Raquel Silva

Serviço de Dermatologia / Dermatology Department, Hospital de Santa Maria – Centro Hospitalar Lisboa Norte, Portugal
Abstract
Introduction: Basal cell carcinoma is the most common malignant tumors found in the human race, with an increasing incidence in recent decades. The vulva is an atypical location for this type of neoplasm, probably because the etiological factors are different from other anatomical areas. It has a non-specific and monotonous symptomatology.
Case Report: A 69-year-old woman attended with a 3cm eroded plaque with small pigmented areas on the edge of the right labia majora. Histology revealed a pigmented basal cell carcinoma. The patient underwent to wide excision. After three years of follow-up there was no recurrence.
Conclusion: Pigmented vulva basal cell carcinoma is a rarity. We emphasize how important is the differential diagnosis with other pigmented lesions in this area which may be neoplasm with a worst prognosis and require other kind of treatments. Periodic follow-up is required because the high rate of recurrence.
KEYWORDS – Pigmentation disorders; Skin neoplasms; Vulvar neoplasms. 
Downloads
Download data is not yet available.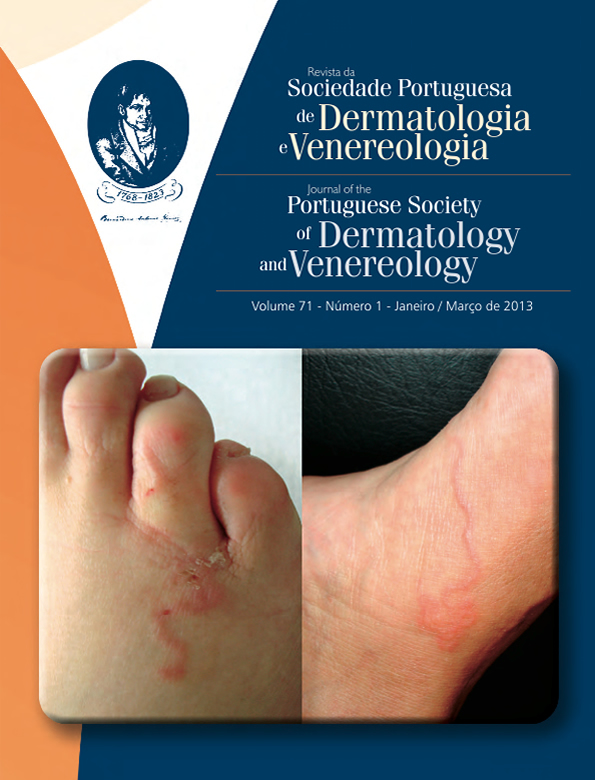 How to Cite
Pacheco, D., Travassos, A. R., Soares-Almeida, L., & Silva, R. (1). PIGMENTED VULVAR BASAL CELL CARCINOMA – RELEVANCE OF THE DIFFERENTIAL DIAGNOSIS IN OTHER PIGMENTED VULVAR LESIONS. Journal of the Portuguese Society of Dermatology and Venereology, 71(1), 123-126. https://doi.org/10.29021/spdv.71.1.136
All articles in this journal are Open Access and meet the requirements of funding bodies or academic institutions. Each article published in the Journal is published under the Creative Commons Attribution-NonCommercial-NoDerivatives 4.0 International License (CC BY-NC-ND 4.0). Articles can be read, downloaded, printed, and shared.
Submission of an article for publication implies the authors' consent to publication under the applicable Creative Commons license and the terms and conditions of the Publisher's Licensing Agreement.
It is the author's responsibility to obtain permission to reproduce illustrations, tables, etc. from other publications.
Upon acceptance of an article, authors will be asked to complete a 'Journal Publishing Agreement'. An e-mail will be sent to the corresponding author confirming receipt of the manuscript together with a 'Journal Publishing Agreement' form or a link to the online version of this agreement.
Author rights: As an author you (or your employer or institution) have certain rights to reuse your work.
The Journal reserves the right to use plagiarism detection software on any submitted material.