BULLOUS PAPULAR URTICARIA – CASE REPORT AND BRIEF REVIEW OF THE LITERATURE
Isabella Ássimos

Medical student (6th year), Faculty of Medical and Health Sciences of Juiz de Fora, SUPREMA, Juiz de Fora (MG), Brazil

Ana Pedrosa

Resident, Department of Dermatology and Venereology, Centro Hospitalar São João EPE, Porto, Portugal

Paulo Martins

Consultant, Department of Dermatology and Venereology, Centro Hospitalar São João EPE, and Docent at Faculty of Medicine, University of Porto, Porto, Portugal

Herberto Bettencourt

Consultant, Department of Pathology, Centro Hospitalar São João EPE, Porto, Portugal

Filomena Azevedo

Consultant Chief, Head of Department, Department of Dermatology and Venereology, Centro Hospitalar São João EPE, Porto, Portugal
Abstract
Papular urticaria (PU), also known as prurigo strophulus, is a relatively common skin disorder of chil- dhood caused by hypersensitivity to a variety of bites, including those of mosquitoes, fleas, bedbugs and others insects. It is characterized by a chronic or recurrent, papular or vesicobullous eruption, that is often pruritic and uncomfortable. The resultant scratching may lead to erosions and secondary pyoderma. Patients affected by these eruptions are frequently misdiagnosed and often subject to unnecessary, expensive and/or invasive evaluations. In order to avoid that, clinicians should be aware of the characteristic skin lesions of PU, possible exposures, and natural history of the disease. The most challenging aspects of PU is convincing parents/patients that the lesions are related to a bite reaction, demystify the common belief of the relationship with the ingestion of certain foods, and identifying and eradicating the source of the offending insect. We herein describe a 25-year-old female patient with bullous PU, and present a brief review of the literature, including the clinical features, utility of mnemonic "SCRATCH" to aid clini- cians in making an early and accurate diagnosis, differential diagnoses, and 3 "P's" of therapy (Prevention, Pruritus control, and Patience).
KEYWORDS – Skin diseases, vesiculobullous; Urticaria; Prurigo; Criança; Insects.

Downloads
Download data is not yet available.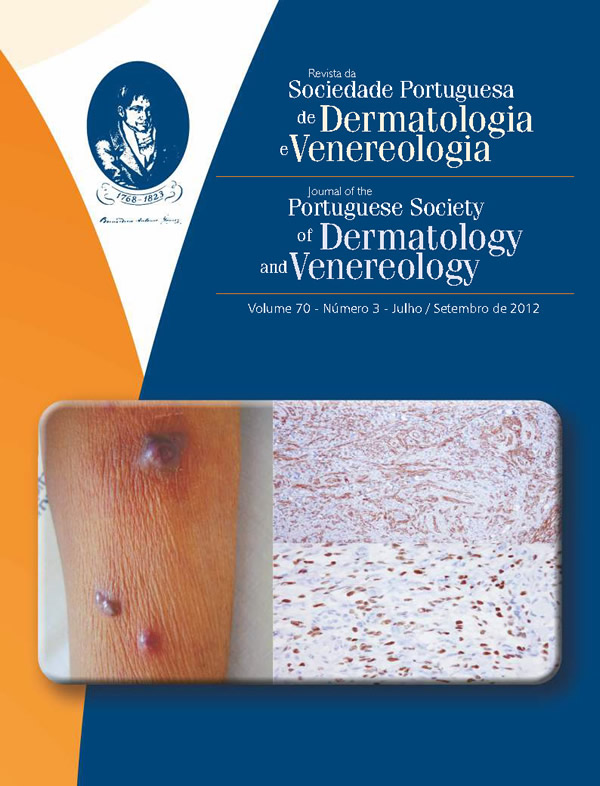 How to Cite
Ássimos, I., Pedrosa, A., Martins, P., Bettencourt, H., & Azevedo, F. (2013). BULLOUS PAPULAR URTICARIA – CASE REPORT AND BRIEF REVIEW OF THE LITERATURE. Journal of the Portuguese Society of Dermatology and Venereology, 70(3), 359. https://doi.org/10.29021/spdv.70.3.14
All articles in this journal are Open Access under the Creative Commons Attribution-NonCommercial 4.0 International License (CC BY-NC 4.0).