ASHY DERMATOSIS - TREATMENT WITH CLOFAZIMINE
Teresa Pinto-Almeida

Interna de Dermatovenereologia/Resident, Dermatology and Venereology, Serviço de Dermatologia, Centro Hospitalar do Porto, Hospital Santo António, Porto, Portugal

Mónica Caetano

Assistente Hospitalar de Dermatovenereologia/Consultant Dermatology and Venereology, Serviço de Dermatologia, Centro Hospitalar do Porto, Hospital Santo António, Porto, Portugal

Rosário Alves

Assistente Hospitalar de Dermatovenereologia/Consultant Dermatology and Venereology, Serviço de Dermatologia, Centro Hospitalar do Porto, Hospital Santo António, Porto, Portugal

Manuela Selores

Chefe de Serviço, Directora do Serviço de Dermatologia/Head of Dermatology and Venereology Department, Centro Hospitalar do Porto, Hospital Santo António, Porto, Portugal
Abstract
Ashy dermatosis, or erythema dyschromicum perstans, is a rare dermatosis of unknown etiology. The au- thors report the case of a 46-year-old healthy man that presented with a 1-year history of asymptomatic gray macules on the trunk. The constellation of clinical features, laboratory studies and histopathology allowed the diagnosis of Ashy dermatosis. Treatment with oral clofazimine was started, with complete resolution of the cutaneous lesions and without relapses after 6 months of follow-up. Therapeutic options for Ashy dermatosis are numerous, but none with consistent efficacy. Treatment with clofazimine has been attempted not only for its cosmetic effect, producing a uniform colouring of the skin that masks the pigmented areas, but also because its beneficial effect may be mediated by anti-inflammatory and immunomodulatory actions. This report supports the therapeutic efficacy of clofazimine in a patient with Ashy der- matosis.
KEYWORDS – Clofazimine; Erythema; Pigmentation disorders; Skin diseases.

Downloads
Download data is not yet available.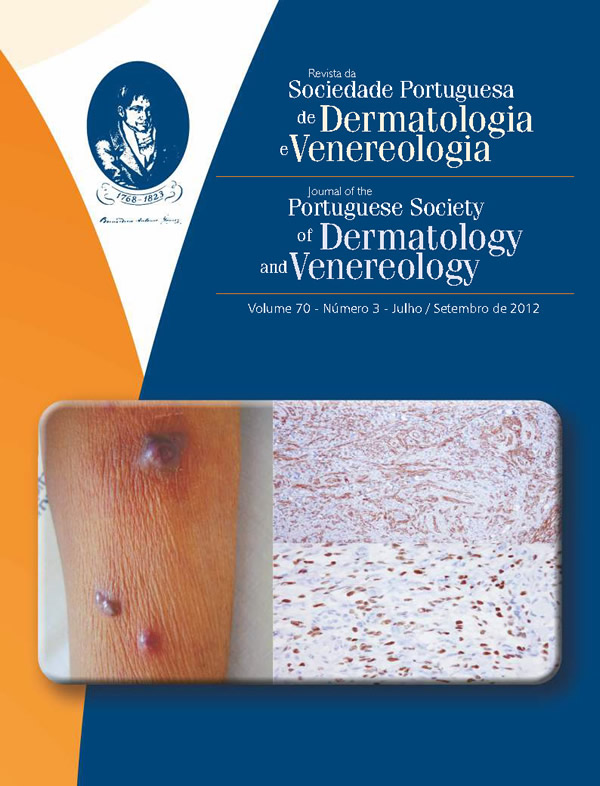 How to Cite
Pinto-Almeida, T., Caetano, M., Alves, R., & Selores, M. (2013). ASHY DERMATOSIS - TREATMENT WITH CLOFAZIMINE. Journal of the Portuguese Society of Dermatology and Venereology, 70(3), 365. https://doi.org/10.29021/spdv.70.3.15
All articles in this journal are Open Access under the Creative Commons Attribution-NonCommercial 4.0 International License (CC BY-NC 4.0).