DERMOSCOPY OF LYMPHANGIOMA CIRCUMSCRIPTUM NEVIFORME - A CASE REPORT
Victoria Guiote Domínguez

Serviço Dermatologia do Hospital Santo André, Leiria-Pombal, Portugal
Abstract
The Circumscriptum Neviform-like Lymphangioma(CNL) is a lymphatic malformation clinically characteri- zed by the presence of multiple vesicules of a clear or a serum/hematic content, grouped in a typical "herpetiform-like pattern". Ocasionally, the CNL may affect the hypoderm, muscle and/or other organs, which may turn particularly difficult its therapeutics. We present a clinical case of a 17 year old patient with CNL referred to the Dermatology De- partment in order to be done a clinical evaluation, namely if the medication was the appropiate one. In this article we describe the dermatoscopic pattern of the CNL as well as the main differential diagnosis.
KEYWORDS – Skin neoplasms; Lymphangioma, dermatoscopy; Nevus.

Downloads
Download data is not yet available.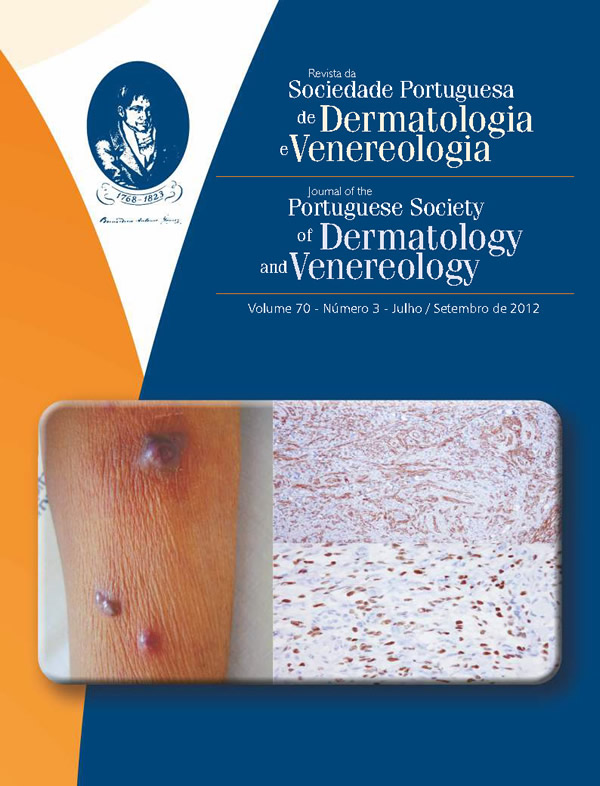 How to Cite
Domínguez, V. G. (2013). DERMOSCOPY OF LYMPHANGIOMA CIRCUMSCRIPTUM NEVIFORME - A CASE REPORT. Journal of the Portuguese Society of Dermatology and Venereology, 70(3), 369. https://doi.org/10.29021/spdv.70.3.16
All articles in this journal are Open Access under the Creative Commons Attribution-NonCommercial 4.0 International License (CC BY-NC 4.0).