ACUTE TISSUE EXPANSION FOR RECONSTRUCTION OF MAJOR DEFECTS OF THE FRONTAL REGION
David Pacheco

Interno do Internato Complementar de Dermatologia e Venereologia/Resident, Dermatology and Venereology; Serviço de Dermatologia, Hospital de Santa Maria - Centro Hospitalar Lisboa Norte, Lisboa, Portugal.

Ermelindo Tavares

Interno do Internato Complementar de Dermatologia e Venereologia / Resident, Dermatology and Venereology; Serviço de Dermatologia, Hospital Distrital de Santarém, Portugal

José Rosa de Almeida

Professor Auxiliar Convidado da Faculdade de Ciências Médicas da Universidade Nova de Lisboa; Diretor do Serviço de Cirurgia Plástica, Reconstrutiva e Estética do Instituto Português de Oncologia, Francisco Gentil (IPO), Lisboa / Professor and Head of Plastic Surgery Department; Oncology Institute of Lisboa and New University of Lisbon, Portugal
Keywords:
Tissue expansion, Dermatofibrosarcoma
Abstract
Acute tissue expansion is a procedure widely used by Plastic Surgery for the closure of large surgical defects located in the head and the neck. We present a 61-year-old patient, with a large dimension Dermatofibrosarcoma protuberans of 45x30mm, placed in the midline of the forehead. The expected surgical defect was considerable; this combined with the anatomical situation, involved a complex reconstructive surgery, which would be resolved with the creation of a flap. Acute tissue expansion is a simple technique that can be performed in a unique surgical procedure, with good cosmetic outcome, minimizing technical difficulties and complications of invasive procedures.
Downloads
Download data is not yet available.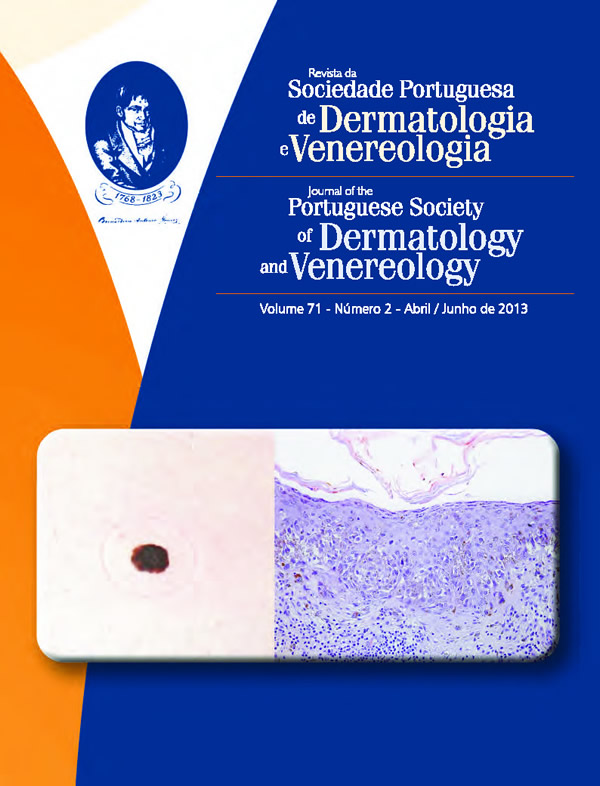 How to Cite
Pacheco, D., Tavares, E., & Rosa de Almeida, J. (1). ACUTE TISSUE EXPANSION FOR RECONSTRUCTION OF MAJOR DEFECTS OF THE FRONTAL REGION. Journal of the Portuguese Society of Dermatology and Venereology, 71(2), 189-192. https://doi.org/10.29021/spdv.71.2.169
Section
Surgical Dermatology
All articles in this journal are Open Access and meet the requirements of funding bodies or academic institutions. Each article published in the Journal is published under the Creative Commons Attribution-NonCommercial-NoDerivatives 4.0 International License (CC BY-NC-ND 4.0). Articles can be read, downloaded, printed, and shared.
Submission of an article for publication implies the authors' consent to publication under the applicable Creative Commons license and the terms and conditions of the Publisher's Licensing Agreement.
It is the author's responsibility to obtain permission to reproduce illustrations, tables, etc. from other publications.
Upon acceptance of an article, authors will be asked to complete a 'Journal Publishing Agreement'. An e-mail will be sent to the corresponding author confirming receipt of the manuscript together with a 'Journal Publishing Agreement' form or a link to the online version of this agreement.
Author rights: As an author you (or your employer or institution) have certain rights to reuse your work.
The Journal reserves the right to use plagiarism detection software on any submitted material.