PIGMENTED BOWEN'S DISEASE - AN UNUSUAL PRESENTATION
Maria Victória Pinto Quaresma Santos

Médica Pós-Graduanda/Consultant Dermatology, do Serviço de Dermatologia da Santa Casa da Misericórdia do Rio de Janeiro, Brasil

Fred Bernardes Filho

Médico Pós-Graduando/Consultant Dermatology, do Serviço de Dermatologia da Santa Casa da Misericórdia do Rio de Janeiro. Brasil

Felipe Nazareth

Médico Pós-Graduando/Consultant Dermatology, do Serviço de Dermatologia da Universidade Federal do Rio de Janeiro, Brasil

Fabrício Lamy

Professor Auxiliar de Dermatologia/Associated Professor of Derematology, do Instituto de Pós-Graduação Médica Carlos Chagas, Coordenador Médico dos Ambulatórios do Serviço de Dermatologia da Policlínica Geral do Rio de Janeiro, Brasil

Felipe Ladeira de Oliveira

Estagiário/Resident Dermatology, do Instituto de Dermatologia Professor Rubem David Azulay – Rio de Janeiro, Brasil

Thais Schiavo de Morais

Estagiário/Resident Dermatology, do Instituto de Dermatologia Professor Rubem David Azulay – Rio de Janeiro, Brasil

Fernanda Helena Craide

Estagiário/Resident Dermatology, do Instituto de Dermatologia Professor Rubem David Azulay – Rio de Janeiro, Brasil

Letycia Lopes Chagas Nogueira

Estagiário/Resident Dermatology, do Instituto de Dermatologia Professor Rubem David Azulay – Rio de Janeiro, Brasil

Carlos Gustava Carneiro de Castro

Especialista em Dermatologia/Consultant Dermatology, pela Sociedade Brasileira de Dermatologia e pela AMB
Abstract
Bowen's disease consists of a squamous cell carcinoma in situ and the pigmented form of the disease is an unusual presentation. The authors describe a case of pigmented Bowen's disease in a male patient, 56 years, with an asymptomatic hyperpigmented plaque on the anterior surface of the right thigh for 10 years. Histopathological examination showed atypical keratinocytes on the entire epidermis with loss of polarity, melanin pigmentation in the basal layer and lichenoid lymphocytic infiltrate. A complete excision of the lesion with wide margins was made with no recurrence. Although relatively rare, pigmented Bowen's disease should always be remembered and included in the differential diagnosis of melanoma and other pigmented lesions.
KEYWORDS – Bowen's Disease; Skin pigmentation; Sunlight.

Downloads
Download data is not yet available.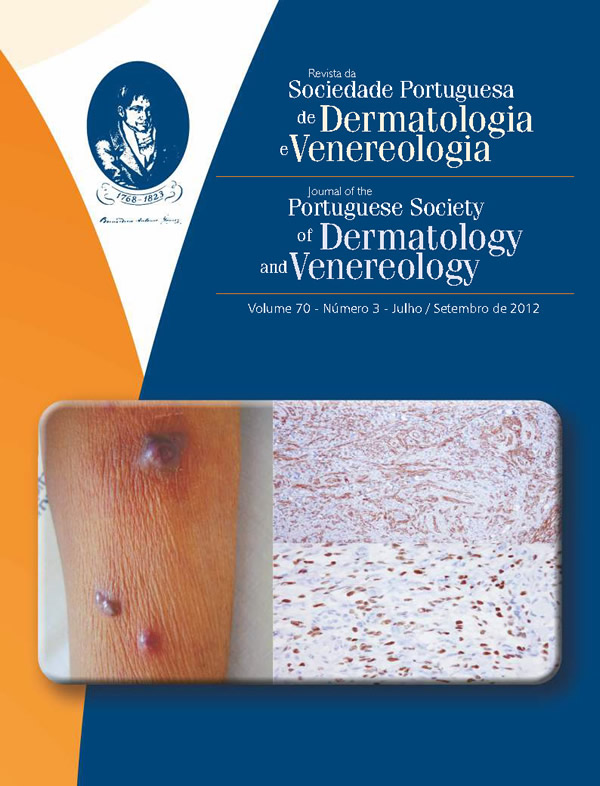 How to Cite
Santos, M. V. P. Q., Filho, F. B., Nazareth, F., Lamy, F., de Oliveira, F. L., de Morais, T. S., Craide, F. H., Nogueira, L. L. C., & de Castro, C. G. C. (2013). PIGMENTED BOWEN'S DISEASE - AN UNUSUAL PRESENTATION. Journal of the Portuguese Society of Dermatology and Venereology, 70(3), 375. https://doi.org/10.29021/spdv.70.3.17
All articles in this journal are Open Access under the Creative Commons Attribution-NonCommercial 4.0 International License (CC BY-NC 4.0).