PRIMARY MUCINOUS CARCINOMA
Hugo Barreiros

Interno do Internato Complementar de Dermatologia e Venereologia/Resident Dermatology and Venereology

Diogo Matos

Interno do Internato Complementar de Dermatologia e Venereologia/Resident Dermatology and Venereology

João Goulão

Assistente Hospitalar de Dermatologia e Venereologia/Consultant Dermatology and Venereology

Henriqueta Cunha

Assistente Hospitalar Graduado de Dermatologia e Venereologia/Graduated Consultant Dermatology and Venereology

Elvira Bártolo

Chefe de Serviço de Dermatologia e Venereologia/ConsultantChief Dermatology and Venereology Serviço de Dermatologia e Venereologia/ Dermatology and Venereology Department, Hospital Garcia de Orta, Almada, Portugal
Abstract
Mucinous carcinoma of the skin, also called mucinous adenocystic carcinoma or colloid carcinoma, is a rare malignancy. It was first described by Lennox et al. in 1952. It is derived from the sweat glands or their germinal structures but it's appocrine or eccrine origin is still controversial. Histologically it can be confused with a metastatic lesion from the more common colloid carcinoma of the breast and mucinous adenocarcinoma of the intestine, lung, ovary or prostate.
A 60-year-old woman presented to our department with a a 2-year history of a erythematous-blue nodule of the scalp, measuring 2 cm in diameter, and initially interpreted as a nodular basal cell carcinoma. After skin biopsy it was esta- blished the diagnosis of primary mucinous carcinoma or mucinous metastatic lesion. The entire lesion was then excised. Physical examination and careful systemic workup were negative. The diagnosis of a (primary) skin mucinous carcinoma was confirmed.
KEYWORDS – Adenocarcinoma, mucinous.

Downloads
Download data is not yet available.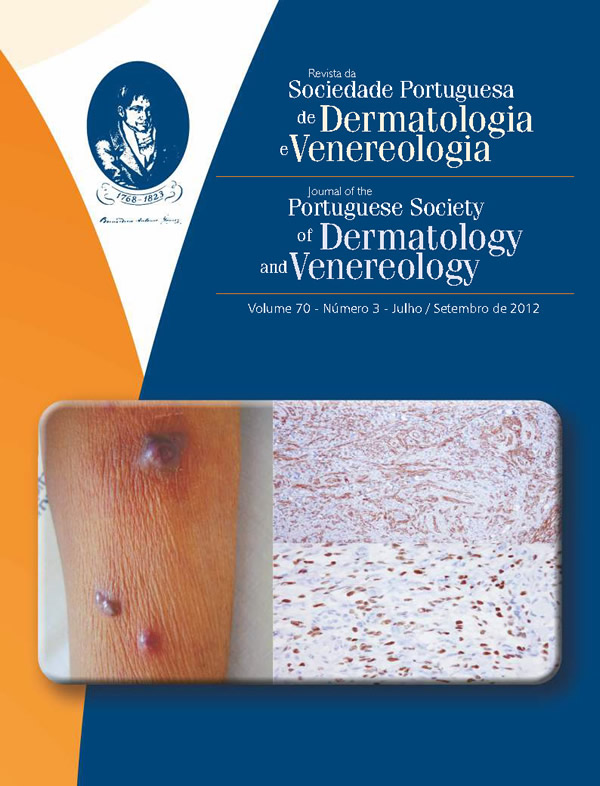 How to Cite
Barreiros, H., Matos, D., Goulão, J., Cunha, H., & Bártolo, E. (1). PRIMARY MUCINOUS CARCINOMA. Journal of the Portuguese Society of Dermatology and Venereology, 70(3), 381. https://doi.org/10.29021/spdv.70.3.18
All articles in this journal are Open Access and meet the requirements of funding bodies or academic institutions. Each article published in the Journal is published under the Creative Commons Attribution-NonCommercial-NoDerivatives 4.0 International License (CC BY-NC-ND 4.0). Articles can be read, downloaded, printed, and shared.
Submission of an article for publication implies the authors' consent to publication under the applicable Creative Commons license and the terms and conditions of the Publisher's Licensing Agreement.
It is the author's responsibility to obtain permission to reproduce illustrations, tables, etc. from other publications.
Upon acceptance of an article, authors will be asked to complete a 'Journal Publishing Agreement'. An e-mail will be sent to the corresponding author confirming receipt of the manuscript together with a 'Journal Publishing Agreement' form or a link to the online version of this agreement.
Author rights: As an author you (or your employer or institution) have certain rights to reuse your work.
The Journal reserves the right to use plagiarism detection software on any submitted material.