AUTOIMMUNE BLISTERING DISEASES
Álvaro António Martins dos Santos Soares Moreira

Aluno do 6º Ano do Mestrado Integrado em Medicina na Faculdade de Medicina da Universidade do Porto/Student of the 6th Year of the Master in Medicine of Medical School of Oporto University, Portugal

Olga Cristina Soares Ferreira Rodrigues

Assistente Convidado do Serviço de Dermatologia e Venereologia do Departamento de Medicina na Faculdade de Medicina da Universidade do Porto/Invited Professor of the Dermatology Department of Medical School of Oporto University, Portugal

Alberto Joaquim Vieira Mota

Professor Auxiliar do Serviço de Dermatologia e Venereologia do Departamento de Medicina na Faculdade de Medicina da Universidade do Porto/ Professor of the Dermatology Department of Medical School of Oporto University, Porto, Portugal
Keywords:
Skin diseases, vesiculobullous, Pemphigus, Pemphigoid, bullous, Benign mucous membrane, Pemphigoid gestationis
Abstract
The autoimmune blistering diseases include two major groups, those that result from autoantibodies against desmosome proteins and those that are associated with autoantibodies against molecular components of the basement membrane. Within the first group we address pemphigus vulgaris, pemphigus foliaceus, paraneoplastic pemphigus and IgA pemphigus. Within the second, we explore bullous pemphigoid, cicatricial pemphigoid and gestational pemphigoid. For each of these pathologies we describe the etiology, pathophysiology and clinical manifestations.
Further on we delve into the topics of diagnosis, treatment and prognosis of these seven diseases together.
Downloads
Download data is not yet available.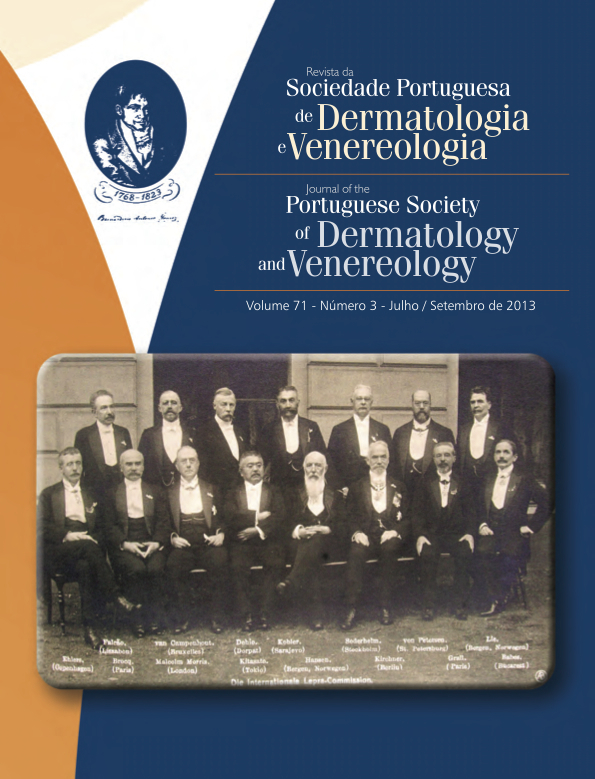 How to Cite
Moreira, Álvaro A. M. dos S. S., Rodrigues, O. C. S. F., & Mota, A. J. V. (2014). AUTOIMMUNE BLISTERING DISEASES. Journal of the Portuguese Society of Dermatology and Venereology, 71(3), 325-335. https://doi.org/10.29021/spdv.71.3.190
All articles in this journal are Open Access under the Creative Commons Attribution-NonCommercial 4.0 International License (CC BY-NC 4.0).