GRANULOMA FACIALE − A CLINICOPATHOLOGICAL REVIEW
João Alves

Interno do 3.º ano da Formação Específica em Dermatovenereologia/Resident Dermatology and Venereology

Elvira Bártolo

Chefe de Serviço de Dermatovenereologia / Consultant Chief Dermatology and Venereology, Serviço de Dermatovenereologia, Hospital Garcia de Orta, Almada, Portugal
Keywords:
Granuloma, Face, Facial dermatoses
Abstract
Introduction: Granuloma faciale is an uncommon disease. Clinical and histopathological features have been described only in case reports or small series.
Material and methods: A retrospective study from 2001 to 2012 of patients with granuloma faciale diagnosed at the Department of Dermatology of Garcia de Orta Hospital was performed. The demographic, clinical and histopathological features were evaluated and a review of the literature was performed.
Results: During this period, seven granuloma faciale were diagnosed in 5 women and 2 men. The mean age was 56 years. Five patients had a single lesion while 2 had multiple lesions, all of them located on the face. In 6 cases a Grenz zone was identified. The inflammatory infiltrate was mixed, predominantly lymphocytic (6 cases), and extended to the reticular dermis (4 cases). Leukocytoclasia, vascular ectasia and fibrinoid necrosis were detected in 6, 5 and 4 cases, respectively. Fibrosis, hemosiderin and extravasated erythrocytes were found in 3, 2 and 1 patients, respectively.
Conclusions: The obtained results support most of the published data. Unlike to the literature, granuloma faciale was more common in women. The detailed characterization of this disease is important to its clinical and histopathological recognition, facilitating the differential diagnosis with other more common dermatoses.
Downloads
Download data is not yet available.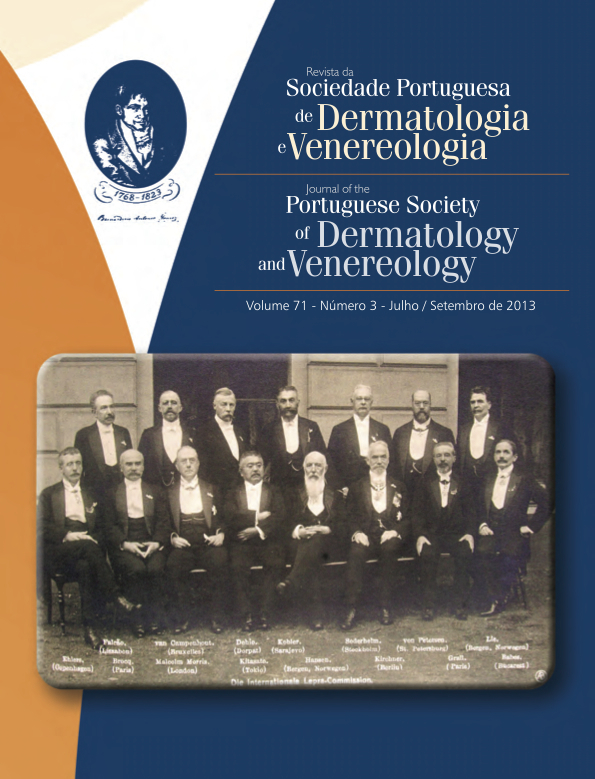 How to Cite
Alves, J., & Bártolo, E. (2014). GRANULOMA FACIALE − A CLINICOPATHOLOGICAL REVIEW. Journal of the Portuguese Society of Dermatology and Venereology, 71(3), 337-343. https://doi.org/10.29021/spdv.71.3.191
Section
Original Articles
All articles in this journal are Open Access under the Creative Commons Attribution-NonCommercial 4.0 International License (CC BY-NC 4.0).