ERYTHEMA MULTIFORME − A RARE PRESENTATION OF ACUTE RICKETTIOSIS
Hugo de Castro Faria

Interno do Internato Complementar de Pediatria/Resident of Pediatrics, Centro Hospitalar de Setúbal, Portugal

Andreia Mota

Interna do Internato Complementar de Pediatria/Resident of Pediatrics, Centro Hospitalar de Setúbal, Portugal

Vera Viegas

Assistente Hospitalar de Pediatria/Consultant of Pediatrics, Centro Hospitalar de Setúbal, Portugal

Alexandra Emilio

Assistente Hospitalar de Pediatria/Consultant of Pediatrics, Centro Hospitalar de Setúbal, Portugal

Marisa Vicente

Assistente Hospitalar Graduada de Pediatria/Graduated Consultant of Pediatrics, Centro Hospitalar de Setúbal Hospital de São Bernardo, Centro Hospitalar de Setúbal, Portugal
Keywords:
Erythema multiforme, Rickettsia
Abstract
Erythema multiforme is a skin disorder of unknown etiology and pathophysiology poorly known, but has been described in association with multiple inflammatory and infectious diseases. Ricketsia conori is a well known and broadly described infectious agent, with a wide range of clinical manifestations. The association between this infectious agent and erythema multiforme, although mentioned in some reviews, is extremely rare and poorly known. In this report we describe a case of Ricketsia conori infection, with laboratorial confirmations, in a 9 year's old child who presented with a febrile syndrome and erythema multiforme.
Downloads
Download data is not yet available.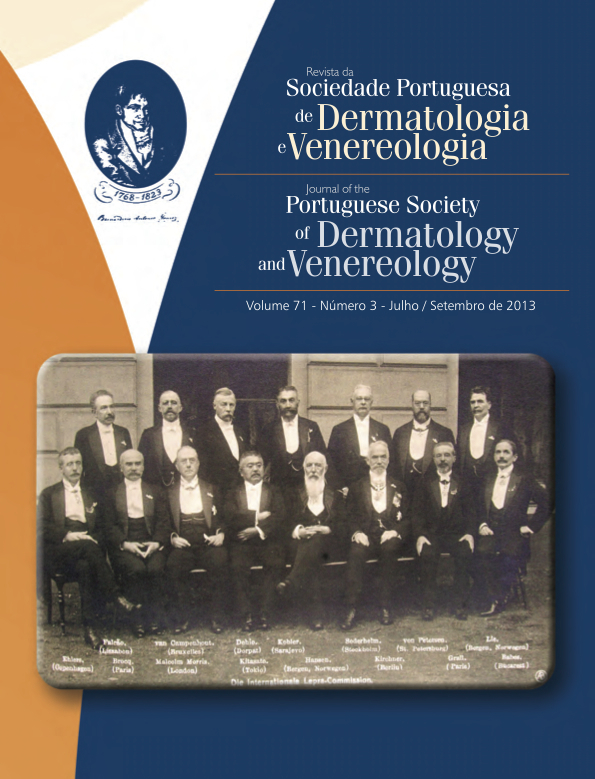 How to Cite
de Castro Faria, H., Mota, A., Viegas, V., Emilio, A., & Vicente, M. (2014). ERYTHEMA MULTIFORME − A RARE PRESENTATION OF ACUTE RICKETTIOSIS. Journal of the Portuguese Society of Dermatology and Venereology, 71(3), 371-374. https://doi.org/10.29021/spdv.71.3.195
All articles in this journal are Open Access under the Creative Commons Attribution-NonCommercial 4.0 International License (CC BY-NC 4.0).