AQUAGENIC URTICARIA
Mariana Pinto

Interna Complementar de Pediatria/Resident of Pediatrics, Serviço de Pediatria/Neonatologia do Centro Hospitalar de Entre o Douro e Vouga (CHEDV) – Hospital São Sebastião, Santa Maria da Feira, Portugal

Nádia Rodrigues

Interna Complementar de Pediatria/Resident of Pediatrics, Serviço de Pediatria/Neonatologia da Unidade Local de Saúde de Matosinhos – Hospital Pedro Hispano, Matosinhos, Portugal

Sofia Ferreira

Interna Complementar de Pediatria/Resident of Pediatrics, Serviço de Pediatria/Neonatologia do Centro Hospitalar de Entre o Douro e Vouga (CHEDV) – Hospital São Sebastião, Santa Maria da Feira, Portugal

Teresa Oliveira

Assistente Hospitalar de Pediatria/Consultant of Pediatrics, Serviço de Pediatria/Neonatologia do Centro Hospitalar de Entre o Douro e Vouga (CHEDV) – Hospital São Sebastião, Santa Maria da Feira, Portugal
Keywords:
Child, Urticaria, Water
Abstract
Aquagenic Urticaria is a rare form of physical urticaria precipitated by water contact with the skin, whatever their temperature and nature. The pathophysiology is not completely understood. We report a case of a 6-year-old boy with erythematous maculopapular skin lesions often associated with pallor, especially that appeared on the chest, arms and legs when he contacted with water, regardless its temperature and source. On that time it was considered as diagnostic hypothesis aquagenic urticaria. There was clinical improvement with the introduction of hydroxyzine, thirty minutes before the contact with water and recurrence of signs/symptoms when the drug was not administered prophylactically. With this case report, the authors wish to emphasize that although this type of urticaria is rare in children, should be recognized because can cause systemic reactions potentially fatal and thus appropriate treatment can be instituted.
Downloads
Download data is not yet available.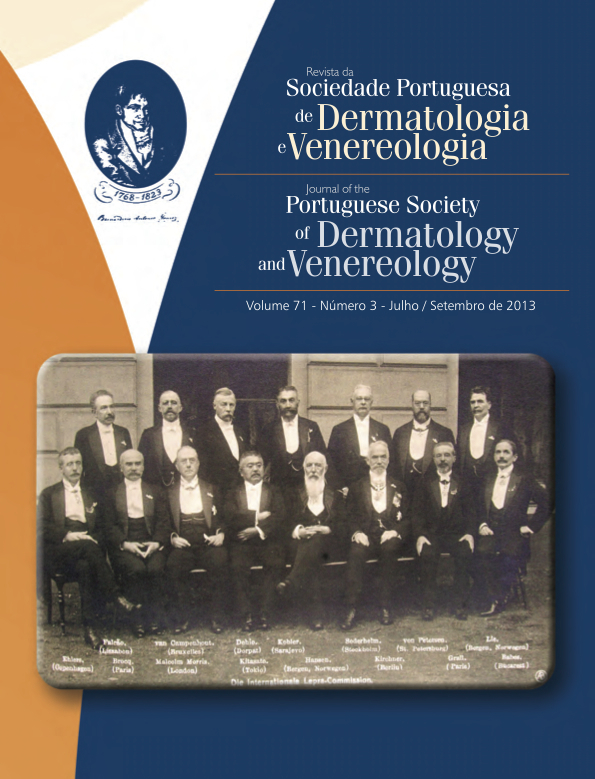 How to Cite
Pinto, M., Rodrigues, N., Ferreira, S., & Oliveira, T. (2014). AQUAGENIC URTICARIA. Journal of the Portuguese Society of Dermatology and Venereology, 71(3), 389-391. https://doi.org/10.29021/spdv.71.3.198
All articles in this journal are Open Access under the Creative Commons Attribution-NonCommercial 4.0 International License (CC BY-NC 4.0).