EXTENSIVE PYODERMA GANGRENOSUM IN A PATIENT NONADHERENT TO THE TREATMENT
Gustavo Martins

Especialista em Dermatologia/Specialist in Dermatology, Serviço de Dermatologia do Hospital Regional/Universidade do Oeste Paulista (UNOESTE) – Presidente Prudente (SP), Brasil

Fred Bernardes Filho

Pós Graduando de Dermatologia/Graduated in Dermatology, Instituto de Dermatologia Professor Rubem David Azulay, Santa Casa da Misericórdia do Rio de Janeiro (IDPRDA - SCMRJ) - Rio de Janeiro (RJ), Brasil

Letícia Soares Sasso

Especialista em Oftalmologia/Specialist in Ophtalmology, Serviço de Oftalmologia do Hospital Regional de Presidente Prudente/Universidade do Oeste Paulista (SP), Brasil

Andreia Oliveira Alves

Acadêmica de Medicina/Medical Academic, Universidade Metropolitana de Santos (UNIMES), Santos (SP), Brasil

Ystannyslau Bernardes da Silva

Pós Graduando de Cardiologia Intervencionista e Hemodinâmica/Graduated in Cardiology and Hemodynamics, Hospital São Francisco Saúde de Ribeirão Preto – Ribeirão Preto (SP), Brasil

Fernanda Coelho Rezende

Acadêmica de Medicina/Medical Academic, Universidade Gama Filho (RJ) e Estagiária do Instituto de Dermatologia, Professor Rubem David Azulay, Santa Casa da Misericórdia do Rio de Janeiro (IDPRDA - SCMRJ) - Rio de Janeiro (RJ), Brasil

Caroline Graça Cunha

Acadêmica de Medicina/Medical Academic, Universidade Gama Filho (RJ) e Estagiária do Instituto de Dermatologia, Professor Rubem David Azulay, Santa Casa da Misericórdia do Rio de Janeiro (IDPRDA - SCMRJ) - Rio de Janeiro (RJ), Brasil
Keywords:
Burns, Medication adherence, Pyoderma gangrenosum, Skin diseases
Abstract
Background and Objectives: Despite the thermal injury in severe burn be acute and the pyoderma gangrenosum be an immune-mediated disease, many aspects are common in these two groups of patients. The authors argue that the rules used in the percentage determination of the skin involved in major burn are also used in extensive pyoderma gangrenosum cases. As well as a clinical support routine - used in the burned - but not always in patients with pyoderma gangrenosum.
Case report: Male patient with extensive pyoderma gangrenosum clinical presentation, non-adherent to the treatment, presented ulcerated and vegetating lesions and cribiform scars. After clinical improvement, not returned in the medical appointment.
Conclusions: In severe and extensive pyoderma gangrenosum cases, in which the percentage of cutaneous involvement exceeds 20% of the body surface, the approach of pyoderma gangrenosum should be similar to a major burn, with periodicals clinical examination and assessment of body hydration.
Downloads
Download data is not yet available.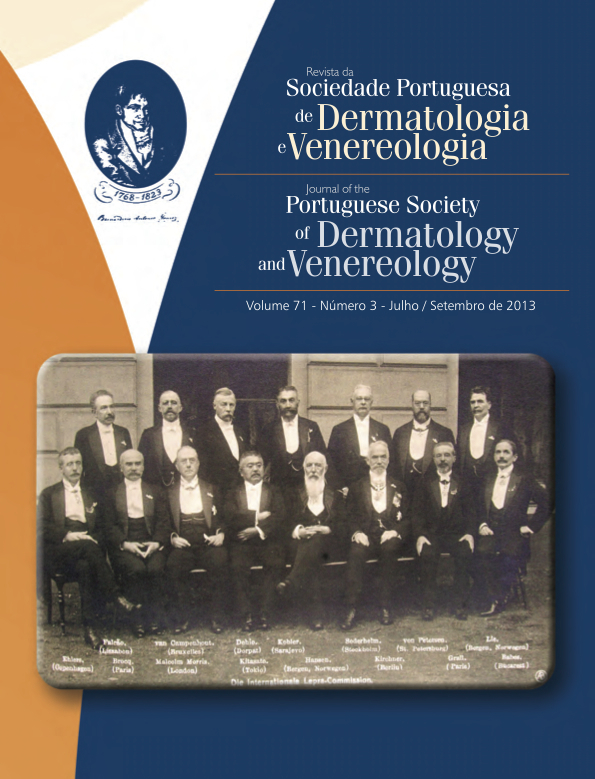 How to Cite
Martins, G., Filho, F. B., Sasso, L. S., Alves, A. O., da Silva, Y. B., Rezende, F. C., & Cunha, C. G. (2014). EXTENSIVE PYODERMA GANGRENOSUM IN A PATIENT NONADHERENT TO THE TREATMENT. Journal of the Portuguese Society of Dermatology and Venereology, 71(3), 393-397. https://doi.org/10.29021/spdv.71.3.199
All articles in this journal are Open Access under the Creative Commons Attribution-NonCommercial 4.0 International License (CC BY-NC 4.0).