MYCOBACTERIUM HAEMOPHILUM SKIN INFECTION IN AN IMMUNOCOMPROMISED PATIENT
Olga Ferreira

Serviço de Dermatologia e Venereologia, Centro Hospitalar de São João EPE, Porto, Portugal - Faculdade de Medicina da Universidade do Porto, Porto, Portugal

Carmen Lisboa

Serviço de Dermatologia e Venereologia, Centro Hospitalar de São João EPE, Porto, Portugal - Faculdade de Medicina da Universidade do Porto, Porto, Portugal

Maria João Cruz

Serviço de Dermatologia e Venereologia, Centro Hospitalar de São João EPE, Porto, Portugal - Faculdade de Medicina da Universidade do Porto, Porto, Portugal

Joana Sobrinho Simões

Serviço de Microbiologia, Centro Hospitalar de São João EPE, Porto, Portugal

Herberto Bettencourt

Serviço de Anatomia Patológica, Centro Hospitalar de São João EPE, Porto, Portugal

Filomena Azevedo

Serviço de Dermatologia e Venereologia, Centro Hospitalar de São João EPE, Porto, Portugal
Abstract
Mycobacterium haemophilum skin infection is a rare disease with a difficult diagnosis and a challenging treatment. We report the case of a patient on chronic corticotherapy for myositis with nodules on the lower limbs in which Mycobacterium haemophilum was identified by PCR technique. This case emphasizes the need for a high index of suspicion for the diagnosis. In fact, this infection can currently be underdiagnosed due to the special requirements for culture. It should be considered in patients with chronic granulomatous processes in combination with negative my- cobacteriological examination.
KEYWORDS – Mycobacterium haemophilum; Immunocompromised host; Mycobacterium infections; Skin diseases, bacterial.
Downloads
Download data is not yet available.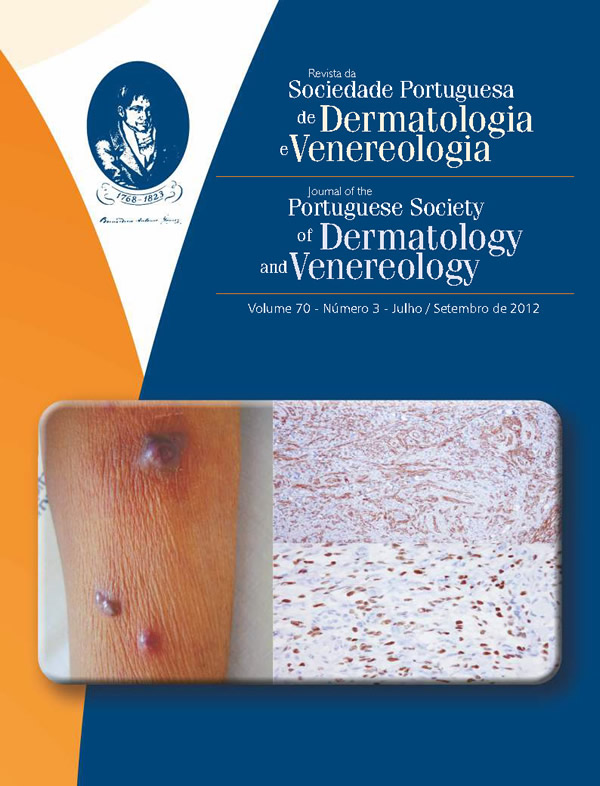 How to Cite
Ferreira, O., Lisboa, C., Cruz, M. J., Simões, J. S., Bettencourt, H., & Azevedo, F. (2013). MYCOBACTERIUM HAEMOPHILUM SKIN INFECTION IN AN IMMUNOCOMPROMISED PATIENT. Journal of the Portuguese Society of Dermatology and Venereology, 70(3), 393. https://doi.org/10.29021/spdv.70.3.20
All articles in this journal are Open Access under the Creative Commons Attribution-NonCommercial 4.0 International License (CC BY-NC 4.0).