DERMOSCOPY - SELECTED CASES OF UNDEREXPLORED APPLICATIONS AND REVIEW OF THE LITERATURE
Ana Pedrosa

Interna do Internato Complementar de Dermatologia e Venereologia/Resident, Dermatology and Venereology

Paulo Morais

Assistente Hospitalar de Dermatologia e Venereologia/Consultant, Dermatology and Venereology; Faculdade de Medicina da Universidade do Porto / Medical School, Oporto University, Portugal

Catarina Moreira

Interna do Internato Complementar de Dermatologia e Venereologia/Resident, Dermatology and Venereology

Olga Ferreira

Assistente Hospitalar de Dermatologia e Venereologia/Consultant, Dermatology and Venereology; Faculdade de Medicina da Universidade do Porto / Medical School, Oporto University, Portugal

Filomena Azevedo

Diretora do Serviço de Dermatologia e Venereologia/Head of the Dermatology and Venereology Department, Centro Hospitalar São João, EPE, Porto, Portugal
Keywords:
Dermoscopy, Skin diseases, Skin neoplasms
Abstract
Introduction: The scope of dermoscopy extends beyond the evaluation of pigmented lesions, particularly in the assessment of vascular, infectious and inflammatory lesions as well as in the scalp and nail diseases. We aim to show dermoscopic features that may be useful in the diagnosis and follow-up of non-melanocytic lesions.
Material and Methods: We selected 19 patients in whom dermoscopy was used for diagnosis and/or follow-up. The dermoscopic features were compared with data from the literature.
Results: We describe the dermoscopic appearance of vascular lesions such as infantile hemangioma, glomangioma, hobnail hemangioma, lymphangioma circumscriptum and acquired digital arteriovenous malformation. Within the viral infections and ectoparasitic infestations, we detail the pathognomonic dermoscopic findings of molluscum contagiosum, viral wart, pediculosis capitis and scabies. We also describe the dermoscopic appearance of disseminated superficial actinic porokeratosis, psoriasis, pityriasis rosea, lichen planus, sarcoidosis, palmoplantar spiny keratoderma, pitted keratolysis, accessory nipple, sebaceous hyperplasia and subcorneal hematoma, comparing the results obtained with the dermoscopic patterns previously described in literature and herein reviewed.
Conclusions: Dermoscopy is useful in the diagnosis, prognosis and follow-up of a diversity of skin lesions, besides to melanocytic lesions. There has been an exponential increase in its applications due to the recognition of new dermoscopic patterns, providing a valuable link between clinical and histologic diagnosis.
Downloads
Download data is not yet available.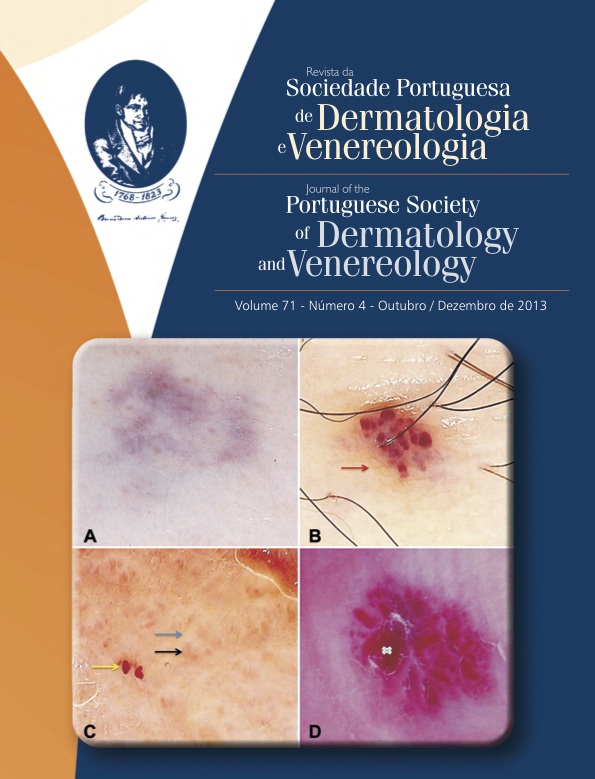 How to Cite
Pedrosa, A., Morais, P., Moreira, C., Ferreira, O., & Azevedo, F. (1). DERMOSCOPY - SELECTED CASES OF UNDEREXPLORED APPLICATIONS AND REVIEW OF THE LITERATURE. Journal of the Portuguese Society of Dermatology and Venereology, 71(4), 487-494. https://doi.org/10.29021/spdv.71.4.209
Section
Dermatoscopy Article
All articles in this journal are Open Access under the Creative Commons Attribution-NonCommercial 4.0 International License (CC BY-NC 4.0).