SCABIES: POLYMORPHIC PRURITIC PAPULAR ERUPTION IN A PATIENT WITH PULMONARY TUBERCULOSIS - AID OF DERMOSCOPY
Andreia Oliveira Alves

Acadêmica de Medicina/Medical Academic, Universidade Metropolitana de Santos (UNIMES), Santos (SP) – Brazil

Fred Bernardes Filho

Pós Graduando de Dermatologia/Graduated in Dermatology, Instituto de Dermatologia Professor Rubem David Azulay da Santa Casa da Misericórdia do Rio de Janeiro (IDPRDA - SCMRJ) - Rio de Janeiro (RJ), Brazil

Gustavo Martins

Dermatologista Especialista/Specialist in Dermatology, Sociedade Brasileira de Dermatologia; Clínica Privada/Private Clinic

Letycia Lopes Chagas Nogueira

Médica Graduada/Medical Graduated, Universidade Gama Filho - Rio de Janeiro (RJ), Brazil

Thais de Abreu Lanza

Médica Graduada/Medical Graduated, Universidade Gama Filho - Rio de Janeiro (RJ), Brazil

José Augusto da Costa Nery

Pesquisador Associado, Departamento de Micobacterioses, Laboratório de Hanseníase/Associated Researcher, Mycobacteriosis Department, Hansen´s Disease Laboratory, Instituto Oswaldo Cruz - Fundação Oswaldo Cruz (FIOCRUZ) – Rio de Janeiro (RJ), Brazil
Keywords:
Dermoscopy, Scabies, Tuberculosis
Abstract
We report a case of a 62-years-old male patient with pulmonary tuberculosis newly diagnosed who presented a polymorphic eruption due to an infestation by Sarcoptes scabiei. The authors demonstrate dermoscopic findings of human scabies and emphasize the importance of the use of dermoscopy as a valuable tool in non-traditional indications of its use.
Downloads
Download data is not yet available.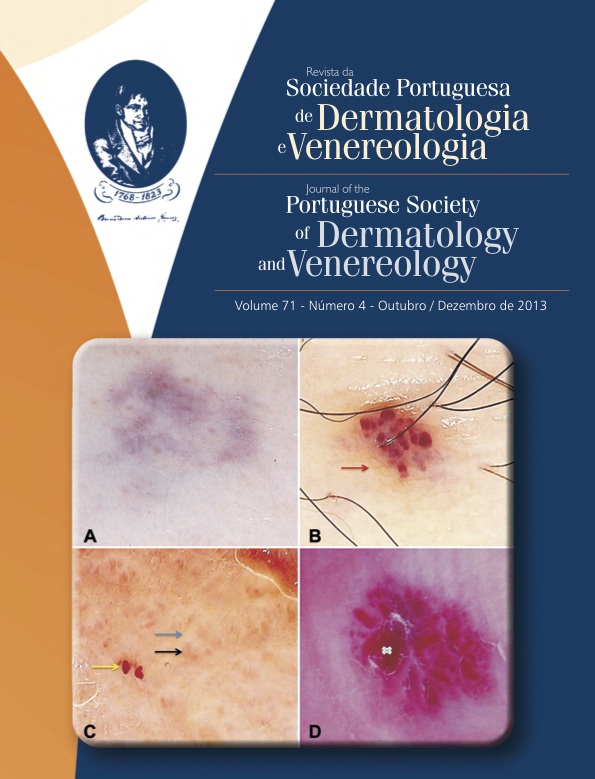 How to Cite
Alves, A. O., Filho, F. B., Martins, G., Nogueira, L. L. C., Lanza, T. de A., & Nery, J. A. da C. (1). SCABIES: POLYMORPHIC PRURITIC PAPULAR ERUPTION IN A PATIENT WITH PULMONARY TUBERCULOSIS - AID OF DERMOSCOPY. Journal of the Portuguese Society of Dermatology and Venereology, 71(4), 507-510. https://doi.org/10.29021/spdv.71.4.212
Section
Dermatoscopy Article
All articles in this journal are Open Access under the Creative Commons Attribution-NonCommercial 4.0 International License (CC BY-NC 4.0).