CALCINOSIS CUTIS IN A PATIENT WITH CHRONIC KIDNEY DISEASE
Fernanda Coelho Rezende

Interna de Medicina/Resident of Internal Medicine, Universidade Gama Filho, Rio de Janeiro, Brasil

Vinicius Vieira

Médico Residente de Clínica Médica/Resident of Medical Clinics, Hospital Municipal Salgado Filho, Rio de Janeiro, Brasil

Débora Nascimento Souza

Médica Residente de Clínica Médica/Resident of Medical Clinics, Hospital Municipal Salgado Filho, Rio de Janeiro, Brasil

Sílvia Helena das Neves de Araújo Feio

Médica Associada do Serviço de Clínica Médica/Associated Consultant of Medical Clinics, Hospital Municipal Salgado Filho, Rio de Janeiro, Brasil
Keywords:
Kidney failure, chronic, Case reports, Calcinosis, Skin diseases
Abstract
Increasingly common in Services Medical Clinic, chronic kidney disease may be accompanied by deterioration in several other organ systems. In this context, the involvement of the skin can be portrayed through specific or nonspecific disorders, which may signal the level of commitment by the chronic kidney disease. The deposition of calcium salts in the skin and subcutaneous tissues, skin lesion called calcinosis, consists of a specific alteration of chronic kidney disease, which may indicate later stages of the disease. The authors describe the case of a patient with hypertension and diabetes, which develops chronic kidney disease DRC , during the illness evolves with calcinosis cutis. After supportive treatment before clinical improvement, the patient was discharged, becoming regularly followed by Clinic of Internal Medicine unit.
Downloads
Download data is not yet available.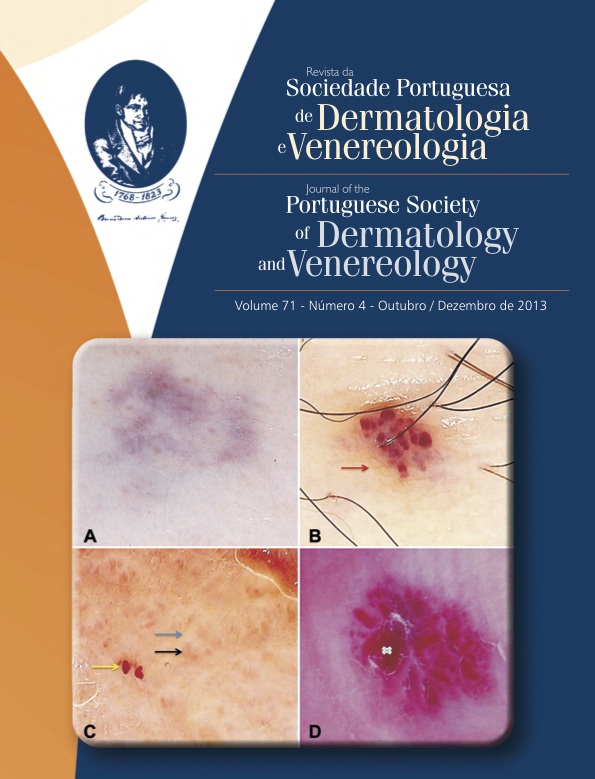 How to Cite
Rezende, F. C., Vieira, V., Souza, D. N., & Feio, S. H. das N. de A. (1). CALCINOSIS CUTIS IN A PATIENT WITH CHRONIC KIDNEY DISEASE. Journal of the Portuguese Society of Dermatology and Venereology, 71(4), 519-522. https://doi.org/10.29021/spdv.71.4.214
All articles in this journal are Open Access and meet the requirements of funding bodies or academic institutions. Each article published in the Journal is published under the Creative Commons Attribution-NonCommercial-NoDerivatives 4.0 International License (CC BY-NC-ND 4.0). Articles can be read, downloaded, printed, and shared.
Submission of an article for publication implies the authors' consent to publication under the applicable Creative Commons license and the terms and conditions of the Publisher's Licensing Agreement.
It is the author's responsibility to obtain permission to reproduce illustrations, tables, etc. from other publications.
Upon acceptance of an article, authors will be asked to complete a 'Journal Publishing Agreement'. An e-mail will be sent to the corresponding author confirming receipt of the manuscript together with a 'Journal Publishing Agreement' form or a link to the online version of this agreement.
Author rights: As an author you (or your employer or institution) have certain rights to reuse your work.
The Journal reserves the right to use plagiarism detection software on any submitted material.