EXTENSIVE PYODERMA GANGRENOSUM IN A PATIENT NONADHERENT TO THE TREATMENT
Carolina Degen Meotti

Especialista em Dermatologia pela Sociedade Brasileira Dermatologia/Dermatologist, Brasilian Society of Dermatology, Brasil

Bruna Confettura Costa

Graduada em Medicina pela Universidade Gama Filho/Graduated in Medicine, Gama Filho University, Rio de Janeiro, Brasil

Fernanda Silveira Costa

Graduada em Medicina pelo Centro Universitário UNIFESO/Graduated in Medicine, UNIFESO University, Teresópolis, Brasil

Julia Rocha Silva Santos

Residência em Clinica Médica/Resident of Medical Clinics, Santa Casa de Misericórdia, Rio de Janeiro, Brasil

Thais de Abreu Lanza

Graduada em Medicina pela Universidade Gama Filho/Graduated in Medicine, Gama Filho University, Rio de Janeiro, Brasil

Verônica Vilas-Boa Ferrari

Estudante de Medicina (5º ano)/Medical Satudent (5th year), Universidade Gama Filho, Rio de Janeiro, Brasil

Glaura Tinoco Plata

Especialista em Dermatologia pela Sociedade Brasileira Dermatologia/Dermatologist, Brasilian Society of Dermatology, Brasil
Keywords:
Antineoplastic agents, Drug eruptions, Indoles, Maleates, Skin manifestations
Abstract
The growth factor receptor inhibitors represent a relative new class of medications which have been often used on oncology to treat various types of neoplasia. Many tegumentary manifestations have been described. On this article, we report a case of 55 year-old-male in use of sunitinib malate to treat metastatic renal carcinoma that developed hypercromic spots, perlèche and palmar erythema. On this report, we discuss the features of these manifestations and the impact that they have on the patients quality of life.
Downloads
Download data is not yet available.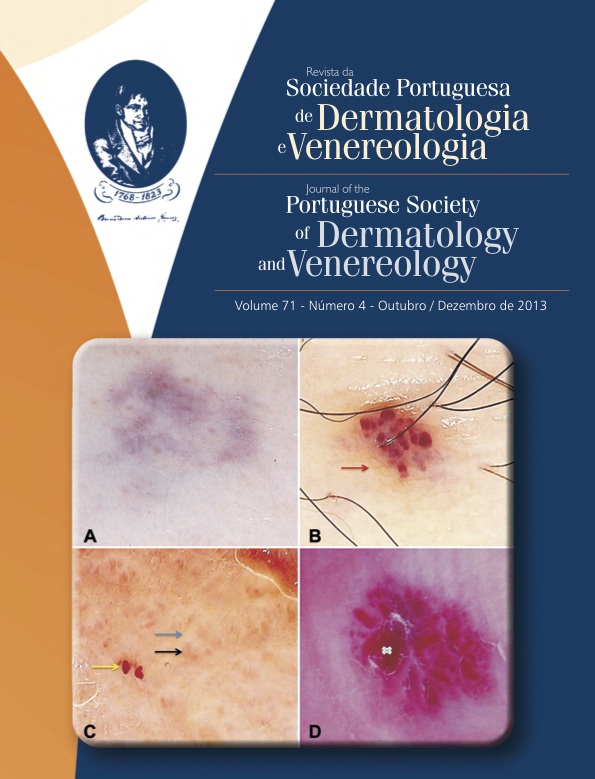 How to Cite
Meotti, C. D., Costa, B. C., Costa, F. S., Santos, J. R. S., Lanza, T. de A., Ferrari, V. V.-B., & Plata, G. T. (1). EXTENSIVE PYODERMA GANGRENOSUM IN A PATIENT NONADHERENT TO THE TREATMENT. Journal of the Portuguese Society of Dermatology and Venereology, 71(4), 537-540. https://doi.org/10.29021/spdv.71.4.217
All articles in this journal are Open Access under the Creative Commons Attribution-NonCommercial 4.0 International License (CC BY-NC 4.0).