CUTANEOUS LEISHMANIASIS AND PANCYTOPENIA AS INITIAL PRESENTATION OF HIV INFECTION
Leonor Ramos

Interna de Dermatologia e Venereologia/Resident, Dermatology and Venereology, Serviço de Dermatologia e Venereologia, Centro Hospitalar e Universitário de Coimbra, Coimbra, Portugal

Hugo Oliveira

Assistente Hospitalar Graduado de Dermatologia/Graduated Consultant, Dermatology and Venereology, Serviço de Dermatologia e Venereologia, Centro Hospitalar e Universitário de Coimbra, Coimbra, Portugal

Patricia Alves

Interna de Medicina Interna/Resident, Internal Medicine, Serviço de Medicina Interna, Centro Hospitalar e Universitário de Coimbra, Coimbra, Portugal
Keywords:
AIDS-Related opportunistic infections, Leishmaniasis, cutaneous, Pancytopenia, HIV infections
Abstract
Leishmaniasis is an infectious disease caused by Leishmania species. Cutaneous leishmaniasis presents as papules that evolve to nodules/plaques that may ulcerate. The diagnosis is mainly clinical and may be confirmed by cutaneous biopsy. In HIV patients, Leishmania co-infection can lead more easily to visceral leishmaniasis and atypical cutaneous lesions. We describe a case of a patient with cutaneous leishmaniasis and pancytopenia which led to the diagnosis of a previously unknown HIV infection. A 41-year-old male patient presented with a 6 month history of 2 ulcerated nodules on the face. Cutaneous leishmaniasis was suspected and confirmed by skin biopsy. Treatment with itraconazole was performed with complete regression of the lesions. He also mentioned asthenia, anorexia and significant weight loss. Complementary study revealed pancytopenia and spleen infiltration. A myelogram and serology were performed, with a positive test for HIV1. This clinical case highlights the importance of a global evaluation of the patient.
Downloads
Download data is not yet available.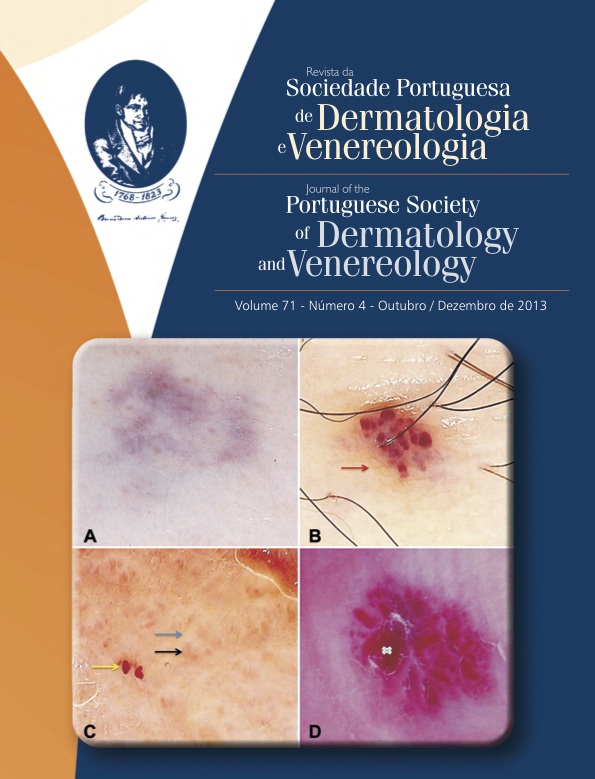 How to Cite
Ramos, L., Oliveira, H., & Alves, P. (1). CUTANEOUS LEISHMANIASIS AND PANCYTOPENIA AS INITIAL PRESENTATION OF HIV INFECTION. Journal of the Portuguese Society of Dermatology and Venereology, 71(4), 541-545. https://doi.org/10.29021/spdv.71.4.218
All articles in this journal are Open Access under the Creative Commons Attribution-NonCommercial 4.0 International License (CC BY-NC 4.0).