MONOPACHYDERMODACTYLY - CASE REPORT
Thiago Rubin Bellott

Residente de Dermatologia/Resident of Dermatology, Universidade Federal Fluminense (UFF), Niterói (RJ), Brasil

Paulo César Bellott

Dermatologista, Clínica Privada/Dermatologist, Private Clinic, Rio de Janeiro, Brasil

Fred Bernardes Filho

Pós Graduando de Dermatologia /Postgraduate of Dermatology, Instituto de Dermatologia Professor Rubem David Azulay, Santa Casa da Misericórdia do Rio de Janeiro (IDPRDA - SCMRJ) e da Escola Médica de Pós-Graduação da Pontifícia Universidade Católica do Rio de Janeiro (EMPG/PUC-RJ), Rio de Janeiro (RJ), Brasil

Mayra Carrijo Rachael

Doutora em Patologia, Professora Associada / Pathologist, Associated Professor, Universidade Federal Fluminense (UFF), Niterói (RJ), Brasil
Keywords:
Hand dermatoses, Fibroma
Abstract
Pachydermodactyly is a rare benign superficial fibromatosis, painless and asymptomatic, characterized by diffuse increase of connective tissue in the skin of the proximal interphalangeal joints of the second, third and fourth fingers, with symmetrical character, usually associated with trauma. The histopathology is non-specific, showing epidermal hyperplasia, increased collagen in the dermis and slight increase in the number of fibroblasts. The authors present the case of a 27 years old male patient with pachydermodactyly associated with repeated trauma related to their work.
Downloads
Download data is not yet available.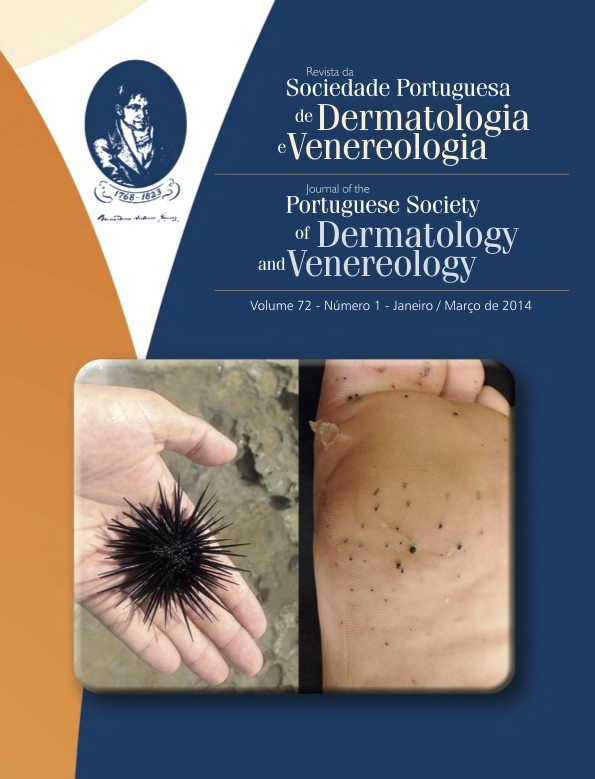 How to Cite
Bellott, T. R., Bellott, P. C., Filho, F. B., & Rachael, M. C. (1). MONOPACHYDERMODACTYLY - CASE REPORT. Journal of the Portuguese Society of Dermatology and Venereology, 72(1), 131-134. https://doi.org/10.29021/spdv.72.1.235
All articles in this journal are Open Access under the Creative Commons Attribution-NonCommercial 4.0 International License (CC BY-NC 4.0).