USE OF WOOD´S LIGHT ON THE DIAGNOSIS OF NEVUS ACHROMICUS AND VITILIGO
Carolina Degen Meotti

Especialista em Dermatologia/Dermatologist, Sociedade Brasileira de Dermatologia, Brasil

Fernanda Silveira Costa

Graduado em Medicina/Graduated in Medicine, UNIFESO – Teresópolis, Brasil

Erika Machado

Residência de Anestesiologia/Resident of Anesthesia, Hospital de Andaraí Rio de Janeiro, Brasil

Carolina Mendonça Gama

Residência de Anestesiologia/Resident of Anesthesia, Hospital de Andaraí Rio de Janeiro, Brasil

Valéria de Morais

Pós Graduação de Clínica Médica/Postgraduated in Medicine, Santa Casa de Misericórdia do Rio de Janeiro, Brasil

Glaura Tinoco Plata

Especialista em Dermatologia/Dermatologist, Sociedade Brasileira de Dermatologia, Brasil
Keywords:
Nevus, Skin pigmentation, Ultraviolet therapy, Vitiligo
Abstract
Vitiligo is a acquired cutaneous disease, idiopathic, that affects approximately 1% of the world population. Nevus achromicus is a congenital anomaly observed in 0,2 to 0,3% of neonates and have a tendency to maintain itself stable in a long term. Although the diagnosis of vitiligo and nevus achromicus is based on clinical grounds, Wood´s light is a useful tool on the diagnosis of these discromic diseases. We report a case of a 26-year-old female patient that presented with spots compatible with nevus achromicus and vitiligo on the same body region.
Downloads
Download data is not yet available.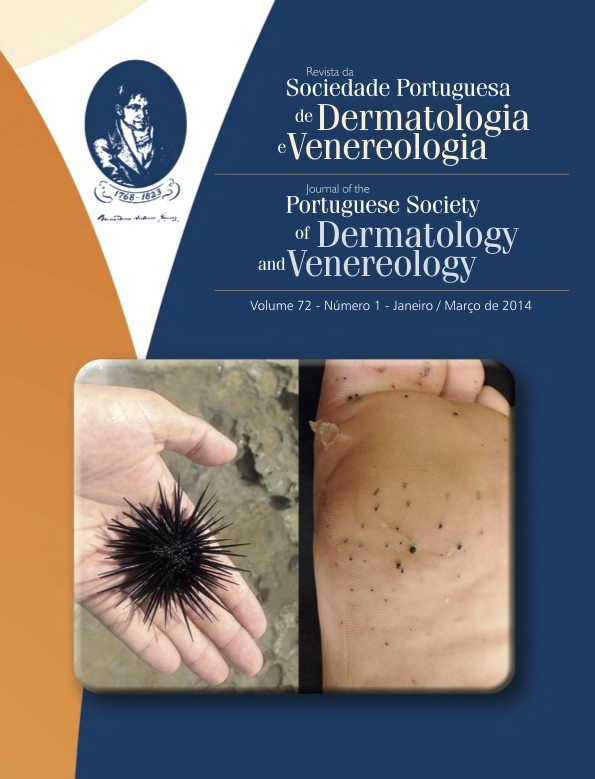 How to Cite
Meotti, C. D., Costa, F. S., Machado, E., Gama, C. M., de Morais, V., & Plata, G. T. (1). USE OF WOOD´S LIGHT ON THE DIAGNOSIS OF NEVUS ACHROMICUS AND VITILIGO. Journal of the Portuguese Society of Dermatology and Venereology, 72(1), 143-146. https://doi.org/10.29021/spdv.72.1.238
All articles in this journal are Open Access under the Creative Commons Attribution-NonCommercial 4.0 International License (CC BY-NC 4.0).