RECURRENT NEVUS – A 5-YEAR REVIEW
Paula Maio

Interna do Internato Complementar de Dermatologia e Venereologia/Resident, Dermatology and Venereology, Serviço de Dermatologia, Hospital de Curry Cabral - Centro Hospitalar Lisboa Central, Portugal

Joana Antunes

Interna do Internato Complementar de Dermatologia e Venereologia/Resident, Dermatology and Venereology, Serviço de Dermatologia, Hospital de Santa Maria - Centro Hospitalar Lisboa Norte, Portugal

David Pacheco

Interno do Internato Complementar de Dermatologia e Venereologia/Resident, Dermatology and Venereology, Serviço de Dermatologia, Hospital de Santa Maria - Centro Hospitalar Lisboa Norte, Portugal

Luís Soares de Almeida

Chefe de Serviço/Consultan Chief, Dermatology and Venereology, Serviço de Dermatologia, Hospital de Santa Maria - Centro Hospitalar Lisboa Norte, Portugal

Manuel Sacramento Marques

Chefe de Serviço, Director do Serviço de Dermatologia e Venereologia/ Consultant Chief, Head of Dermatology and Venereology Department, Hospital de Santa Maria - Centro Hospitalar Lisboa Norte, Portugal
Abstract
The development of a melanocytic lesion at the site where it had been previously excised can place clini- cally and histologically some problems because of the differential diagnosis with melanoma, named by some authors as 'pseudomelanoma. In this study, the authors intend to carry out a comparative analysis between the clinical and the pathologic features of recurrent nevi and primary melanocytic lesions.
KEYWORDS – Nevus, Pigmented; Melanoma.

Downloads
Download data is not yet available.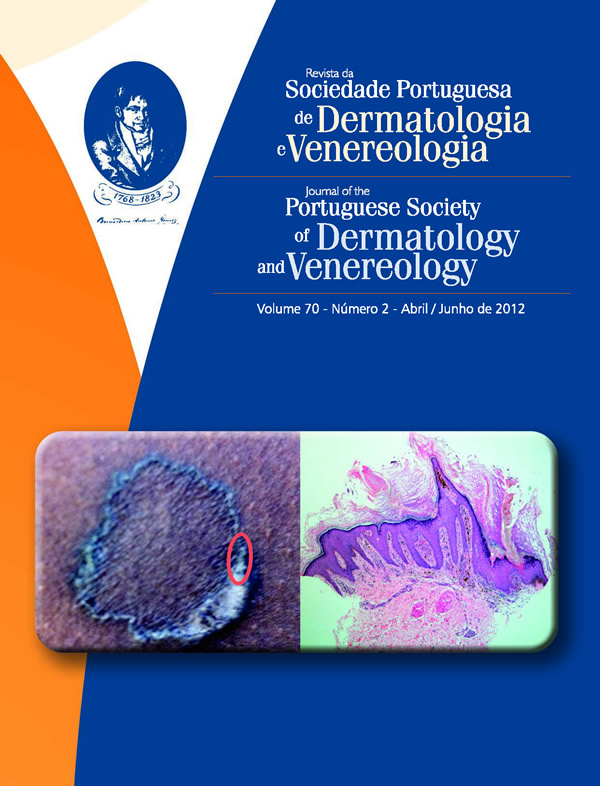 How to Cite
Maio, P., Antunes, J., Pacheco, D., de Almeida, L. S., & Marques, M. S. (2013). RECURRENT NEVUS – A 5-YEAR REVIEW. Journal of the Portuguese Society of Dermatology and Venereology, 70(2), 183. https://doi.org/10.29021/spdv.70.2.24
Section
Original Articles
All articles in this journal are Open Access under the Creative Commons Attribution-NonCommercial 4.0 International License (CC BY-NC 4.0).