RADIATION-ASSOCIATED CUTANEOUS BREAST ANGIOSARCOMA – 12 YEARS ANALYSIS OF A RADIATION ONCOLOGY DEPARTMENT
Domingos Roda

Interno de Radioncologia/Resident, Radiooncology; Serviço de Radioterapia. Instituto Português de Oncologia de Coimbra-FG. Coimbra

Gilberto Melo

Assistente Graduado em Radioncologia/Graduated Consultant, Radiooncology; Serviço de Radioterapia. Instituto Português de Oncologia de Coimbra-FG. Coimbra

Paulo Figueiredo

Director de Serviço de Anatomia Patológica/Chief and Head of Pathology Department; Serviço de Radioterapia. Instituto Português de Oncologia de Coimbra-FG. Coimbra, Portugal
Keywords:
Breast neoplasms/radiotherapy, Hemangiosarcoma, Neoplasms, Radiation-induced, Skin neoplasms
Abstract
Introduction: The radiation induced (RI) cutaneous angiosarcoma (CAS) in the context of the treatment of breast cancer is a rare but extremely aggressive tumor.
Aim: The aim of this study was to review and present the clinical cases of RI CAS of a Radiotherapy (RT) service of, by analyzing the clinical in the last 12 years.
Material and Methods: We retrospectively analyzed the clinical cases of primary atypical vascular lesions (AVL), primary CAS, RI AVL and RI CAS of the breast or chest wall (region previously submitted to mastectomy), diagnosed in our institution between 01.01.2000 e 31.12.2012.
Results: We found a total of 14 patients: 2 (14 %) presented primary AVL; 2 (14%) secondary RI AVL, 5 (36%) primary CAS and 5 (36%) secondary RI CAS. The mean age at diagnosis of RI CAS was 62 years (x-y), the mean time after RT was 11.6 years (x-y) and the treatment of secondary cancer was wide excision in 80% of the cases. There were 3 deaths, none of which related to the radiation-induced injury.
Discussion and Conclusion: These data are similar to other published series regarding the rarity of the breast RI CAS, age at diagnosis and the average time interval between the RT and the onset of secondary cancer. Differences regarding recurrence, metastasis and prognosis were found. The results highlight the importance of updated data concerning side effects of the treatments applied.
Downloads
Download data is not yet available.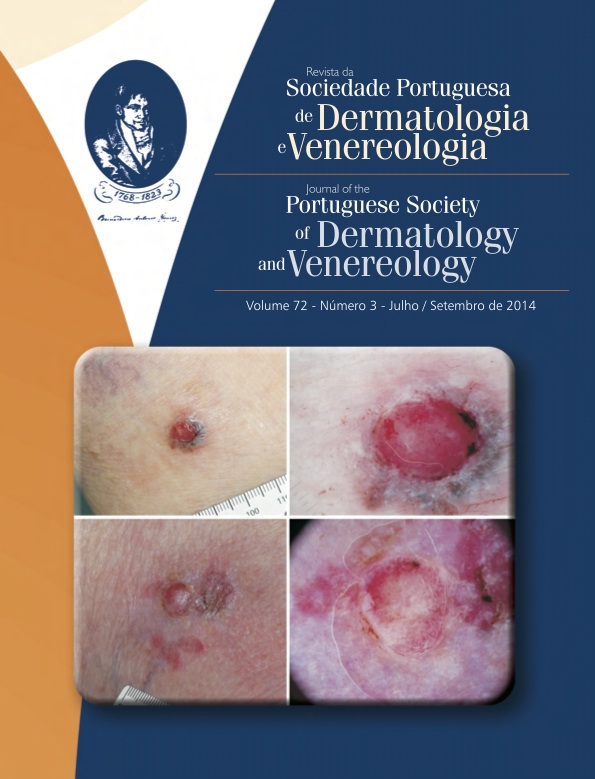 How to Cite
Roda, D., Melo, G., & Figueiredo, P. (1). RADIATION-ASSOCIATED CUTANEOUS BREAST ANGIOSARCOMA – 12 YEARS ANALYSIS OF A RADIATION ONCOLOGY DEPARTMENT. Journal of the Portuguese Society of Dermatology and Venereology, 72(3), 341-346. https://doi.org/10.29021/spdv.72.3.276
Section
Original Articles
All articles in this journal are Open Access under the Creative Commons Attribution-NonCommercial 4.0 International License (CC BY-NC 4.0).