HERPES ZOSTER AND ASSOCIATION WITH OCCULT DISEASE − NEOPLASM AND HIV
Ana Isabel Teixeira

Interna do Internato Complementar de Dermatovenereologia/Resident, Dermatology and Venereology

João Borges-Costa

Assistente Hospitalar de Dermatovenereologia/Consultant, Dermatology and Venereology; Professor Associado de Dermatologia/Professor, Dermatology, Unidade de Investigação em Dermatologia, FML; Professor Associado de Microbiologia/Professor, Microbiology, Instituto de Higiene e Medicina Tropical Serviço de Dermatovenereologia, Hospital de Santa Maria, Centro Hospitalar Lisboa Norte, Portugal
Keywords:
Herpes zoster, HIV Infections, Neoplasms
Abstract
Introduction: Herpes zoster (HZ) is caused by the varicella zoster virus, with an estimated incidence in the general population of 3.64 cases per 1000 person-years. Its incidence increases in older age and immunosuppression states such as infection with the human immunodeficiency virus (HIV) and malignancy.
Material and methods: The authors reviewed the literature in order to study the correlation between the diagnosis of HZ and occult malignancy or HIV infection.
Results: In most of the studies, the evidence clearly points to the existence of an association between HZ and occult malignancy, however, the flaws of the study designs preclude the extrapolation of guidelines for clinical practice. In developed countries, data suggests that HZ has a predictive value for HIV infection only in individuals belonging to high risk groups. In countries with limited resources for HIV screening, HZ may serve as a sentinel disease to help in the decision of taking the exam, especially in endemic areas.
Conclusion: There are few practical recommendations for what complementary investigation should be offered to patients with HZ. It is necessary to conduct more studies to ascertain if the implementation of sometimes complex or invasive complementary examinations is cost-effective.
Downloads
Download data is not yet available.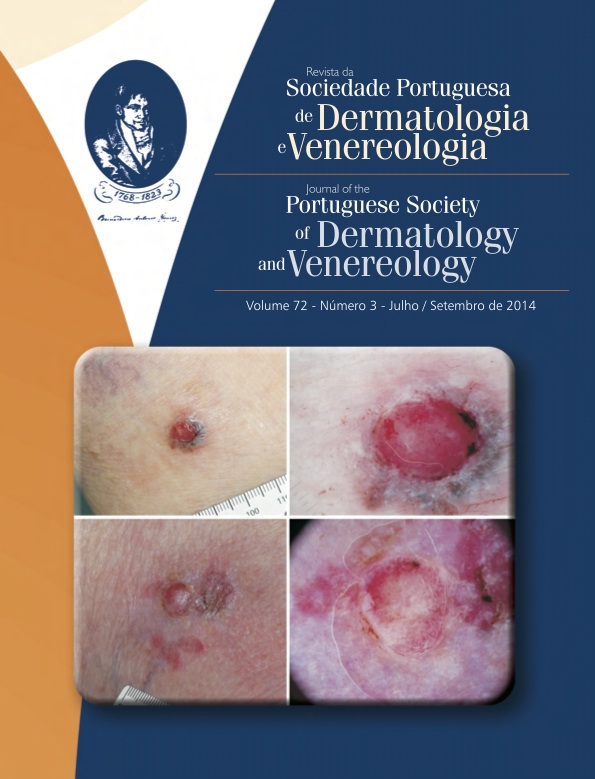 How to Cite
Teixeira, A. I., & Borges-Costa, J. (1). HERPES ZOSTER AND ASSOCIATION WITH OCCULT DISEASE − NEOPLASM AND HIV. Journal of the Portuguese Society of Dermatology and Venereology, 72(3), 347-353. https://doi.org/10.29021/spdv.72.3.277
Section
Original Articles
All articles in this journal are Open Access under the Creative Commons Attribution-NonCommercial 4.0 International License (CC BY-NC 4.0).