SALVAGE OF THE LOWER EYELID AFTER A POOR PLANNING
Diogo Matos

Interno do Internato Complementar de Dermatologia e Venereologia/Resident, Dermatology and Venereology

João Goulão

Assistente Hospitalar de Dermatologia e Venereologia/Consultant, Dermatology and Venereology

Ana Cardoso

Interna do Internato Complementar de Oftalmologia/Resident, Ophtalmology Hospital Garcia de Orta, Almada, Portugal
Keywords:
Carcinoma, basal cell, Eyelid neoplasms, Postoperative complications, Reconstructive surgical procedures, Surgical flaps
Abstract
The surgical reconstruction of the lower eyelid is conditioned by functional concerns. We report the case of a patient submitted to the excision of a basal cell carcinoma in the left lower eyelid, resulting in a full-thickness surgical defect affecting approximately one-half of its width. The execution of the initial surgical plan, which consisted in a cantothomy combined with a V-Y advancement flap, proved insufficient in order to maintain the lower eyelid rigidity and consequently its functionality. It was decided to reinforce the flap with a chondromucous graft harvested in the nasal septum.
Downloads
Download data is not yet available.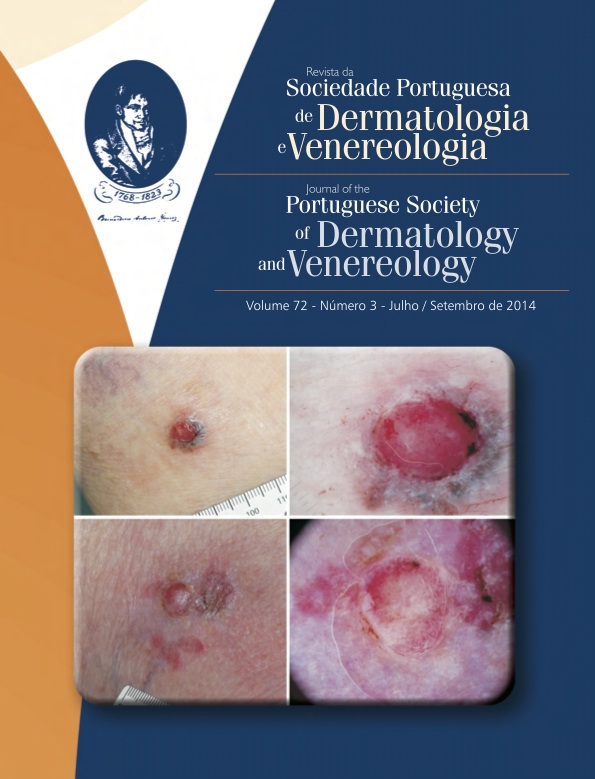 How to Cite
Matos, D., Goulão, J., & Cardoso, A. (1). SALVAGE OF THE LOWER EYELID AFTER A POOR PLANNING. Journal of the Portuguese Society of Dermatology and Venereology, 72(3), 361-364. https://doi.org/10.29021/spdv.72.3.279
Section
Surgical Dermatology
All articles in this journal are Open Access under the Creative Commons Attribution-NonCommercial 4.0 International License (CC BY-NC 4.0).