MELKERSSON-ROSENTHAL SYNDROME
Daniel Holanda Barroso

Residente de Dermatologia Universidade de Pernambuco, Recife, Brasil/Resident Dermatology, University of Pernambuco, Recife, Brazil

Camila Pinon Medeiros Zoby

Dermatologista, Doutora em Medicina Tropical, Universidade de Pernambuco, Recife Brasil/Dermatologist, Doctor in Tropical Medicine, University of Pernambuco, Recife, Brazil

Ana Carolina Depes Perdigão e Vasconcelos

Residente de Dermatologia Universidade de Pernambuco, Recife, Brasil/Resident Dermatology, University of Pernambuco, Recife, Brazil

Silvana Maria de Morais Cavalcanti

Dermatologista, Doutora em Medicina Tropical, Universidade de Pernambuco, Recife Brasil/Dermatologist, Doctor in Tropical Medicine, University of Pernambuco, Recife, Brazil

Emanuel Rodrigues de França

Dermatologista, Doutor em Dermatologia, Universidade de Pernambuco, Recife, Brasil/Dermatologist, Doctor in Dermatology, University of Pernambuco, Recife, Brazil

Márcia Almeida Galvão Teixeira

Dermatologista, Doutora em Medicina Tropical, Universidade de Pernambuco, Recife Brasil/Dermatologist, Doctor in Tropical Medicine, University of Pernambuco, Recife, Brazil
Keywords:
Melkersson-Rosenthal Syndrome, Clofazimine, Tongue, fissured, Facial paralysis
Abstract
The Melkersson-Rosenthal Syndrome is composed of the Triad: linqua plicata, intermittent facial palsy and orofacial swelling. Usually, the dominant and earliest finding of the syndrome is the orofacial swelling. Therefore, it's frequently the dermatologist the first professional to have contact with the patient. Yet, the condition has been few times described in dermatological literature. We present a classical case of the complete triad.
Downloads
Download data is not yet available.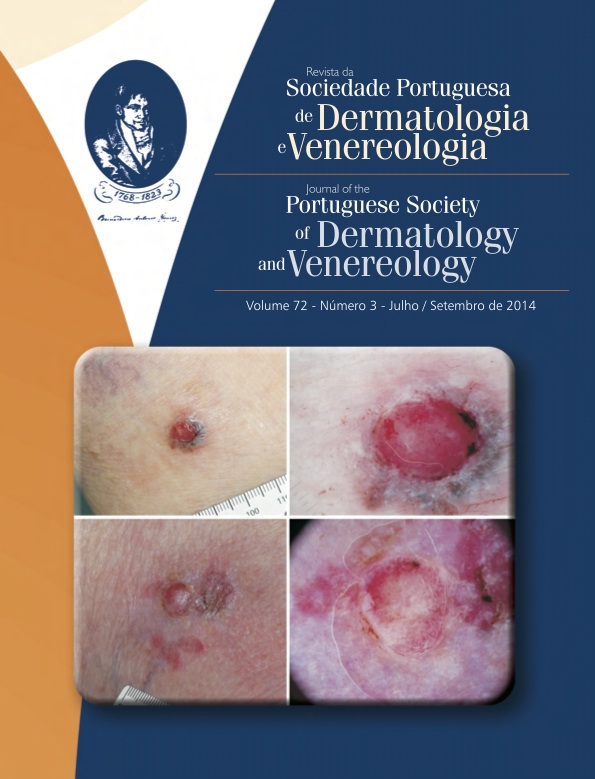 How to Cite
Barroso, D. H., Zoby, C. P. M., Perdigão e Vasconcelos, A. C. D., Cavalcanti, S. M. de M., de França, E. R., & Teixeira, M. A. G. (1). MELKERSSON-ROSENTHAL SYNDROME. Journal of the Portuguese Society of Dermatology and Venereology, 72(3), 391-393. https://doi.org/10.29021/spdv.72.3.285
All articles in this journal are Open Access under the Creative Commons Attribution-NonCommercial 4.0 International License (CC BY-NC 4.0).