LICHEN PLANOPILARIS – A CASE ASSOCIATED WITH AUTOIMMUNE DISEASES
Luana Oliveira Ramos

Médica Residente de Dermatologia/Resident, Dermatology, Hospital Universitário Getúlio Vargas/Universidade Federal do Amazonas UFAM/ Universidade Federal do Amazonas, Brasil

Ana Paula Klein

Aluna de Graduação do Curso de Medicina/Medical Student, Universidade Federal do Amazonas UFAM/Universidade Federal do Amazonas, Brasil

Ana Paula Gualda Botelho dos Santos

Aluna de Graduação do Curso de Medicina/Medical Student, Universidade Federal do Amazonas UFAM/Universidade Federal do Amazonas, Brasil

Fábio Francesconi do Valle

Médico Dermatologista/Dermatologist; Mestre em Doenças Tropicais/Specialist in Tropical Diseases; Preceptor da Residência de Dermatologia/Consultant of Dermatology, Hospital Universitário Getúlio Vargas,Universidade Federal do Amazonas; Chefe da Disciplina de Dermatologia/Professor of Dermatology, Universidade Federal do Amazonas, UFAM/Universidade Federal do Amazonas Serviço de Dermatologia, Hospital Universitário Getúlio Vargas, Universidade Federal do Amazonas. Manaus-AM, Brasil
Keywords:
Alopecia, Lichen planus
Abstract
Due to the development of large areas of permanent alopecia, patients with lichen planopilaris are more likely to evolve with psychosocial disorders and lower quality of life. Lichen planopilaris (LPP) is characterized by an autoimmune response against antigens of the hair follicle. It is known that can coexist with systemic autoimmune diseases, although this relationship is not well understood. Early recognition and prompt therapy are to protect the base of the hair follicle and fibrosis can stop the progression of hair loss. We present a therapy used with excellent results in a case of lichen planus pillar overlap that occurred in dermatomyositis and scleroderma.
Downloads
Download data is not yet available.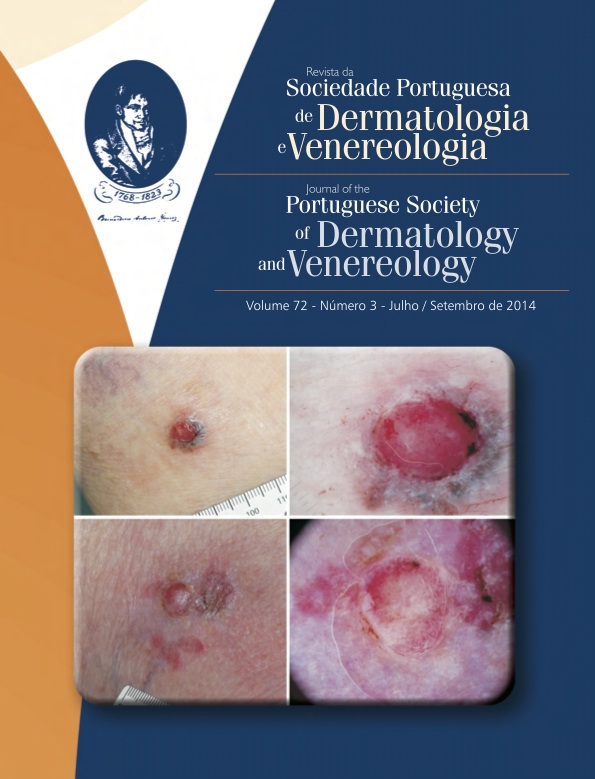 How to Cite
Ramos, L. O., Klein, A. P., dos Santos, A. P. G. B., & do Valle, F. F. (1). LICHEN PLANOPILARIS – A CASE ASSOCIATED WITH AUTOIMMUNE DISEASES. Journal of the Portuguese Society of Dermatology and Venereology, 72(3), 395-399. https://doi.org/10.29021/spdv.72.3.286
All articles in this journal are Open Access under the Creative Commons Attribution-NonCommercial 4.0 International License (CC BY-NC 4.0).