PYODERMA GANGRENOSUM ASSOCIATED WITH HIDRADENITIS SUPURATIVA – A RARE BUT WELL ESTABLISHED ASSOCIATION
António Fernandes Massa

Interno do Internato de Dermatovenereologia/Resident, Dermatology and Venereology; Serviço de Dermatologia, Centro Hospitalar V.N.Gaia/Espinho, EPE, Vila Nova de Gaia, Portugal Serviço de Dermatologia, Hospital de Santa Maria – Centro Hospitalar de Lisboa Norte, EPE, Lisboa, Portugal

Jorge Borges da Costa

Assistente HospitalarGraduado de Dermatovenerologia, Serviço de Dermatologia, CHLN/Graduated Consultant of Dermatology, Dermatology Department, CHLN, Lisboa; Professor Auxiliar Convidado de Dermatologia da FML/ Professor of Dermatology and Venereology, Serviço de Dermatologia, Hospital de Santa Maria – Centro Hospitalar de Lisboa Norte, EPE, Lisboa, Portugal

Paulo Filipe

Professor Doutor do Serviço de Dermatologia e Venereologia/Professor of Dermatology and Venereology; Serviço de Dermatologia, Hospital de Santa Maria – Centro Hospitalar de Lisboa Norte, EPE, Lisboa, Portugal

Manuel Sacramento Marques

Director de Serviço, Serviço de Dermatologia/Chief of Dermatology and Head of the Dermatology Department, Serviço de Dermatologia, Hospital de Santa Maria – Centro Hospitalar de Lisboa Norte, EPE, Lisboa, Portugal
Keywords:
Pyoderma gangrenosum, Hidradenitis suppurativa
Abstract
Pyoderma gangrenosum (PG) and hidradenitis suppurativa (HS) are inflammatory diseases of unknown aetiology, which association is rare but well established. We describe the case of a 27-year-old female patient, with axillary and inguinal hidradenitis supurativa lesions since four years ago who developed a pyoderma gangrenosum lesion in her right leg. Treatment was instituted with systemic corticosteroids in inpatient setting. Afterwards, clindamycin and rifampicin were chosen followed by low dose isotretinoin with good response. The association of HS and PG can possibly have a common aetiology related to neutrophilic activity dysfunction. The description autossomic dominant syndrome PAPA (PG, acne and pyogenic arthritis) as well as PASH (PG, acne and HS), dermatos included in the spectrum of autoinflammatory diseases, promise a better comprehension of aetiopathogenesis of this association with possible diagnostic and therapeutic improvements.
Downloads
Download data is not yet available.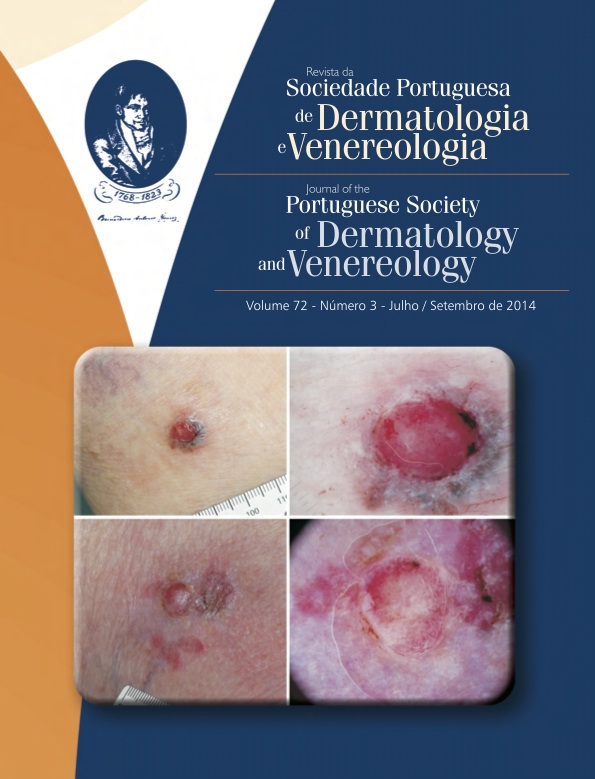 How to Cite
Massa, A. F., Borges da Costa, J., Filipe, P., & Marques, M. S. (1). PYODERMA GANGRENOSUM ASSOCIATED WITH HIDRADENITIS SUPURATIVA – A RARE BUT WELL ESTABLISHED ASSOCIATION. Journal of the Portuguese Society of Dermatology and Venereology, 72(3), 401-405. https://doi.org/10.29021/spdv.72.3.287
All articles in this journal are Open Access under the Creative Commons Attribution-NonCommercial 4.0 International License (CC BY-NC 4.0).