DR(E)SS TO ABACAVIR CONFIRMED BY PATCH TESTS
Leonor Ramos

Interna do Internato Complementar de Dermatologia e Venereologia/Resident, Dermatology and Venereology, Serviço de Dermatologia e Venereologia, Centro Hospitalar e Universitário de Coimbra, Portugal

M. M. Brites

Assistente Hospitalar de Dermatologia e Venereologia/Consultant, Dermatology and Venereology, Serviço de Dermatologia e Venereologia, Centro Hospitalar e Universitário de Coimbra, Portugal

J. Oliveira

Assistente Graduado de Infecciologia/Graduated Consultant, Infecciology, Serviço de Doenças Infecciosas, Centro Hospitalar e Universitário de Coimbra, Portugal

Margarida Gonçalo

Chefe de Serviço Hospitalar de Dermatologia e Venereologia/Consultant Chief, Dermatology and Venereology, Serviço de Dermatologia e Venereologia, Centro Hospitalar e Universitário de Coimbra, Portugal; Faculdade de Medicina, Universidade de Coimbra, Portugal
Keywords:
Abacavir, Drug hypersensitivity syndrome, HLA-B antigens, Patch tests
Abstract
Abacavir hypersensitivity is a potentially fatal systemic adverse reaction that occurs in 2-9% of exposed patients. Symptoms appear during the first 6 weeks of therapy and are similar to DRESS although usually there is no eosinophilia. Studies have confirmed a positive relation with HLA-B*5701, particularly when only cases confirmed by a positive epicutaneous patch test were considered. This HLA allele is now considered an excellent predictor of abacavir hypersensitivity reaction (55% positive predictive value) and it is mandatory to perform a genetic screening before initiating any HIV treatment with abacavir. We report a case of abacavir hypersensitivity reaction, reminding its clinical resemblance with DRESS and pointing out the differences between these two entities, as well as highlighting the importance of HLA phenotyping before beginning treatment with abacavir and the utility of the patch test in confirming this immunologic reaction and studying its effector mechanisms.
Downloads
Download data is not yet available.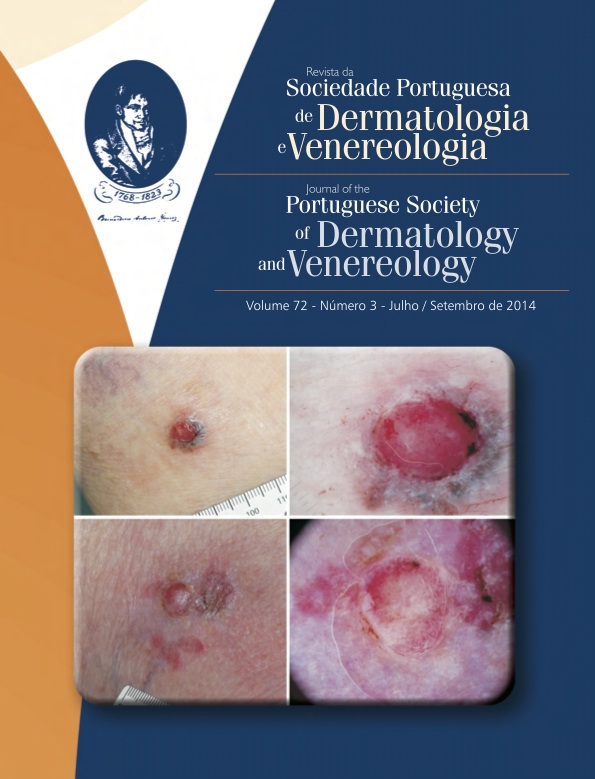 How to Cite
Ramos, L., Brites, M. M., Oliveira, J., & Gonçalo, M. (1). DR(E)SS TO ABACAVIR CONFIRMED BY PATCH TESTS. Journal of the Portuguese Society of Dermatology and Venereology, 72(3), 411-416. https://doi.org/10.29021/spdv.72.3.289
All articles in this journal are Open Access under the Creative Commons Attribution-NonCommercial 4.0 International License (CC BY-NC 4.0).