PURPURIC LESIONS OF INFANCY
Leonor Lopes

Interna do Internato Complementar de Dermatologia e Venereologia/Resident, Dermatology and Venereology, Serviço de Dermatologia, Centro Hospitalar Lisboa Norte – Hospital de Santa Maria, Lisboa, Portugal

Joana Oliveira

Assistente Graduada de Infecciologia/Graduated Consultant, Infecciology, Serviço de Pediatria, Centro Hospitalar Lisboa Norte – Hospital de Santa Maria, Lisboa, Portugal

Ana Fraga

Interna do Internato Complementar de Dermatologia e Venereologia/Resident, Dermatology and Venereology, Serviço de Dermatologia, Centro Hospitalar Lisboa Norte – Hospital de Santa Maria, Lisboa, Portugal

A. Siborro-Azevedo

Serviço de Pediatria, Centro Hospitalar Lisboa Norte – Hospital de Santa Maria, Lisboa, Portugal

Luís Soares-Almeida

Assistente Hospitalar Graduado de Dermatovenerologia, Serviço de Dermatologia, CHLN/Graduated Consultant of Dermatology, Dermatology Department, CHLN, Lisboa; Professor de Dermatologia da FML/Professor of Dermatology and Venereology, Serviço de Dermatologia, Centro Hospitalar Lisboa Norte – Hospital de Santa Maria, Lisboa, Portugal
Abstract
.
Downloads
Download data is not yet available.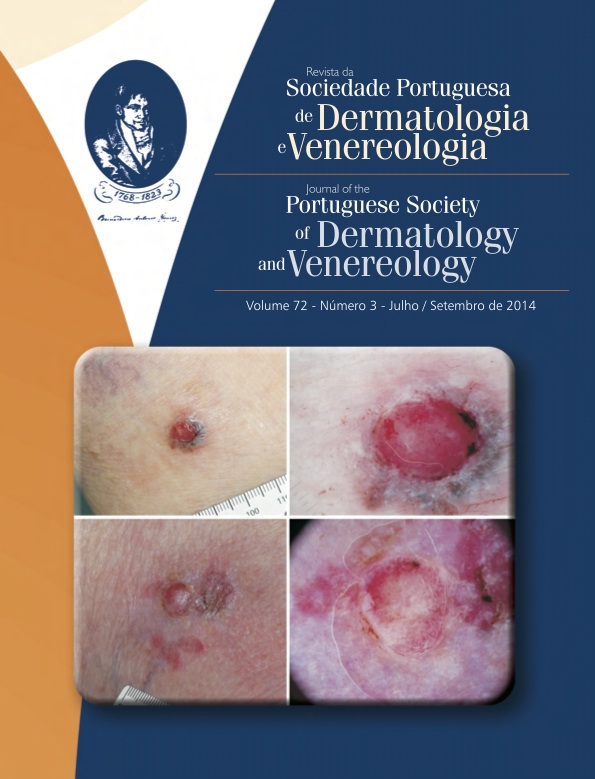 How to Cite
Lopes, L., Oliveira, J., Fraga, A., Siborro-Azevedo, A., & Soares-Almeida, L. (1). PURPURIC LESIONS OF INFANCY. Journal of the Portuguese Society of Dermatology and Venereology, 72(3), 417-419. https://doi.org/10.29021/spdv.72.3.290
All articles in this journal are Open Access under the Creative Commons Attribution-NonCommercial 4.0 International License (CC BY-NC 4.0).