FATAL FUSARIUM INFECTION IN IMMUNOCOMPROMISED CHILD
Flávia Estrela Maroja Marinho

Interna do Internato Complementar de Dermatologia /Resident, Dermatology, Hospital Federal da Lagoa, Rio de Janeiro, Brasil

Pedro Etienne Arreguy Rodrigues Silva

Interno do Internato Complementar de Dermatologia /Resident, Dermatology, Hospital Federal da Lagoa, Rio de Janeiro, Brasil

João Carlos Regazzi Avelleira

Especialista em Dermatologia pela Sociedade Brasileira de Dermatologia; Chefe do Serviço de Dermatologia/ Consultant Chief of Dermatology, Hospital Federal da Lagoa, Rio de Janeiro, Brasil

Priscila Castro Teixeira de Mattos Sillero

Especialista em Pediatria pela Sociedade Brasileira de Pediatria, Especialista em Infectologia Pediátrica/ Specialist in Pediatrics and Pediatric Infectious Diseases; Chefe do Centro de Tratamento Intensivo Pediátrico/Head of the Pediatric Intensive Care Centre, Hospital Federal da Lagoa, Rio de Janeiro, Brasil

Soraia Taveira Rouxinol

Especialista em Pediatria pela Sociedade Brasileira de Pediatria, Especialista em Hematologia Pediátrica, membro da Associação Brasileira de Hematologia e Hemoterapia/ Specialist in Pediatrics and Pediatric Hematology, Chefe do Serviço de Oncohematologia Pediátrica/Head of the Pediatric Oncohematology Department, Hospital Federal da Lagoa, Rio de Janeiro, Brasil
Abstract
Fungal infections represent an important complication for immunosupressed patients and are associated with high morbidity and mortality. Fusarium infections have been reported with increasing frequency and can be locali- zed, locally invasive or disseminated, depending on the immune status of the host. The authors report the case of a four year old boy, with acute lymphocytic leukemia, in chemotherapy, who presented multiple erythematous nodules that evolved into bullae and central necrosis. Cultures of bullae fluid grew Fusarium spp. Despite treatment with intravenous lipid formulation of amphotericin B and voriconazole, the child died 10 days after appearance of skin lesions.
KEYWORDS – Fusarium; Fusariosis; Immunocompromised Host; Leukemia, Lymphoid.

Downloads
Download data is not yet available.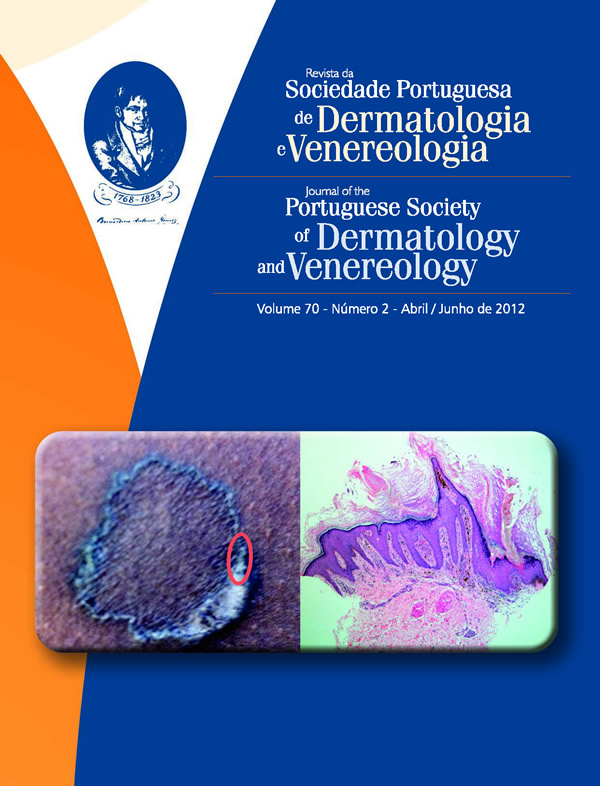 How to Cite
Marinho, F. E. M., Silva, P. E. A. R., Avelleira, J. C. R., Sillero, P. C. T. de M., & Rouxinol, S. T. (2013). FATAL FUSARIUM INFECTION IN IMMUNOCOMPROMISED CHILD. Journal of the Portuguese Society of Dermatology and Venereology, 70(2), 227. https://doi.org/10.29021/spdv.70.2.31
All articles in this journal are Open Access under the Creative Commons Attribution-NonCommercial 4.0 International License (CC BY-NC 4.0).